Find 10 amazing collectible pins for CS2
Topic: Best Cheap Collectible Pins in CS2 - 2023

In today's article, we'll be shining a light on some of the best cheap collectible pins available in CS2. Whether you are looking to stand out on the scoreboard, or perhaps add the finishing touches to a color-themed loadout, these affordable and often overlooked cosmetic pins can serve as a great budget addition to your CS2 inventory!

Guardian 3 Pin: $1.41
Buy Options & Information
To start off with, we have the Guardian 3 pin. Although it may be the cheapest in-game pin, it is nevertheless a solid all-round budget option, featuring the well-known CT defusal symbol with a grey and white color scheme. You really can't go wrong with this classic Guardian design.


Canals Pin: $1.47
Buy Options & Information
The Canals Pin is shiner than ever in CS2, and it happens to be one of the most affordable pins on the market. Upon inspecting this pin it's impossible not to notice how its appearance has considerably benefitted from the improved visuals of CS2. The golden-winged lion featured on this pin with its striking dark red backdrop makes this pin one of the best budget options currently available in-game.


Guardian 2 Pin: $2.08
Buy Options & Information
Similar in design to the Guardian Pin 3, up next, we have its predecessor, the Guardian Pin 2. This pin shares the striking color theme of CS2, featuring the classic winged defusal symbol on a blue and yellow background.


Train Pin: $2.18
Buy Options & Information
Although de_train is yet to make an official appearance in CS2, those of us eagerly awaiting its arrival can display their affection for the map by picking up one of these affordable pins. From the first series of collectible pins ever released, the Train Pin has a simplistic design that stands out as a valid budget pick.


Bravo Pin: $2.45
Buy Options & Information
Next up for our list of the best cheap collectible pins in CS2 is the Operation Bravo one, which celebrated the 10th anniversary of its release last month. There's no better way for veteran players to commemorate the occasion than by rocking the Bravo Pin featuring its iconic sword logo.


Welcome to the Clutch Pin: $2.35
Buy Options & Information
Pin Series 3 saw the reintroduction of a Counter-Strike classic, the Welcome to the Clutch sticker design. This time in the form of a collectible pin. With a modest price, this colorful pin would make a welcome addition to your CS2 collection.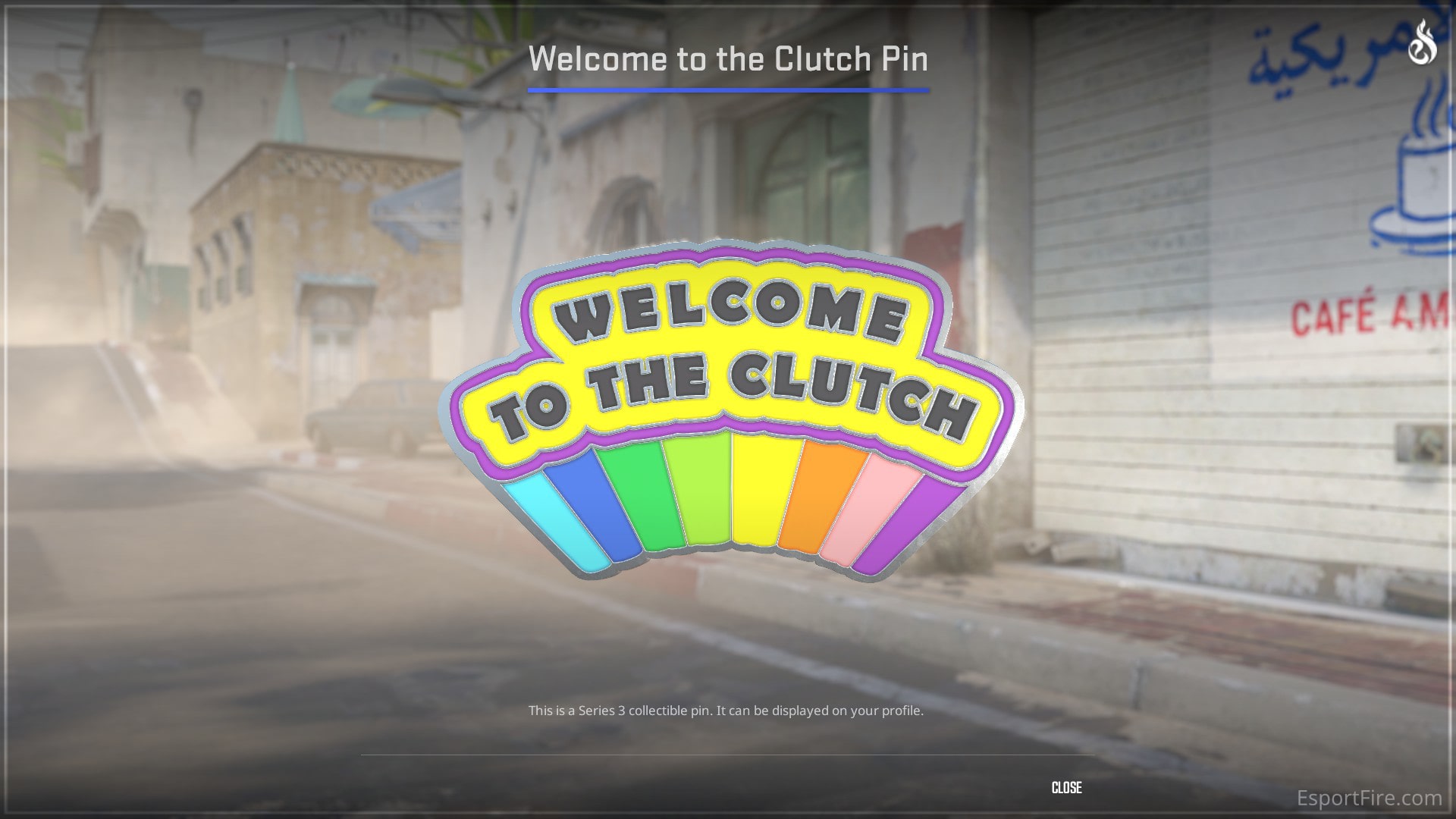 Hydra Pin: $3.29
Buy Options & Information
The Hydra Pin is a must-have for anyone who has a green-themed inventory. Equipping this pin on the main menu lobby alongside your favorite green skin such as the AWP Atheris makes for a great overall combo, and it's one of the cheaper exotic rarity pins available.


Combine Helmet Pin: $2.83
Buy Options & Information
Half-Life fans are lucky to have several Half-Life Alyx-themed pins available in-game, however, the Combine Helmet Pin stands out amongst them due to its slick design and affordable price. With a brand new shiny inspection in CS2, this pin is a great choice irrespective of your playtime in Half-Life Alyx.


Phoenix Pin: $2.92
Buy Options & Information
Whilst the winged defuser featured on the Guardian pins is iconic on its own, the instantly recognizable Phoenix pin gives the Guardian design a good run for its money. With an affordable price, this pin is a solid choice for any red-themed inventories and enjoyers of the T-side faction.


Aces High Pin: $4.96
Buy Options & Information
To finish off today's article about the best cheap collectible pins in CS2, we have the Aces High Pin featuring a classy skeleton design which first appeared in 2014's Sticker Capsule. Although this is one of the more expensive budget options available, you can bet that Aces High is worth your money with its unique purple glitter effect and overall stand-out design.


Conclusion
We hope this article helped you to get a good idea of the different Collectible Pins currently available in CS2. If you would like to buy any of these feel free to click on the link below each headline to find the cheapest offers currently available. Lastly, feel free to have a look at our other CS2 articles, which you can find right below this paragraph, and have a great rest of your day!