Find some amazing cheap CS2 Agents in today's article
Topic: Best Cheap CS2 Agents

One of the most commonly overlooked factors of a CS2 player's inventory is their agent. It is easy to craft a perfect inventory but completely ignore the agent skin, especially when you don't really notice it in the game with the exception of the sleeves or voice lines. But agents are important, and with 63 different options to choose from, there is definitely an agent for you! In this article, we are taking a look at 10 cheap CS2 agents for under $5.

Soldier | Phoenix: $1.11
Buy Options & Information
Soldier | Phoenix is a T-Side Shattered Web Agent, and he happens to be the cheapest agent skin in CS2! He is decked out with a maroon balaclava, a grey shirt with rolled-up sleeves, and a white bulletproof vest with red straps and a red phoenix logo.


Osiris | Elite Crew: $1.58
Buy Options & Information
Osiris is a pretty cool-looking dude, with reflective sunglasses, a mask resembling a tiger's mouth, and a red flannel shirt finished off with a leather backpack. Osiris is an Exceptional Agent and like Soldier, he comes from the Shattered Web Agent collection.


Dragomir | Sabre: $1.71
Buy Options & Information
Up next in our list of the best cheap CS2 agents we have yet another T-Side agent from the Shattered Web collection. Dragomir comes from the Sabre class of agents, and his defined face is covered with a well-kept beard, sunglasses, a baseball cap, and a hood. He wears a leather jacket and a leather vest with wool insides tucked outward.


Markus Delrow | FBI HRT: $2.22
Buy Options & Information
Markus is an iconic CT-Sided agent, and like most CT agents, he is fully covered in gear. On his head, he wears red sunglasses and a pair of headphones with a microphone attached to a walkie-talkie, which is clipped to his chest armor. His body is covered with green FBI gear and a vest.


Rezan the Ready | Sabre: $2.39
Buy Options & Information
Unlike the other agents we have seen so far, Rezan the Ready isn't afraid to show his face. Classified as a Superior Agent, Rezan sports slicked-back hair and dons a dark red leather jacket, zipped down to expose his grey undershirt, with a brown leather jacket.


'Two Times' McCoy | TACP Cavalry: $2.35
Buy Options & Information
There are two very similar versions of Mr. Two Time, but we have opted to go with his Air Force version. He is fully decked out with gear, including safety glasses, a helmet with night vision goggles, headphones with a microphone, a bulletproof vest, and a walkie-talkie.


Michael Syfers | FBI Sniper: $2.64
Buy Options & Information
Unlike Two Times, Micheal Syfers doesn't don too much gear, ensuring nothing gets in the way of his scope and making sure he can't be spotted on the 51st floor of Vertigo from his enemies on the ground. Classified as a Superior Agent, he wears a backward cap with headphones as well as an FBI vest over his FBI shirt and pants.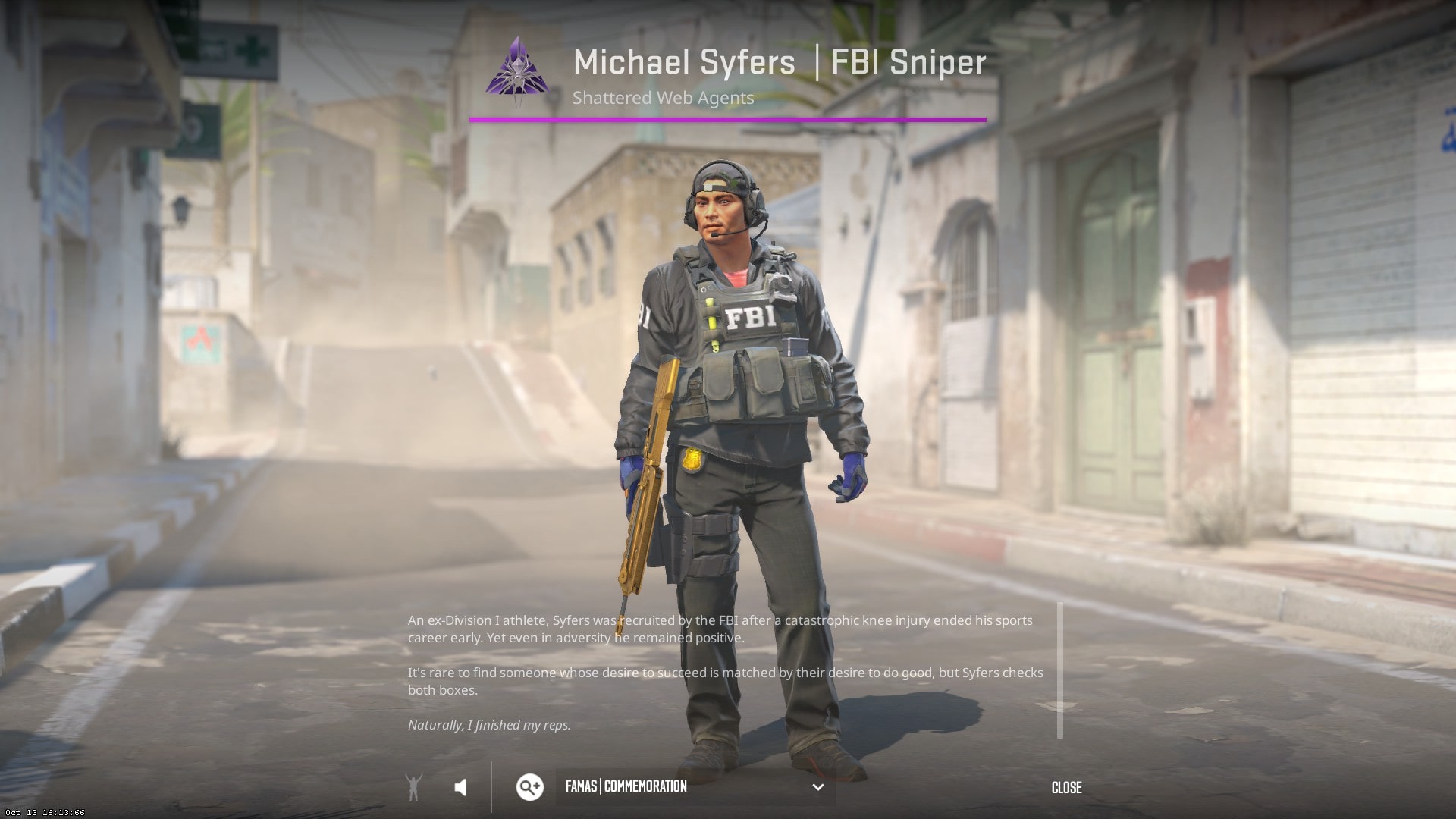 Blackwolf | Sabre: $2.53
Buy Options & Information
If you want to look intimidating in-game, then Blackwolf is definitely the best cheap CS2 agent for you. His squinted black eyes stare into the soul of the enemy, and his slick back hair, throwing knife belt across his chest, and leather jacket make him one of the scariest agents in the game.


Aspirant | Gendarmerie Nationale: $2.56
Buy Options & Information
The Aspirant looks like he is prepared to handle a chaotic civilian riot rather than a counter-terrorist operation, but don't jump to any conclusions. He is decked out with a thick helmet with a transparent face shield, thick armor on his arms and chest, and lots of important equipment necessary for his duties.


The Elite Mr. Muhlik | Elite Crew: $3.07
Buy Options & Information
To round off our list of the best cheap CS2 agents, we have our only Superior Agent on the list: The Elite Mr. Muhlik of the Elite Crew from the Shattered Web Collection. His eerie expression and slick hair are matched by his clothing: a simple black shirt, a red bandanna, and a backpack with bullets on both straps.


Conclusion
We hope you have come across a cheap CS2 agent that will fit well with your inventory! If you want to buy any of these, be sure to check out our Skin Database to see which marketplace offers the best prices for each individual agent. Enjoy your day!