Craft-Talks #10: OUT NOW!
Topic: CS:GO Crafts AK, M4A4 and more!

We´re back with another edition of "CS:GO Craft-Talks". At Craft Talks, we´re regularly presenting recent crafts of the CS:GO community. We try to cover high-tier, rare, and above all good-looking crafts of the recent weeks, if we missed any feel free to share them with us on our Social Media! Enjoy reading.
The "Real-Deal"
After a long time, we can finally again present you a "God-Tier Craft" match wise! @omar_anwari_ decided to craft on the number one Mag-7 Foresight, with a float of .000001. He applied nothing short than four Clan-Mystik Katowice 2014 on it, which all together makes a perfect match. The applied amount sums up to around $ 1.400.


---
The new AK-47 in the block
The new Ak-47 Nightwish is very popular due to being so unique and different! This time around we're featuring three new craft on this beast (to the third one we're coming back later). First one is a "small" Crown Foil craft on the wood that got completed with three fitting Tyloo Gold stickers on the body.

Unfortunately the crafter only went for a minimal wear version of the AK with a total crafting price of around $ 750. Looking at the second craft we're talking about a .01 factory new AK-47 Nightwish. This time we got four Dat holo Cologne 2014 stickers applied by @l1neary! The stickers are matching the skin perfectly with their holo effect. Such a great combination! The craft price sits at around $ 580!


---
Back to the roots!
Of course a "Craft-Talks" article wouldn't be complete without some good, old Katowice 2014 crafts! We're kicking things off with some aliens! A big Chinese collector crafted a banger duo. He applied a total of eight Dignitas holo Katowice 2014 stickers on the number one ST Ak Nightwish and a .002 M4 Printstream. When it comes to the crafting price we're talking about $ 128.000!

Furthermore @Koi_Swifty decided to go for another "bear" craft! Logically we're talking about four Katowice 2014 Virtus.Pro holos that he applied on the number one Souvenir AK-47 Gold Arabasque! Price wise we're talking about $ 19.000! Last but not least, @Gunr_CS crafted a banger M4A1! He applied four Fnatic Katowice 2014 papers on an Imminent Danger FN. The craft cost sums up to a total of $ 3.200!


---
Pistols
Well, we always "cry" about not seeing enough pistol crafts. This time around we got a few! Let's kick it off with some "one-tap machines", the notorious Deagle. First one to mention would be the a .0001 Printstream with four Titan holo Katowice 2015. That one was crafted by @RadiantCS_ for around $ 2.900 and ohhh boy it looks so good... Also worth mentioning, there is another Prinstream with two Titan holos crafted by a Japanese Collector.

Going forward we once again got Prinstream, this time around a ST one, crafted by @Alkem1stCSGO! He applied four Epsilon holo Cologne 2014, making the craft cost around $ 300. The last Deagle for today's article was crafted by @yaronisso. He applied one Envy holo Katowice 2015 on a ST .00003 Triger Discipline, which at that time, was number one float and is number two now. To end the pistol section we got a USP Craft, once again made by @RadiantCS_! This time he applied four dupreeh Gold Krakow 2017 on a .0001 The Traitor. That craft sums up to around $ 1.300.


---
Some guns
We're starting this section with a completion by @Gunr_CS. He crafted a Krakow 2017 pasha gold on an AWP Hydra some time ago and decided to finish the craft by applying three more on the body! The applied amount sums up to $ 1.600!

Next up we're talking about a gun everyone forgot about. Yes, we're talking about the M4A4. Well, it's back! Someone finally decided to craft on a M4A4 (which is not Howl)! @Swooce69 wanted to finish his Neo-Noir collection. He crafted four Winged Defuser on the number two M4A4 Neo-Noir with the amazing float of .00001. The applied amount is around $ 1.300!

To end this article we got a small but nice AK-47 craft. @alexisletal decided to apply four Katowice 2015 NiP holos on a .00001 AK-47 Uncharted. For this craft we're talking about a price of round about $ 300!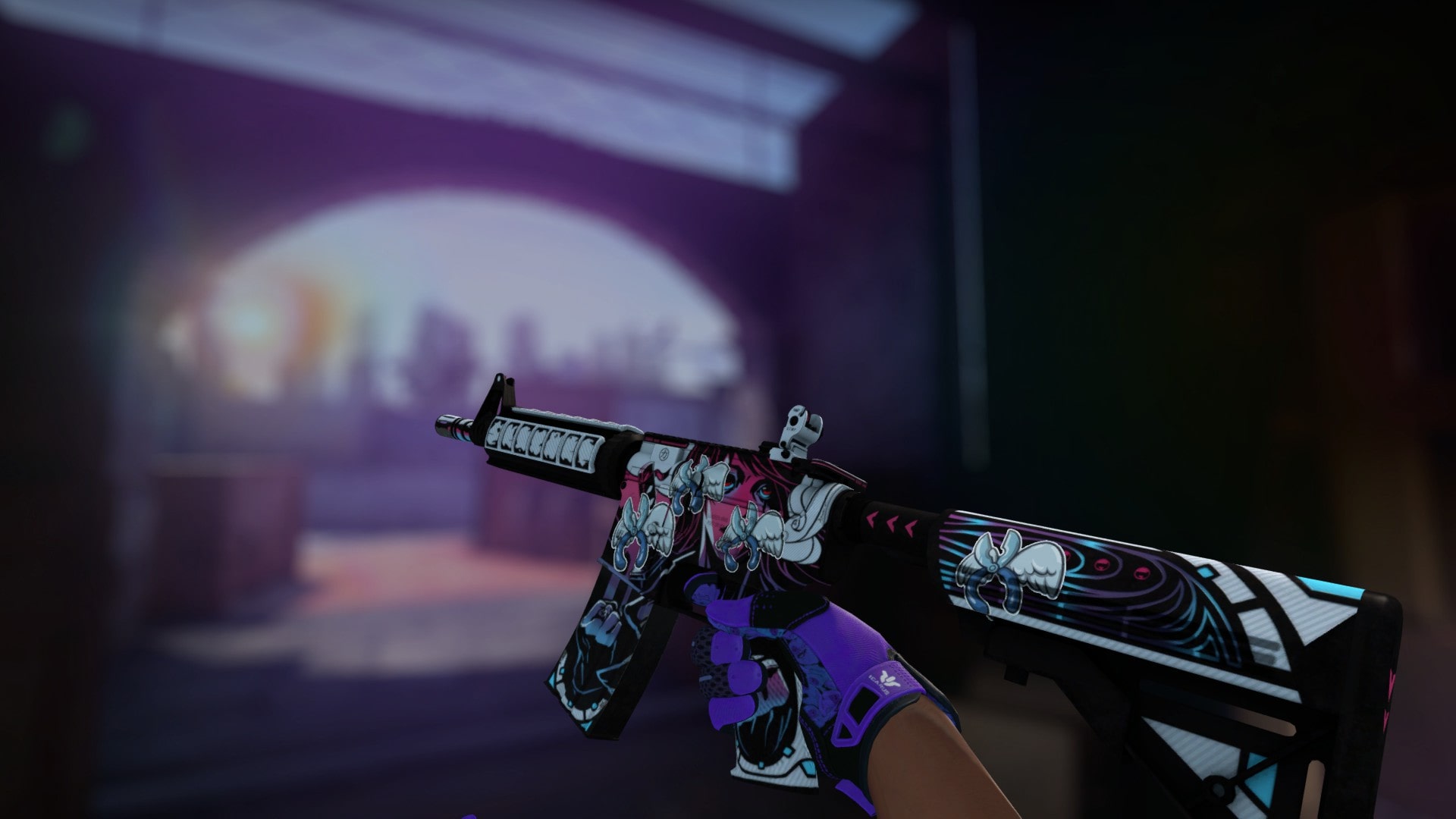 ---
DAT's a craft!
We don't have plenty of good looking Cologne 2014 holo stickers out there, but the Dat holo is an amazing one for sure. Therefore there are quite a few "Dat collectors"! One of them is @shaneo7cs1, he has over 160 Dat holo applied in his inventory and 32 unapplied ones - such a crazy number!

This time, he applied eight on the Control Duo (the M4A1 Control Panel and the Tec-9 Remote Control). Both of them are .0002, the M4 is number two in the world while the Tec is number three. They both look so insane, the sticker combination is crazy! One Dat holo is around $80 right now, so he applied around $640 on these two.


---
Extensions
We mainly see crafts on the main guns and from time to time on pistols, but it's hella good when we get some SMGs as well! This time we got two of them and the first one is a true banger. @VinchTheGrinch applied four Harp of War holo stickers on the "best" MP9 in the game - the Wild Lily!

The craft is matching perfectly and the float is also .004. For the crafting price we're talking about $ 4.000! For the second craft we got a Galil crafted by @darthrevan22! He applied four Flammable foils on the Galil Caution with a float of .0420! This craft costs around $ 500!


---
Arr Cptn
Not many people appreciate the Cologne 2016 holo stickers, but @CptnKraken is one of the biggest fans! He crafted himself a huge collection of SK holo Crafts! He has more than 100 stickers applied in his inventory!

We even featured some of them in the community pickups article (check it out). This time we want to showcase his latest craft. A .008 Aug Midnight Lily with three SK holo Cologne 2016! The craft looks perfect and it does have a cost of $200!


---
Conclusion
That's it with our 10th edition of "Craft-Talks"! We hope you enjoyed reading through the article and hope to see you again for the next edition of "Craft-Talks"! Have a great day everybody.

Our research tools for this article were: csgofloat.com/db, @RaCSGO's Kato14 holo database, csgostash.com/ and all screenshots were made on broskins.com