Blue/White themed CT loadout CS:GO
Topic: CS:GO Cheap CT Loadout - Skins for all CT Weapons

For nearly a decade, passionate skin collectors have built some of the most impressive collections of skins in their inventory. However, only the elite collectors have been able to heighten their unique loadout into one that fits a common theme. Now, this method of themed loadout organization can be accessible to all with our incredible blue and white themed budget loadout for the counter-terrorist side. Without further ado, lets take a look at all of the skins for this budget CS:GO counter-terrorist loadout.

All prices for the following skins are in Field Tested condition unless otherwise noted.

CT Loadout Pistols #1
USP-S | Blueprint: The solid blue color of this USP-S is perfect for any blue-themed loadout, and for just $5.78, this is an essential addition to this loadout.

P200 | Handgun: If you are one of the few players who choose the classic P200 over the USP-S, then this blue and white pistol skin is a perfect choice for just $0.71.

Dual Barettas | Melondrama: This classified pistol from the Dreams and Nightmares case, which sells for a price of $2.45 features a blue base with white scribbles, making it perfect for our blue/white-themed loadout.

P250 | Asiimov: The Asiimov is one of the most iconic skins in all of CS:GO, making it a must-have for any white loadout for a price of just $4.48.


CT Loadout Pistols #2
Five-Seven | Boost Protocol: With its white base and intricate highlights, this skin is one of the best budget Five-Seven skins at just $1.16 in Field Tested condition.

CZ75-Auto | Pole Position: This race-themed skin features a white base with red highlights and goes for a price of just 0.48, making it one of the best budget pistol skins on the market.

R8 Revolver | Llama Cannon: For just $2.46, this extremely detailed blue-themed skin is by far the best R8 revolver under $5.

Desert Eagle | Blue Ply: Despite being the most powerful pistol, this blue wooden Deagle goes for as little as $0.18, making it the cheapest pistol skin on our list.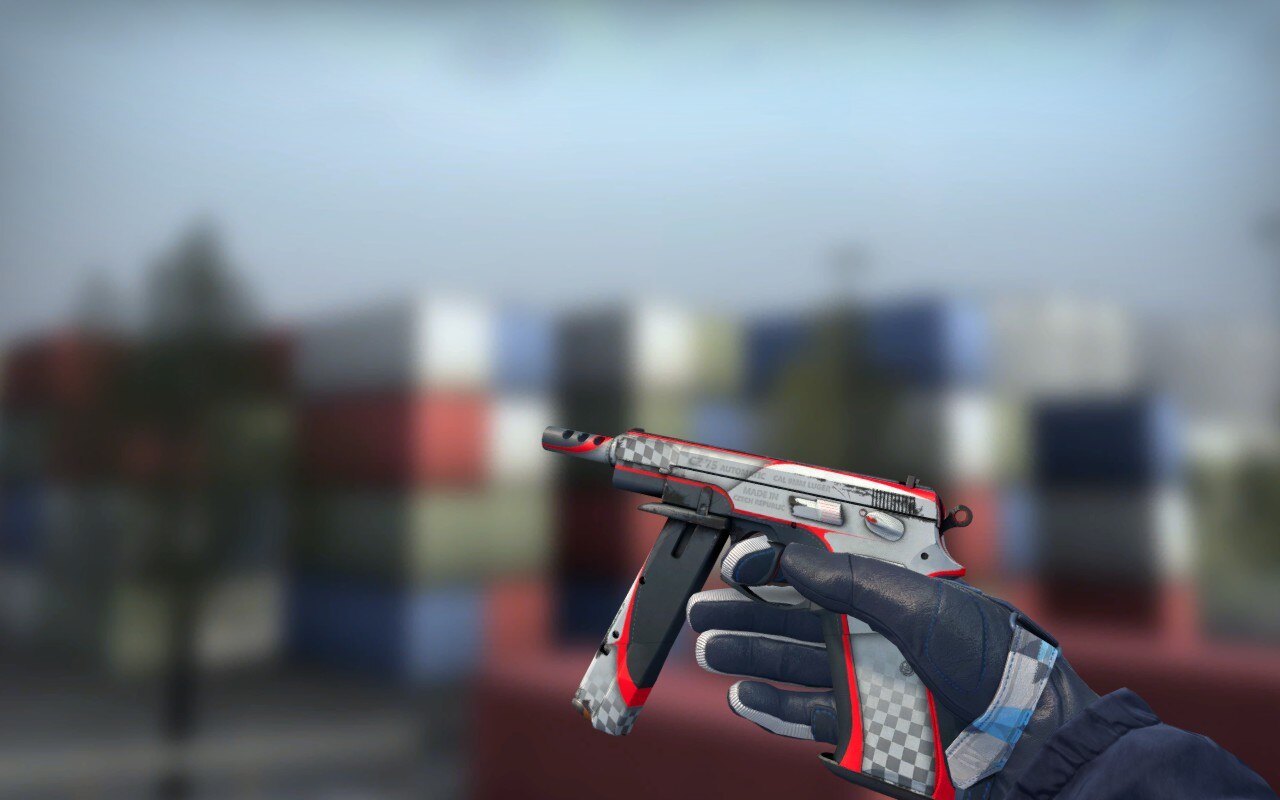 CT Loadout Heavy Guns
Nova | Clear Polymer: Although the objective of the skin is to be transparent, this $1.21 skin works incredibly alongside the other white skins in this loadout.

XM104 | Black Tie: This white and black auto shotgun fits perfectly in this loadout, not only because of its color but also because of its budget price of just $0.46.

MAG-7 | Cobalt Core: With a price of just $0.17, this budget blue MAG-7 is an incredible skin both for this specific loadout and in general.

M249 | Downtown: This vibrant blue and purple skin features an exciting pattern and sells for around $1.10.

Negev | Dazzle: To finish off the blue/white themed "Heavy" weapon skins, we have a beautiful Negev skin that combines both blue and white to make an elegant design that can be purchased for just $0.10.


CT Loadout SMGs
MP9 | Airlock: With the exception of its magazine, this $2.21 MP9 skin is almost completely white, making it an incredible fit for the blue/white theme.

MP7 | Cirrus: This extremely cheap MP7 skin is a perfect fit for the blue theme of our budget CT loadout, and you can pick up this shiny blue skin for just $0.18.

MP5-SD | Co-Processor: If you prefer the MP5 over the classic MP7, then the Co-Processor is the way to go. The skin features a blue circuit board and sells for just $0.45.

P90 | Traction: Following the theme of blue SMG skins, this all blue P90 fits wonderfully among this budget CT loadout, especially considering the price of just $0.17.

PP-Bizon | Facility Sketch: The gray sketch pattern over the white base of this PP-Bizon is extremely similar in style to the MP9 | Airlock, making it a perfect fit with this loadout. With a price of just $0.04, this is not only one of the best budget PP-Bizon skins, but it is the cheapest on our entire list!


CT Loadout Rifles
FAMAS | Mecha Industries: Despite being one of the most popular FAMAS skins and being perfect for this blue and white-themed loadout, this skin can be purchased for just $3.00.

M4A4 | Desolate Space: If you are one of the many players who have switched over to the M4A4 after the recent balance changes between its silenced counterpart, then this blue space-themed skin will be perfect for your budget M4A4, especially considering its price of just $7.22.

M4A1-S | Nightmare: However, if you prefer the cheaper, silenced counter-terrorist rifle, then this $10.10 bright blue and black skin will be the best skin for any budget loadout, especially one with a blue theme.

AUG | Arctic Wolf: This $1.91 skin, which features a gradient of white and black is perfect for any white-themed loadout, especially a budget one.

AWP | Corticera: Now we get to the big guns: the most coveted weapon in all of CS:GO. While its $17.80 price tag may seem like a lot compared to some of the cheaper skins on this list, it is important to note that for more used skins such as M4s and AWPs, it is okay to have a large price difference. If you can afford it, the blue background and green artwork is worth it for this budget blue/white counter terrorist loadout.

SCAR-20 | Assault: Similar to the USP-S | Blueprint, this auto sniper skin features a simple blue base but has the bonus of a small white feature in the middle that perfectly supports the blue and white-themed loadout.


Knife + Glove Combo
Although we may be stretching the limits of the term "budget" now, we still wanted to showcase a cool, somewhat budget, glove knife combo for our color theme. For this blue/white themed loadout, we have opted to pair the sleek Moto Gloves | Cool Mint, which sell for $393.55, with a classic blue and white Bayonet | Bright Water, which sells for $349.23.


Conclusion
We sincerely hope that you enjoyed checking out this budget blue and white themed loadout for the counter-terrorist side in CS:GO! We can't wait to see some of you guys rocking this loadout in-game, and if you have any suggestions for the loadout(or future loadouts), feel free to tag us on Twitter!