Some of the best CS2 Knife Glove combos in 2023
CS2 Knife Glove Combos 2023 - Some of the best CS2 Knife Glove Combos

In today's article, we will take a look at some of the best CS2 Glove Knife Combos out there in 2023 and continuously increase the total price of the glove knife combination the more we get to the end of the article and show you one of the hottest high-tier combinations you ever saw in your life to end off the article!

Check out the current prices and where to buy the skins here: EsportFire Database EsportFire Database

The Cheapest For Today!
As our first and cheapest CS2 glove knife combo for today, we got a Paracord Night Stripe in combination with Hand Wraps Duct Tape! We chose to go for the Field-Tested versions as they still look quite decent and only sum up to a total price tag of around USD 180! Overall a very decent black/grey combination!


---
Rusty Love
The next rather cheap CS2 glove knife combination convinces with a fair price and amazing color fit! The rusty style of both skins sum up to a unique combination. It is important that you go for a high float battle-scarred Huntsman Rust Coat, while we decided to go for the field-tested version of the Hand Wraps Constrictor. You can get that amazingly looking CS2 knife glove combo for around USD 170!


---
The Golden Boi
Enough dark colors, for now, we wanna get some shine into this article! Next up we got a Gut Knife Lore in combination with Broken Fang Gloves Yellow-banded! While we decided to go for field-tested gloves, we had to upgrade the Gut Knife to a minimal-wear one to get a clean blade out of it! Overall for around USD 410 a clean and good-looking knife glove combination.


---
Who Is Looking For Some Emeralds? - Steve Does!
Although the Broken Fang Jade gloves are normally not everyone's favorite, there is no way anyone does not agree that they look absolutely stunning in combination with a shiny Huntsman Gamma Doppler phase two! The color fit is amazing and the overall look of that CS2 glove knife combo clean as close to no other! When it comes to the price tag we are talking about USD 520.


---
Purple Is The New Black
Although the combination already delivers a nice color combination when holding it in the default position, the absolute beauty gets unveiled when inspecting everyone's favorite toothpick - the handle fits the purple scheme of the gloves beyond perfect! With a price tag of around USD 620, we're only around USD 100k away from today's most expensive CS2 knife glove combination! Let us continue.


---
Dark Waters Are Scary ...
That is why we went for a Bright Water combination! When paring the M9 Bright Water with some Moto Gloves Polygon you will see one of the best-fitting glove knife combos in the entirety of the game! With a price tag of around USD 730, we are getting closer and closer to the second half of our article.


---
Specialist Doppler Phase 1
Next up we have a rather weird, but amazing glove knife combination. The red and blue color theme on the Ursus Doppler phase 1 fits the colors on the Specialist Gloves Fade better than anyone could have ever expected. The higher the quality the better the combo gets, but for today we went for field-tested Fade gloves as they already have a quite high price point, with a combo price of around USD 850!


---
Wanna Get Cheap Gloves To Fit Your Knife?
For our next combo, we got one of the biggest glove/knife price differences in today's article. While the Broken Fang Gloves Unhinged field-tested sell for around USD 65, the Karambit Black Laminate is available for around USD 890 in field-tested! BUT both of them together deliver a quite impressive glove knife combination that you should definitely look into when you already got yourself a Black Laminate knife!


---
Steve Found Quite A Few ...
For all of you who already fell in love with our first "emerald" combination - we got one more! Although it is often hard to believe that people really enjoy Shadow Daggers, that combination is more than worth showing! Together with some Specialist Gloves Emerald Webs, our beloved Shadow Daggers Gamma Doppler shine bright! The total cost of this combo is around USD 940!


---
Everyone's Favorite Gloves!
While the community is always in a big discussion when someone picks up Sport Gloves Bronze Morph, you will not understand the cheapness of them anymore after seeing the following combination. Paired with a M9 Autotronic they prove their worth! For around USD 1150 you can get a clean combo for the probably coolest red knife in the game!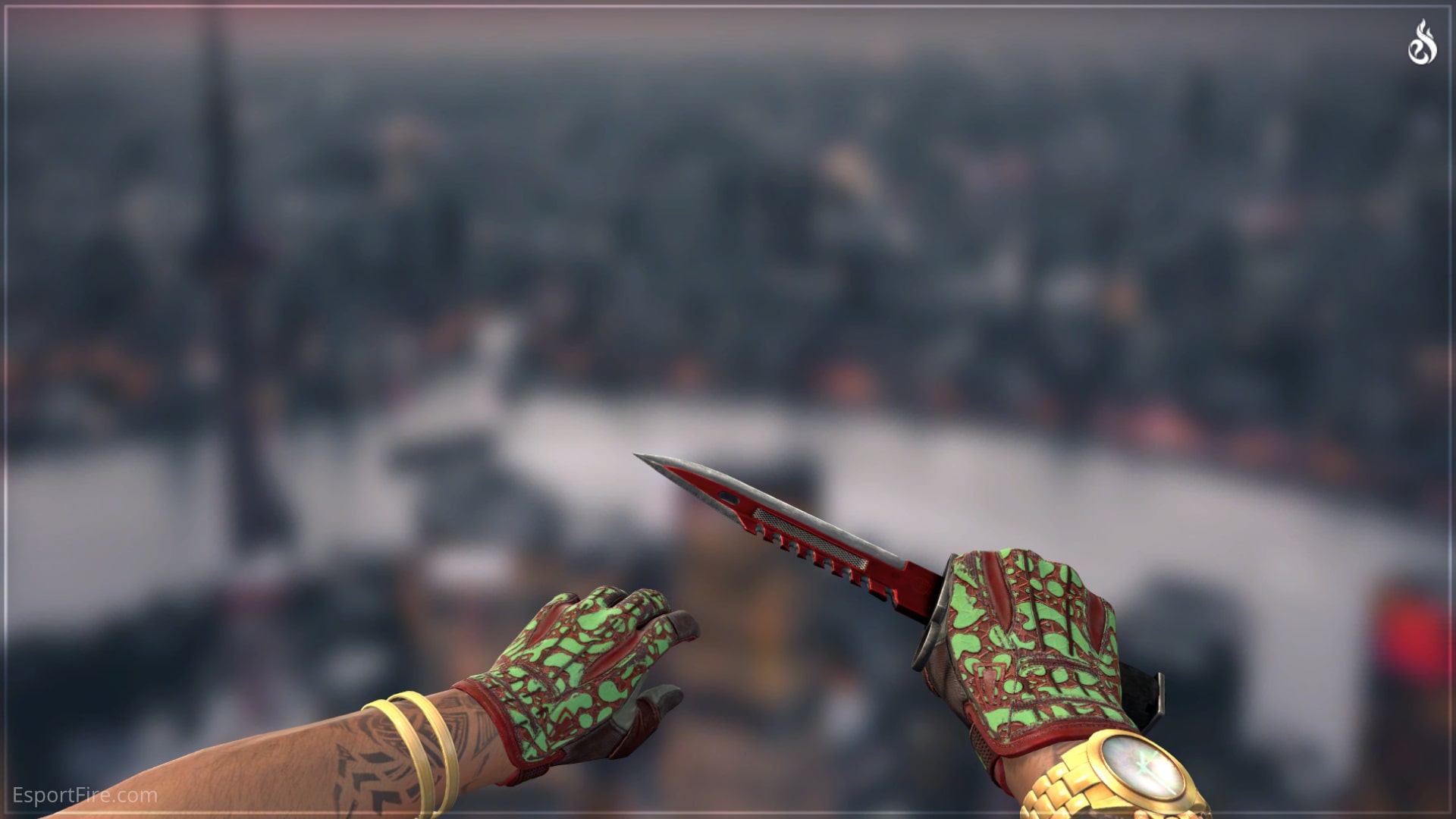 ---
How Clean Do You Want Your Combo?
The whiteness of the Bayonet Vanilla is always satisfying, especially when pairing it with one of the cleanest gloves in the game, the Driver Gloves King Snake. For everyone who loves clean combos and/or rocks a white loadout that glove knife combination could be the dream! You can buy it for around USD 1220 at the moment!


---
Shiny Yellow
For all the yellow lovers out there - we are presenting the Karambit Tiger Tooth in combination with some Sport Gloves Omega! The price of those two combines to around USD 1.940!


---
*Checks Bank Account*
It is time for some high-tiers, right? Our next glove knife combo might be the absolute dream for many people out there. The Karambit Sapphire is one of the most legendary skins and currently available for around USD 17500. Although it is quite a challenge to find a fitting combination for so much beauty, the Sport Gloves Pandora's Box are doing a great job in that!


---
Overkill
May I present to you: The ultimate overkill. For our last piece of today's article, we thought of the probably most high-tier combo that currently exists. You are looking at a Skeleton Blue Gem with the infamous 403 pattern combined with some Sport Gloves Vice in factory-new. When it comes to the price we are talking about one of the most expensive glove knife combos out there! The price is hard to determine with 100 percent certainty but we're clearly talking about USD 100.000+.


---
Conclusion
We hope you enjoyed reading through today's article about some of the best CS2 glove knife combos in 2023! We would love to see your current combos in the comments of our Social Media posts. Cheers!