CS:GO skin price development over time
Topic: CS:GO skin prices 2014 vs. 2022 - Howl, Dragon Lore, Fire Serpent.

In today's article, we will take a look at some old skins and their price development over time. If you are interested in the history of prices within CS:GO I can also highly recommend you to check out our article about Katowice 2014 sticker price development over time. You can find that one here!

AWP Dragon Lore
Let us start with the skin price development of the holy grail - The Factory-New AWP Dragon Lore. The first recorded sales on the Steam Community market were on the 2nd of July 2014, one day after it got introduced to the game! Back in 2014 you could have bought an AWP Dragon Lore for around 300 USD! The price development of our beloved yellow Dragon was straight upwards, up to a point where a Factory New Dragon Lore costs 8.500 USD in 2022!


---
AK-47 Fire Serpent
For our second skin in today's article we are coming to one of the most discussed skins in CS:GO history and go back to the year 2013. To be precise to the 26th of September 2013, when the first sale on the Steam Community Market got recorded. Back then a Fire Serpent in Factory New sold for around USD 80! The current price of an AK-47 Fire Serpent in 2022 is USD 1.720 and with that, the difference between the skin price in 2014 vs. 2022 is around USD 1640.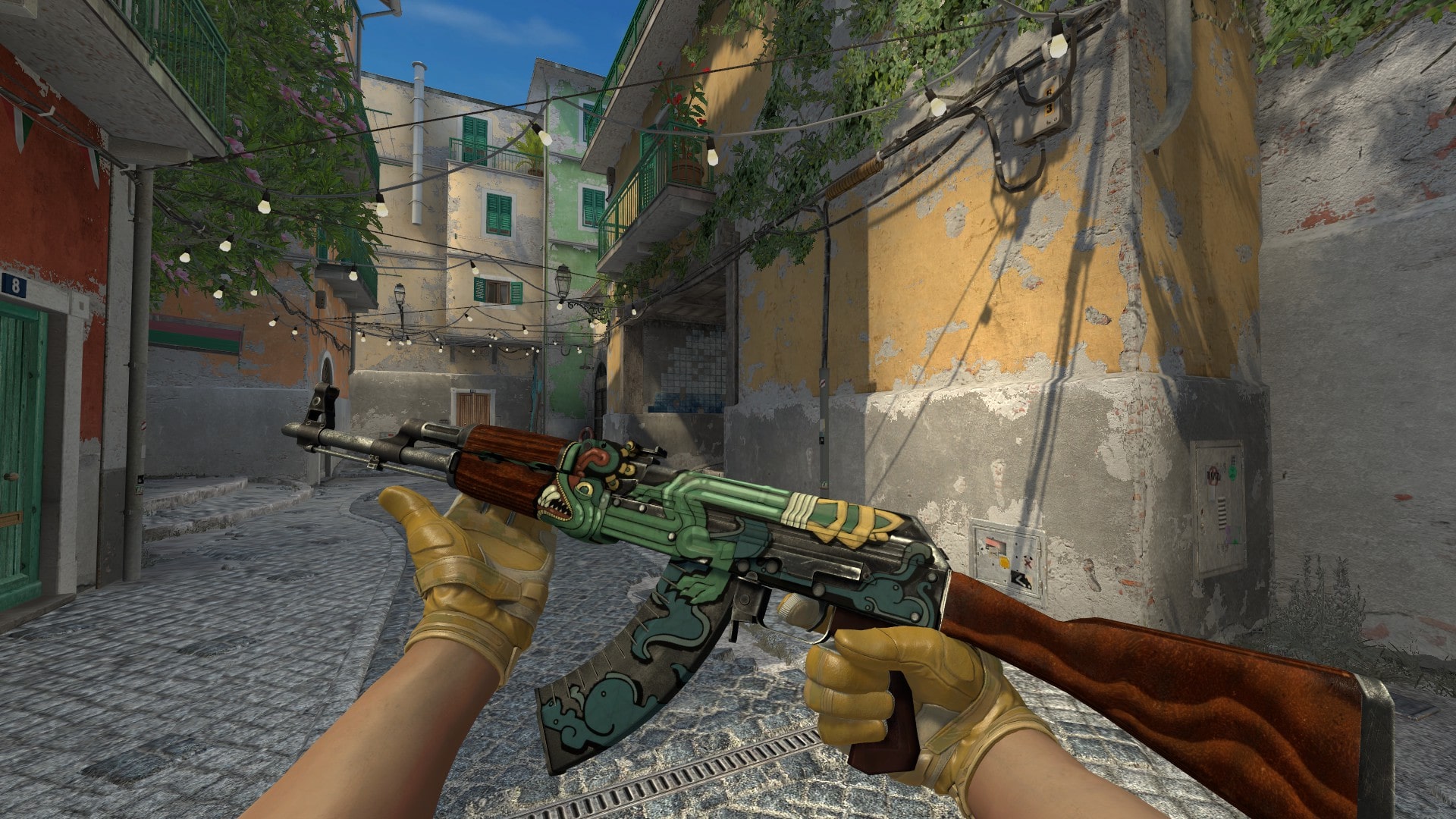 ---
M4A4 Howl
We are staying on the legendary train for now. Next up on our list is the M4A4 Howl. The legendary M4A4 got introduced to the game on the 19th of September 2013 and hit a low at around 45 USD. From there on the CT rifle has seen one of the craziest increases in price out of all the skins in CS. The prize to purchase a M4A4 Howl in 2022 is around USD 5.000!


---
Desert Eagle Blaze
The most legendary handgun in the history of CS:GO and the first skin in this article that is still purchasable in the Steam Community market, as it does not cost more than the maximum price on Steam! After being released in mid-2013 there was a period where this beauty sold for around USD 9! In 2022 the Deagle Blaze costs around USD 380 in Factory-New!


---
AK-47 Vulcan
The AK-47 Vulcan got introduced to the game in early 2014 and compared to other guns at that time was quite expensive for a long time after it first got released. The red skin of the Huntsman Collection sold for around USD 70 in 2014 and reached its low in 2016 at around USD 47! In 2022 the AK-47 Vulcan sells for around USD 400!


---
Glock-18 Fade
When talking about legendary, old skins we can logically not forget the grandfather of Glocks. The Glock-18 Fade is an absolute beauty and got introduced to the game together with the Assault Collection in mid-2013! Back then you could buy one of these beauties for around USD 11. The prices have changed quite a bit as we are nowadays talking about a bit more than that. The price of a Glock Fade in 2022 is at around USD 890!


---
AK-47 Redline
Another classy skin that was for a long time considered as a rather stable price index for CS, as it never really had big price changes over the years. Nevertheless, a stable increase is still to be seen. After having a high start the AK-47 Redline Field-Tested cost around USD 5 in 2015 and is currently in 2022 at around USD 10,20. With that surely one of the most stable skins in CS:GO history compared to others.


---
AWP Asiimov
The probably most legendary skin series ever introduced started with three skins: The AWP Asiimov, the M4A4 Asiimov, and the P90 Asiimov. The AWP was introduced in early 2014 and also started at a quite high price of around USD 55 in mid-2014, while hitting the lowest point in 2016 with around USD 25 for the Field-Tested version! In 2022 we are talking about a price point of around USD 87 for the FT version of the AWP Asiimov!


---
AK-47 Case Hardened
The weapon skin in CS:GO history where patterns mean everything. Normally you would not really care about the pattern of your skin if you unbox it, that is a whole different story for this AK. While according to our sources the best blue gem patterns were still available for market/close to market in 2014 the prices have developed like crazy. While a Factory-New AK-47 Case Hardened sold for like 17 USD back in 2014 a normal one sells for around USD 190 in 2022, but when talking about a Blue Gem, for example, the best pattern (661), we are in a whole different level with a worth of up to 40k USD for the Field-Tested version. That's one of the biggest skin price differences out of all in existence.


---
AWP Lightning Strike
Everyone's favorite purple AWP or skin in general. I hope you all did not wait for too long to make the dream to own this AWP become reality as we witnessed a crazy price increase when taking a look at the AWP Lightning Strike. While the AWP Lightning Strike only cost a shy USD 9 in 2013 you need to bring USD 390 to the table in order to get the Factory-New version of this AWP in 2022!


---
M4A4 Asiimov
The second member of the Asiimov family in this article. The M4A4 was introduced to the game in late 2013 and has seen a steady increase since 2016. At the lowest point this beautiful, white M4A4 Asiimov sold for around USD 27. In 2022 a Field-Tested M4A4 Asiimov goes for around USD 93. Not the craziest increase of this article but still a steady upwards trend!


---
Conclusion
We hope you enjoyed reading through today's article about the price development of CS:GO skin prices between 2014 and 2022. It is always lovely to take a closer look at the history of our skin scene and the development of the market over time! If you got further topics you are interested in make sure to let us know!

All screenshots are taken on the ohnePixel server. Furthermore a special thanks to Cantry for his awesome tools that are always helpful!