19th edition of CS:GO Sticker Crafts
Topic: CS:GO Sticker Crafts: Craft-Talks #19

Once again we are taking a look into the beautiful latest CS:GO sticker crafts of August 2022. For this article we had a very high amount of craft on the table, so we decided to split some of them into a special article that will come later! Was such a great experience showcasing all those beautiful CS:GO crafts, we hope you will enjoy reading about them all!

A Shy way Back
In the past months, we haven't seen as many amazing Katowice 2014 Holo crafts as we used to see before. Not even what some consider "the boring Katowice 2014 Paper crafts"! Not much has changed for the beginning of the article, but we start to get back into the Katowice 2014 game a bit. This time having a very unexpected craft by @omar_anwari_ and another highlight at the end of the article that came in shortly before the release! He applied four Katowice 2014 NIP stickers on the new M4A4 Poly Mag, with an insane float of .00004, which is the number seven lowest float in existence! The applied value of this beautiful craft is around USD 1.165!


---
Fixation
We don't see crafts "getting fixed" that often, especially because people just love to craft on new and fresh skins instead. This time around @erupT_cs decided to change that and completed a lovely craft! He scraped a Krakow 2017 HS Gold sticker from the scope of his AWP Gungnir that has already three Katowice 2014 LDLC applied! Instead of the HS sticker, he applied the 4th Katowice 2014 LDLC sticker, making it a four-time craft. As a little side fact: It is actually the 51st Katowice 2014 LDLC sticker applied on an AWP Gungnir! The value of the applied sticker is around USD 1.100, while the value of the scraped one is around USD 600!


---
Some things never get Old
There are some old and very loved combos in the CS:GO community that will just never get old. One of those was made by @flash5219, a pretty big name in the Katowice 2014 Collectors scene, unfortunately, the craft is not the lowest float of it's kind but it's a banger anyway! He applied four Harp Of War Holo stickers on a .02 AUG Akihabara Accept, making this craft an one out of two! The total applied amount is around USD 2.300!


---
The Eyes See Everything
Another amazing craft that we need to introduce to you, is made using one of everyone's favorite stickers within CS:GO. This time the crafter is a know Chinese guy, who got popular recently for his USD 60.000 Cobblestone Souvenir Packages opening! Gladly he made the craft right before that, otherwise might have never happened. He applied four Cologne 2014 Dignitas Holo stickers on the number four lowest float StatTrak MP9 Starlight Protector, such a great craft, especially because of the color fit! The applied amount is USD 1.570, not as crazy as the opening but pretty decent!


---
The Sun is Gold
As usual, we have some awesome Krakow 2017 Gold crafts in our articles. The first one is very sunny! Crafted by none other than another Chinese collector, on a skin non other than the AWP Desert Hydra, a very known enemy for the Krakow 2017 Gold sticker supply. This time the craft was made on an AWP Desert Hydra with a float of .009 and the sticker of choice was the Krakow 2017 suNny Gold, which was applied four times! The total applied amount is around USD 6.000!


---
The diamond between the rocks
Always feels good to see some amazing crafts from another world, they say perfection is just a myth but we say otherwise. This beautiful piece was made by someone from Japan, on the new AK-47 Ice Coaled. He of course used the StatTrak version, and to be more distinctive also the MW condition, .08! The applied stickers are the following: A Katowice 2014 Dignitas and three Cologne 2014 Holo stickers. In the end probably the best craft of our generation with a total of USD 465 applied on it!


---
Spray Pattern is just a Number
After some interesting, more common crafts we now get something more unique, crafted on what's considered the most skilled weapon in the game. For this craft, @Gaveeeyy used the most expensive Negev in the game, the Mjölnir and not any, a double 0 float one, which has a price tag of USD 1.225! On this beautiful beast, he applied four Boston 2018 Zeus Gold stickers, transforming the bullets into lightnings! The total applied amount is around USD 400!


---
Left Click + W is all you need
Nothing feels as good as the old-school P90 tactic, just turn the music up and press W into the enemy with the Left Click punched to the ground. We all know there is nothing that can stop this tactic, especially on the B sites! A man who definitely understood the assignment is @RadiantCS_, he crafted not one, but two bangers. He applied four Katowice 2015 Keyd Holo stickers on the P90 Astral Jörmungandr with an amazing float of .0006 and he also applied four Katowice 2015 HellRaisers Holo on the P90 Shallow Grave with a float of .0009! The total applied amount is USD 1.080!


---
Next in Line
After all those bangers we go back to some classics, starting with the classic lady herself, the AK-47 The Empress, combined with some shiny stickers! The author of this masterpiece is @Rhabby_V and he did choose a pretty valuable rarity, the number three lowest float (.0002) StatTrak version of the AK-47 The Empress. Onto it, he applied four Krakow 2017 Nex Gold stickers. Overall an amazingly looking combination as every other Gold stickers craft on this beautiful AK! The applied amount is around USD 2.000!


---
Big Blue
People are used to referring to the AWP as Big Green, well now since we got so many new high-tier AWP skins we have to be more creative with the names! The following is a craft on one of the most mythical "Big Greens" - the AWP Gungnir, and the crafter is @exccentrik! He applied four Katowice 2015 Titan Holo stickers on this beast. Carrying the total number of Katowice 2015 Titan Holos applied on AWP Gungnir's at 149! The total amount applied for this craft is around USD 1.900!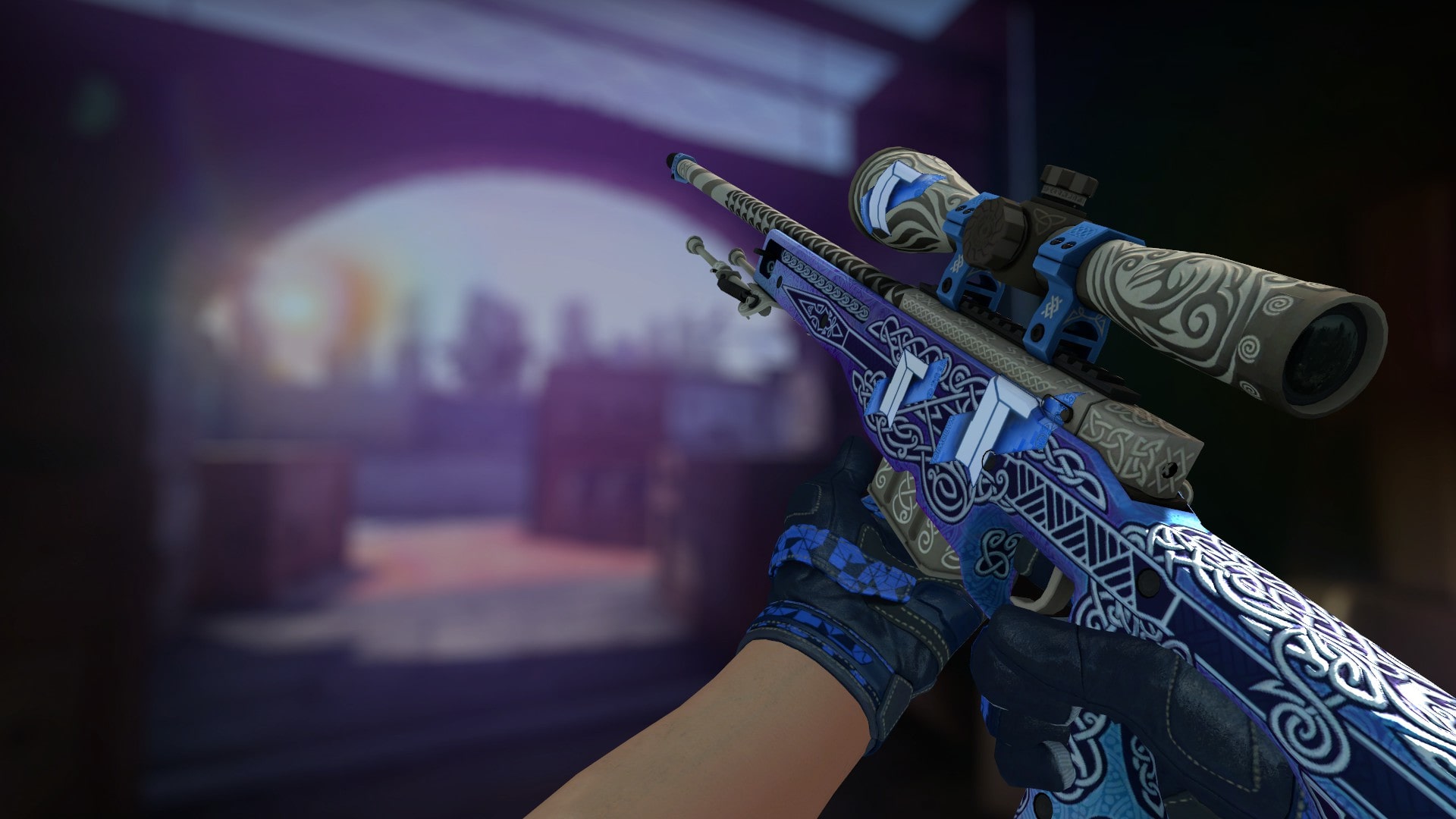 ---
ETHAN 2005
Like many tend to say, "passion is everything", and this guy has plenty not just in crafting but also in nicknaming. Our next crafter has such an amazing and unique collection. He has a total of 40 Katowice 2019 Ethan Gold stickers applied on 36 different skins. All of them are part of different craft combinations! And he also has the ETHAN "CROWN" 2005 nametag on every skin he owns. What caught our attention most are the two recent crafts he made. Without getting too much into details both contain one of the signature stickers, one Katowice 2015 Holo sticker, one Flammable Foil, and one Crown Foil. The total applied on those two skins is around USD 1.600!


---
The Night is Green
After so many articles where we had many crafts on the AK-47 Nightwish, still, the following is an one out of one. Crafted by the one and only @jklsinclair, one of the most active crafters in the recent months. This time he applied four Katowice 2015 Flipsid3 Holo stickers on the number three lowest float StatTrak AK-47 Nightwish with a float value of .0007! Such a great combo with a total value of the stickers summing up to USD 1.450!


---
Great Artwork, Let's Cover it UP
We all love great artworks on skins, but in the end, some have to be sacrificed in order to place some good-looking stickers on the skin! Once again our protagonist is @RadiantCS_, another guy that just seems to never again stop crafting! This time around he crafted on the amazing SSG Death Strike, and not any, the number two lowest float one. Applied on it we got four Katowice 2015 Fnatic Holo stickers with a total value of USD 350 combined!


---
New Guy in the Town
After checking out the craft competition between the two giants of the Katowice 2015 world, it's time to see a craft from a guy that just joined the Twitter community! The contender is @Bro9k, and he has quite a passion for those red HellRaisers stickers. He decided to use a nice little double 0 float AWP Desert Hydra as a "classic" but beautiful crafting material! Onto it he applied four Katowice 2015 HellRaisers Holo stickers and the applied value is around USD 430!


---
More
Right after he decided to do one more right in time to be featured in the article. This time he crafted on the Galil Dusk Ruins, and not any, a .0001 float one and with that the 4th lowest float. On it he applied another four Katowice 2015 HellRaisers Holo stickers, making such a great and colorful combo which was probably inspired by @ChinchillaisGod! The applied amount is obviously once again USD 430!


---
Nox Mox Box Rox Pox
The hype or whatever it was, around the Rox stickers was pretty insane and most people noticed it! While prices did break the roof, some people decided that it was time to craft with them! One of them is @hobshytv, he made one of the greatest possible crafts with this sticker. He applied four Antwerp 2022 Rox Holo stickers on the MP9 Wild Lily, such an insane combo with a total value of USD 125 applied! But of course we got another Rox craft to show, this time made by @BIGBRUHBEANSS, he applied another four of those sticker on a .0001 USP-S Neo Noir!


---
Do be like Dat
Here we go again, another anticipated craft, with one of the greatest Cologne 2014 stickers that we saw quite a bit in the recent articles! Once again the master is @jklsinclair, adding another amazing piece to his big collection. This time applying four Cologne 2014 Dat Holo stickers on the 8th lowest float StatTrak AUG Death By Puppy with a float of .004! Such a great combo, with an applied amount of USD 325!


---
Cute Green
For our second last craft, we got a small banger which is also an one out of one, made by @jandro_tito! He used one of the best covert AWPs from regular cases for this craft, the AWP Containment Breach with a .004 float. On the scope of it, he applied a Katowice 2015 Na'Vi Holo sticker. Such a great fit, actually very surprising that it wasn't made before! The applied amount is USD 350!


---
Surprise Surprise
We had issues finishing this article since people kept crafting all over again. We saved a good portion for the next article, but there was one that we could not wait to post! For the second time in this article we have @flash5219. He did what we desired the most, a Katowice 2014 Holo craft. The skin of choice was non other than a M4A1-S Welcome to the Jungle, with a float of .008! Onto it he applied four Katowice 2014 Clan-Mystik Holo stickers which together have a value of around USD 20.000!


---
Conclusion
After plenty of beautiful CS:GO sticker crafts in August 2022, we are at the end of this article. We really hope you enjoyed it as much as we did! Don't forget to give us your opinion about the current article and of course any craft that you might have seen or done yourself on social media, as always! Also feel free to turn on the notifications to not miss the follow-up article, which as for now is a surprise topic! Oh, almost forgot, the thing many might have looked up for, the total value of stickers applied is USD 43.165!