13 Amazing Witch Doctor Sets in Dota 2
Topic: Dota 2 Best Witch Doctor Skins - Full Guide

Today, we advance even further into the best skins of our favorite Dota 2 heroes. For this article, we chose a support hero that we know you all love! Enjoy the read, and make sure you don't get bewitched!

Masque of Awaleb (Immortal)
The following Witch Doctor skin set is one of the most popular ones, featuring a crazy design! The set is composed of two immortal pieces for the head and back, both having some amazing custom effects for their spells. The design primarily focuses on tribal-looking masks with some amazing particle effects. While unbundled, it has a price of only USD 13.00!


Footfalls of the Sporefathers (Mythical)
This next set on the list is part of the Nemestice Collector's Cache, and it's actually very rare. It has a pretty interesting design with a main focus on small creatures that are placed all around the set, even around the Death Ward! Because of its rarity and giftable-only aspect, this set is going for around USD 25.00!


Deathstitch Shaman (Mythical)
Deathstitch is a Witch Doctor skin set that was added recently with the Diretide Collector's Cache. It has the classic purple theme with the main focus on its beautifully designed weapon piece. The price of this nice set is just USD 1.40!


Servants of the Sightless Shamans (Mythical)
The following set has an incredible design for the head and hand pieces, both looking so clean and shiny. As we've already become accustomed to, the headpiece once again represents a monkey, while the Death Ward once again resembles something close to a shaman's object. The price of this set is around USD 4.50!


Awaleb's Trundleweed (Immortal)
Awaleb is one of the two independent Witch Doctor immortals, representing a weapon skin. It has an interesting design, resembling some kind of healing flower with potions attached. It comes in two types: golden at a price of USD 0.35 and regular at a price of only USD 0.12!


Spoils of the Vodou Rover (Mythical)
The next Witch Doctor skin is his oldest Collector's Cache set, dating all the way back to 2017. It's definitely a pretty nice one, especially considering its age. The main idea of the set is a pirate-looking outfit. Very well done with some nice details, the price of this set is around USD 10.00!


Prodigy of Prefectura (Mythical)
Prodigy of Prefectura is an amazing Witch Doctor skin set with a flashy look and some nice in-game details that shine! Like many sets from its treasure, this one is also mainly built around some well-designed purple crystals, giving it a very fresh look. The price of this set is only USD 4.70!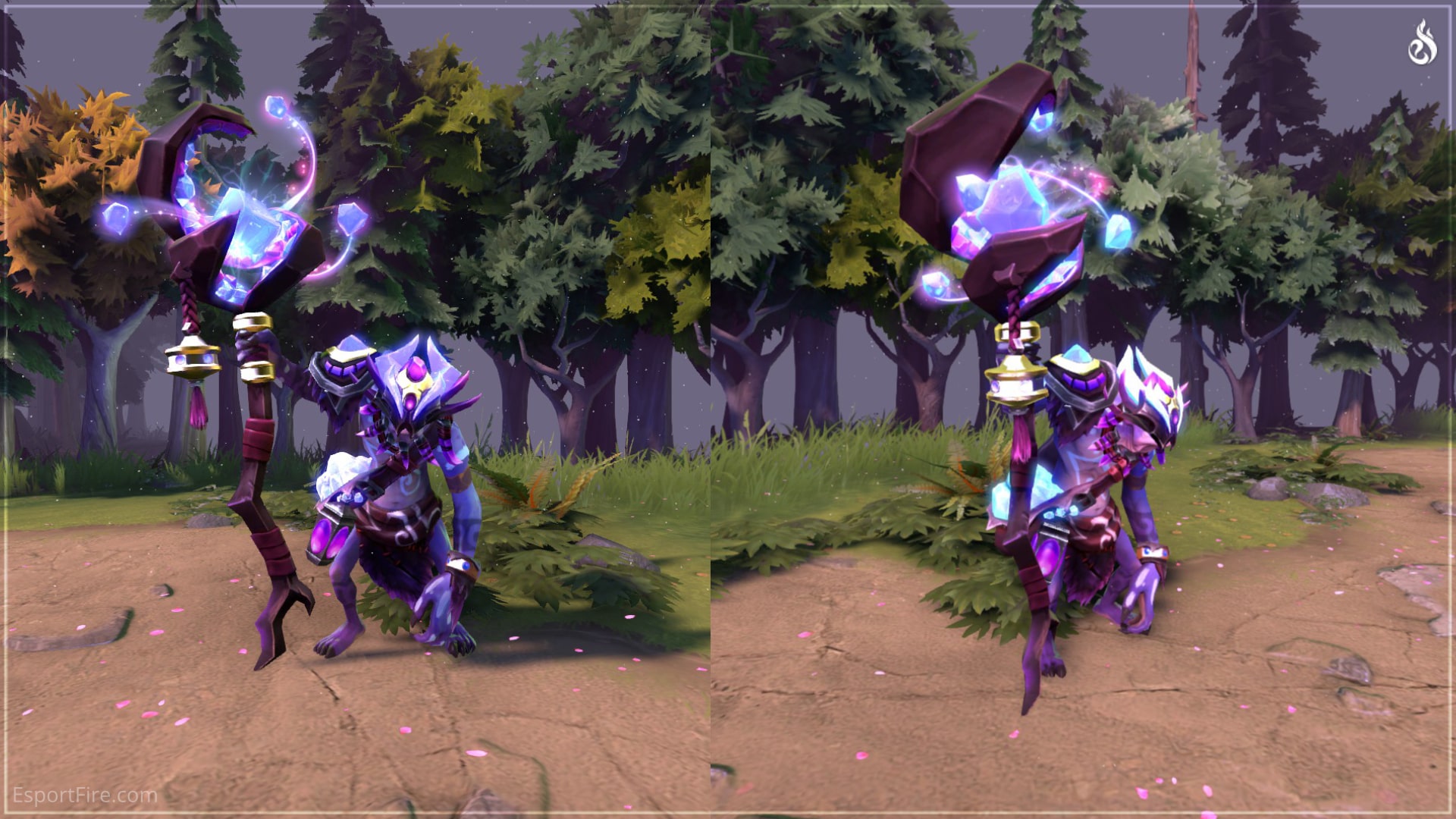 Bonkers the Mad (Immortal)
It's time to talk about the other Witch Doctor independent immortal, Bonkers the Mad, which is very similar to the back piece from Masque of Awaleb. This back piece is a bit simpler in design, with the small monkey having no special cosmetics and coming alongside a simple palm tree. The price of this immortal is USD 2.00!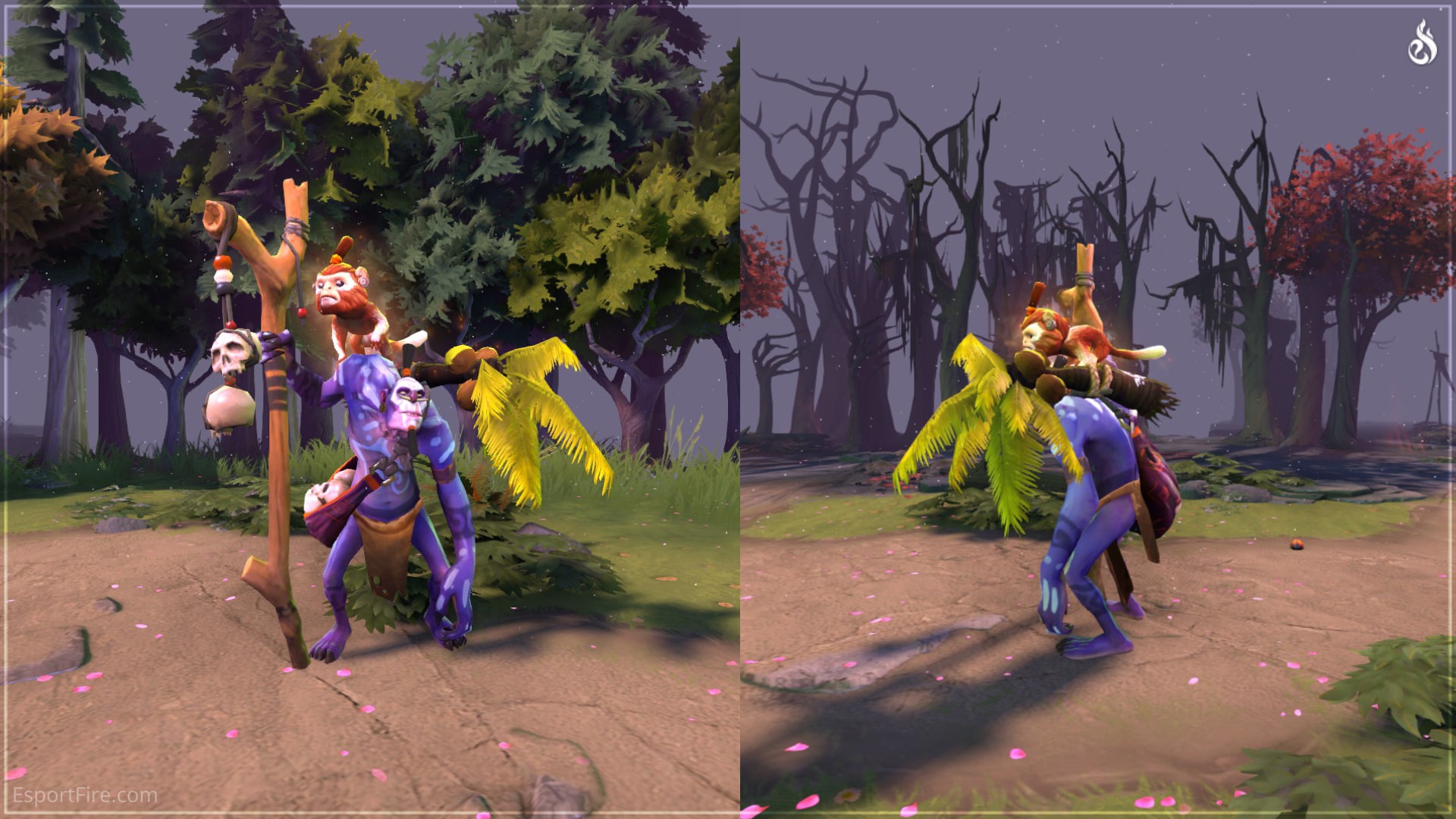 Foreteller's Oath (Rare)
"Gangster" is the best way to describe the following look, with a relatively simple design. The main attraction of the set is the headpiece, which comes with glasses and a pipe, and also the Death Ward cosmetic representing a voodoo urn. The price of this rare set is only USD 1.25!


Garments of the Devilish Conjurer (Rare)
The following Witch Doctor skin set may not be as amazing as the ones we've seen before, but it's certainly interesting. The attention is definitely drawn to the snake on the weapon piece, with a nice design and perfect color choice. The price of this set is USD 5.20!


Cunning Cultivations (Rare)
Cunning Cultivations is one of the commonly seen sets, with many people using it for a good reason - it offers good quality for a low price tag. The set's design is centered around a farmer style, incorporating some magical wood along with hay and pumpkins. The price of this well-known set is only USD 0.60!


Bearer of the Arkturan Talon (Mythical)
The next set is what you might imagine when you think of a Witch Doctor; it has the look of a witch. Starting with the headpiece, which has some horns attached, mixed together with a back piece with feathers and a skull necklace, and in the end, we have a very nice weapon. The price of this set is only USD 0.27!


Voodoo Pharmacist - Workshop Submission
The Voodoo Pharmacist is one of the greatest workshop sets for Witch Doctor at the moment, and it was made all the way back in 2019. The set mainly showcases a shaman, with an interesting weapon that has a small monkey on it, a very colorful headpiece, and an amazing Death Ward. Overall, it's a pretty nice set among not so many submissions!


Conclusion
Today, we had a look at some lovely sets for one of our favorite support heroes! We hope you did stick till the end and that you enjoy our choices, if so, there are more skins to be found in out other articles, feel free to check them out.