Sticker-Spotlight DH 2014 Dignitas Holo Crafts, Supply, Price
Topic: DreamHack 2014 Dignitas Holo Crafts, Supply & Price Trend

Last, but not least. The Team Dignitas from the DreamHack 2014 Counter-Strike tournament is one we can't forget about. This is the last team that managed to get the holographic version alongside the paper version of the sticker. The Holo version could have been acquired by purchasing the Legends capsule from the "DreamHack Winter Is Coming" update. Since that release, we have seen the price trend going up, multiple beautiful sticker crafts were created and the supply of the DreamHack 2014 Dignitas Holo went down! Let's see what changed over the years.
DreamHack 2014 Team Dignitas – General Team Information
The team taking part at the DreamHack 2014 event consisted of the following five players: Henrik "FeTiSh" Christensen, Peter "dupreeh" Rasmussen, Andreas "Xyp9x" Højsleth, Nicolai "dev1ce" Reedtz and René "cajunb" Borg. Furthermore, they also had a coach behind their back, who is known as Steffen "3k2" Markussen. The group stage run for the Danish team started flawlessly. The draw put them in group B with PENTA Sports, Team iBUYPOWER, and Copenhagen Wolves. Their opening match was against PENTA Sports and without any major problems they won with a scoreline of 16-9.

To secure the first group spot they had to beat iBUYPOWER in the winner's match and that's exactly what they did. The game went even smoother and they prevailed 16-7. They entered their first playoff game against Na'Vi with a big confidence boost. However, this time everything was a bit different. On the first map of Cobblestone, they lost 3-16 and in the second map of Mirage, they dropped a 12-1 lead, which led to the final result being 13-16. What a tough way to drop out of the tournament. With that, the final result was a 5th to 8th place with USD 10,000 in prize money and an ESL One Katowice 2015 qualification.


DreamHack 2014 Team Dignitas (Holo) - Sticker Supply
The exact unapplied supply of the DreamHack 2014 Team Dignitas (Holo) sticker is not publicly known and is hard to calculate. But, we do know the available supply of the stickers that can be purchased on some of the marketplace sites. On Steam Community Market, we can find 15 of them currently listed, and 80 more are available for purchase on Buff163. That makes this sticker currently the one with the highest supply of unapplied stickers that can be bought in our DreamHack 2014 Sticker Spotlight series. As always, we need to keep in mind that there are many of these stickers still "hidden" in different inventories, storage units, and so on.
DreamHack 2014 Team Dignitas (Holo) - Price Trend/Development
The DreamHack 2014 Dignitas Holo price trend saw quite a jump recently. The biggest reason for that is the release of the Counter-Strike 2 Beta which boosted the price of the sticker quite heavily from around USD 150 to USD 375. However, prices are always correcting a bit after such hypes and nowadays the cheapest sticker is listed for around USD 300. Some of the recent sales have been ranging between USD 250 and USD 280. With those numbers, we can estimate that a new four-times craft would cost anywhere between USD 1,000 and USD 1,200.



DreamHack 2014 Team Dignitas (Holo) - Sticker Crafts
As many would have expected, the DreamHack 2014 Team Dignitas (Holo) sticker has had a decent amount of crafts ever since it got first added to the game. So far there are 17,101 skins with one or more stickers applied to them. Out of those 17,101, 644 are four-times DreamHack 2014 Team Dignitas (Holo) crafts. One of the most recent crafts happened on an AK-47 | Head Shot and we're going to showcase you the currently lowest float one out of 8 that exist which is owned by @ZeusperCS.

Let's continue with another colorful sticker craft, this time on the CT side and a one-out-of-two craft. We're talking about the M4A1-S Imminent Danger from @mosquitoeater_. If you are into one-out-of-one crafts, then you might be a fan of @dx_csgo's Desert Eagle Ocean Drive with a float value of 0.006. Also, another AK worth mentioning would be the AK-47 Nightwish owned by @yates_csgo. We love to see so many amazing DreamHack 2014 Dignitas (Holo) crafts on newer skins!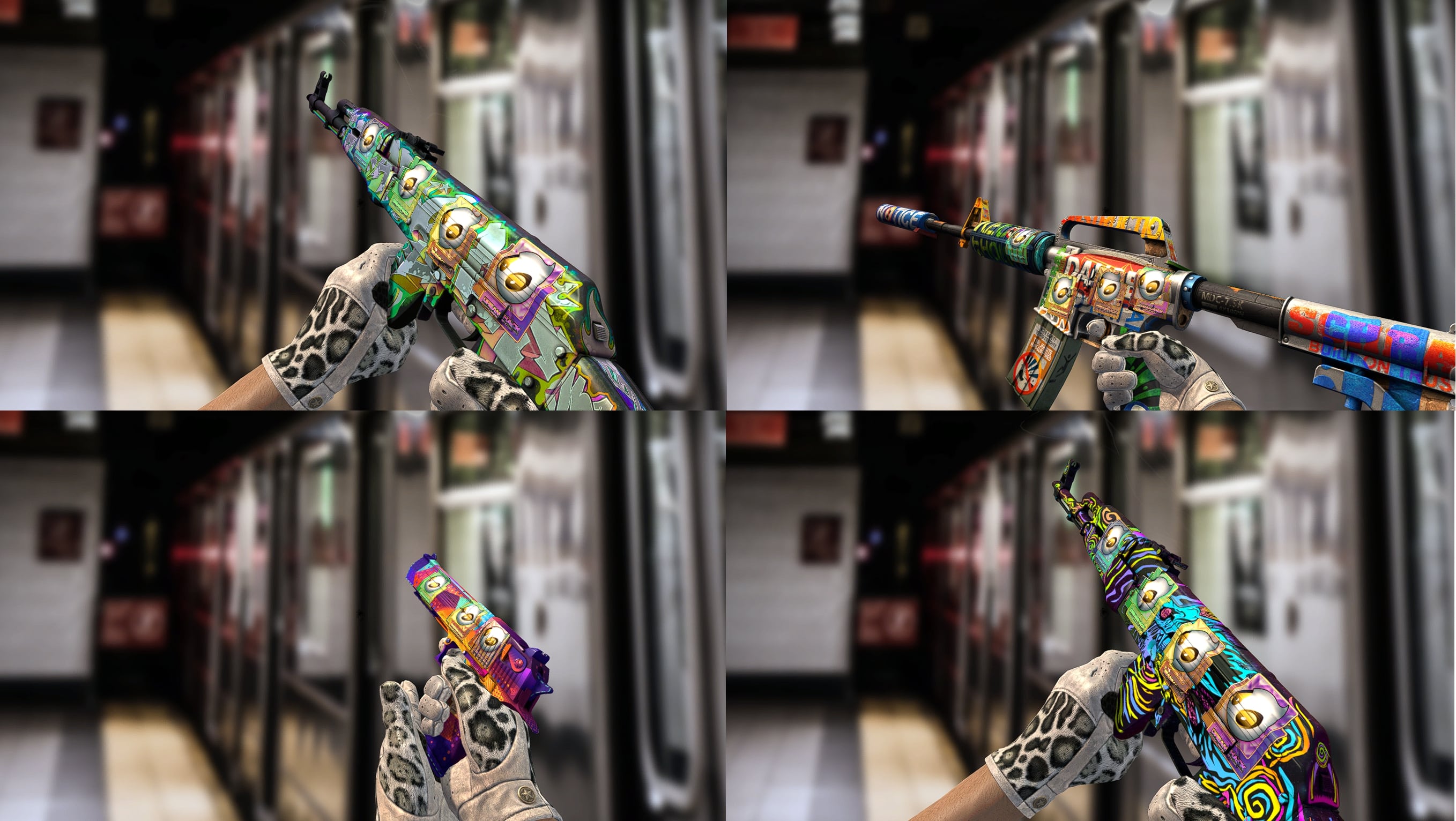 DreamHack 2014 Team Dignitas (Holo) - Sticker Crafts
Three months ago @1678_CS decided to apply four stickers on a M4A4 In Living Color with a float value of 0.0008. This craft nowadays exists four times. If you are a big fan of old school sticker crafts you might enjoy the USP-S Overgrowth in the hands of @red507. A clean USP-S craft which can be considered a one-out-of-one craft, as the other one is on a banned IGXE bot.

If you are one of the few people that use CZ-75 Auto's then keep an eye on the Yellow Jacket which is owned by @_Sabach. What a cool and unique craft! One of the most recent crafts was done by @Bastert55. He applied four DreamHack 2014 Team Dignitas (Holo) stickers on a M4A4 Temukau.


DreamHack 2014 Team Dignitas (Holo) - Sticker Crafts
When talking about DreamHack 2014 Dignitas Holo crafts, the SSG-08 Sea Calico in the hands of @franky6476 is a nice one-out-of-one craft that makes a perfect yellow and green match. There are quite a few DreamHack collectors in the Counter-Strike community and of them is @777hef. He did a craft that many wouldn't even think about in the first place. The MP7 Tall Grass.

Another person that has frequently been featured in our "Sticker Spotlight" series with his crafts is @jklsinclair. This trend continues as he made a DreamHack 2014 Dignitas Holo craft on an SSG 08 Turbo Peek with a float value of 0.0002. Furthermore, we of course can't forget about the Glock-18 Neo-Noir which is owned by @KinglingOsu. It's the lowest float DreamHack 2014 Team Dignitas (Holo) four-times sticker craft in the game.


Writers favorite
My favorite crafts with this sticker are coming from some of the recent cases and operations. Those are the 0.0008 M4A4 In Living Color by @1678_CS, the 0.001 AK Head Shot by @ZeusperCS and the M4A1-S Imminent Danger owned by @mosquitoeater_. All of these skins have nice color combinations that fit perfectly with the Holo effect of the sticker.
Conclusion
With DreamHack 2014 Team Dignitas (Holo) "Sticker Spotlight" we covered and took a look into all of the existing Holo stickers from this Counter-Strike tournament. But, we won't stop here and also take a look into all the other DreamHack 2014 teams! With that said: Stay tuned and turn on the notifications on our Social Media page to not miss our next piece.
Information powered by Liquipedia