The new Revolution Case is OUT NOW!
Topic: Every Skin in CS:GO's New "Revolution Case"

After a 223 days drought of no new skins added, the CS:GO community was finally able to rejoice as developers announced the release of the "Revolution Case," which features 17 community-made skins. Alongside the release of the new case was the addition of a new sticker capsule: the Espionage Sticker Capsule, as well as the new Denzel Curry ULTIMATE Music Kit.

However, these are merely accessories to the big news, which is that the CS:GO community finally has new skins to play and craft with! Without further ado, let's take a look at some of these new skins.
Carkyss jAlex blog.counter-strike.net
Gloves: Clutch Case Gloves
CS:GO opted to not create any new knives or gloves for the new case, and rather decided to re-use the gloves from the Clutch Case. These include Hydra Gloves, Sport Gloves, Moto Gloves, Diver Gloves, Hand Wraps, and Specialist Gloves.
AK-47 | Head Shot - by serQ and CORSUS
This colorfully pearlescent AK-47 features the words "HEAD SHOT GUN" graffitied onto the gun. It also has an extremely cool extra feature: the skin looks super cool when at a very high float!


---
M4A4 | Temukau - by f0rnez
This next skin is one sure to be popularized by CS:GO's large demographic of Chinese collectors. It features an anime-themed image of a female CT agent in a style very similar to the AUG | Akibahara Accept.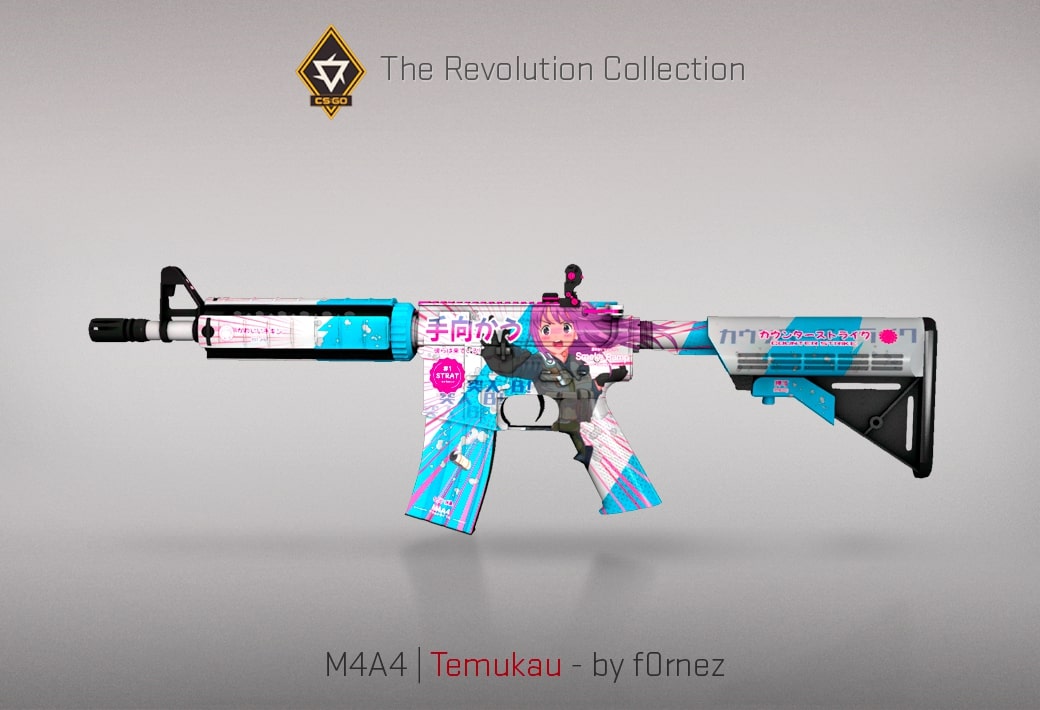 ---
AWP | Doodle Lore - by Jimmba
This colorful version of CS:GO's most well-known skin features a busy collection of doodles, including flowers, hearts, and a dragon.


---
UMP-45 | Wild Child - by kiku
Yet another colorful skin is next, and this time it's an SMG! This skin features loads of sketches of various CS:GO-themed things, including one of the words "Clutch" with a crown on top of it.


---
P2000 | Wicked Sick - by PGLind
Next up is another modern neon design, this time on a pistol that is slowly growing in popularity. The skin also features a black-and-white design centered on the top of the gun.


---
M4A1-S | Emphasorous-S - by Sparkwire
This play on words features a green base with a Velociraptor clawing its way out of the skin. What's extremely cool about this skin is the tiny claws sticking out of the gun!


---
P90 | Neoqueen - by Madara
This skin features a variety of designs, ranging from military-themed labels to sci-fi designs and even spots of graffiti, continuing the theme from the Head Shot.


---
MAC-10 | Sakkaku - by Anbu and 4Gauder
This skin features a lined background with an image of another anime-themed character on it. However, this skin has a special feature. Move the skin around in the shadows and you will see the eyes of the character glow red!


---
Glock-18 | Umbral Rabbit - by bun.droid
This next skin features a beautiful, intricate design that displays a rabbit hopping across a full moon in the background.


---
R8 Revolver | Banana Cannon - by 123
This skin may remind some of a more detailed version of the Five-Seven | Monkey Business. The R8 looks as though it has been wrapped in a banana peel, and it even comes with pre-applied stickers!


---
SCAR-20 | Fragments - by UAD6
The illusion painted on this auto-sniper makes the skin appear as though it has bronze and silver geometric shapes sticking out of it!


---
MP9 | Featherweight - by Cimota and NameJeff21
The black and white porous design of this MP9 appears as though the gun is hollow, hence the name. This skin was created by a very well-known and beloved member of the CS:GO skins scene: Cimota!


---
MP5-SD | Liquidation - by melok, mei, and Specter
The dark base of this sleek MP5 features clean blue and red highlights, making the gun appear as though it is sitting in a display case with beautiful lighting.


---
P250 | Re.built - by Wonder Bit
Despite its minimalistic design, this military/tech-themed pistol skin is super cool, and would fit perfectly in a grey-themed collection. It features a grey base with white designs.


---
MAG-7 | Insomnia - by chipAs and Hoshi
This skin almost looks as though it belongs in the Dreams and Nightmares case, with an image of fish swimming into a person's open mouth painted over a black and orange background.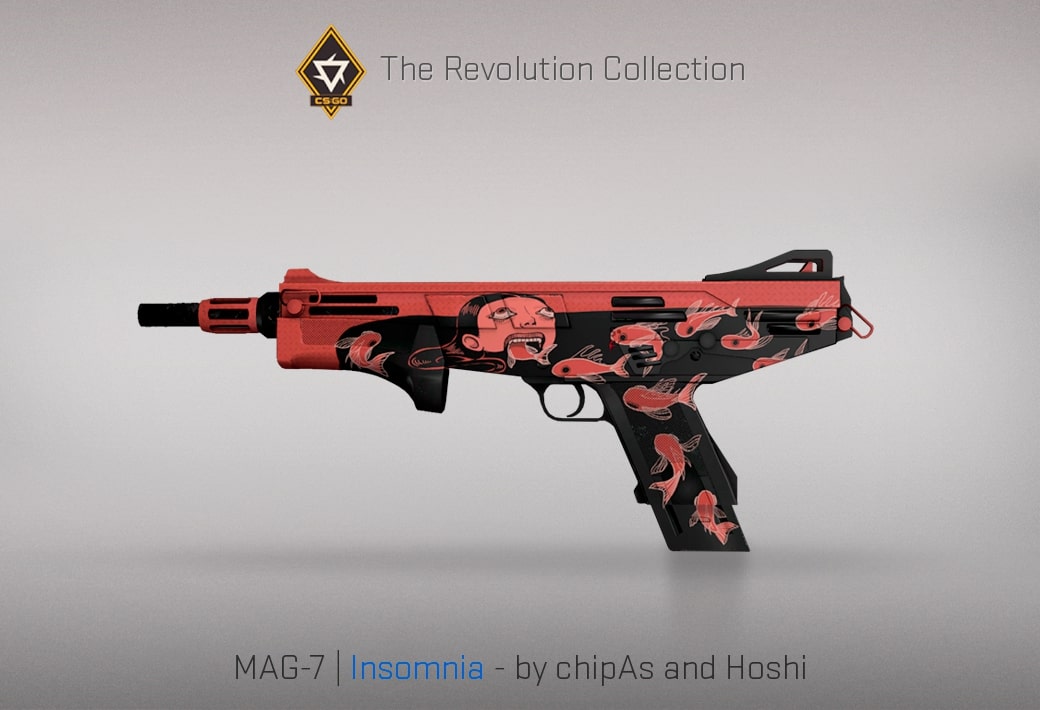 ---
Tec-9 | Rebel - by HEWOK and Kattys
This skin may remind many of the Phantom Disruptor, as they share a unique color palette. It features some strange designs and the word "FREEDOM" on the magazine.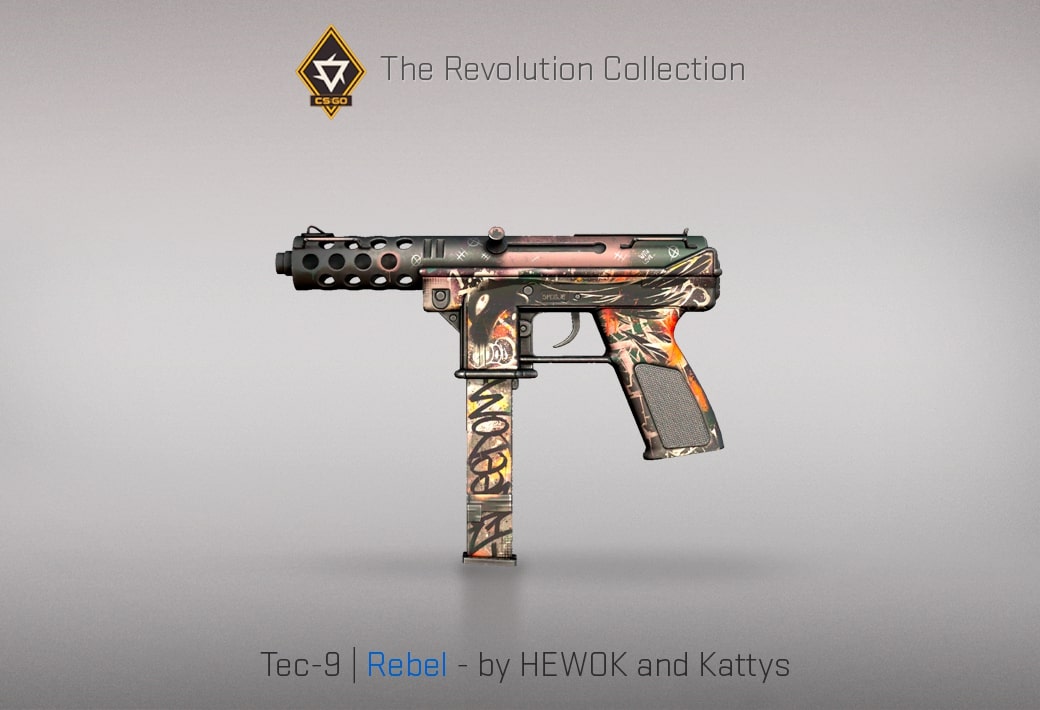 ---
SG 553 | Cyberforce - by Micheal and evgenbrau
The final skin of the case doesn't fail to continue the theme oftech-themedd skins, and this one features a red and black base with the word "CYBERFORCE" placed above a logo of some sort.


---
Conclusion
It's so exciting to finally have new content in CS:GO! We can't wait to see what the community can do with these skins in terms of crafts, and if you do any exciting crafts with these new guns, be sure to tag @esportfirecom on Twitter for a chance to be featured on our Twitter and a monthly recap article! If you enjoyed this article, please feel free to check out our other skin-related content at esportfire.com/skins.