Nafany Inventory-Review
With Gambit becoming more and more popular, it is about time that one of their players receives an inventory review! I chose to go with Nafany, because he seems to have quite a personalized inventory, yet I had to include one of Hobbit's skins, since there are a couple of gems in that inventory as well.

Nafany is coming in at a total value of a proud 2'300$, according to the Sharkbay discord server, mostly consisting of his knives and gloves plus your average playskins.

General inventory
Talking about value, there are a few crafts around and they seem to be mostly selfmade from my point of view. He suffers from "chronic own team illness" tho, there are only very few skins that have non Gambit stickers on them.

Honourable mention has to go to Hobbit with his .030 AK-47 Empress that includes a Krakow Hobbit Gold autograph on second best pos! Additionally there's also a Stockholm 21 Gambit gold all the way on the back. I don't really see why the wood doesn't have a sticker applied, but I'm sure it has a profound style based reason that my puny brain can't wrap around.
Marble Fade and Slaughter
Yep, you read that right, I know the combo sounds a bit wacky, but it actually matches incredibly well. His Specialist gloves Marble Fade may only come in a .358 float but they easily got the best E I've ever seen on .35 Specialist gloves.

The Butterfly Slaughter comes in a fairly clean minimal wear with a .076 float. All the way on top of the blade you can see a smidge of a diamond pattern. If you compare the inner side of the gloves with the knife shade, you'll find that they are identical, hence why I think this makes quite an amazing combo. On top of that, the right glove is mostly red which adds to the whole entourage of this combo.


---
AK Bloodsport
I've talked about things I just recently discovered on the Bloodsport on previous reviews but I have yet to tell you about another detail. This was the first time I noticed that the top of the mag is wrapped with caution tape, invisible when playing with it casually.

Let's get to the meat on this beautiful bone. His Bloodsport comes in a decent .060 float with three Boston 18 Gambit holos applied throughout the body. To complete this craft he went for a Kato 19 Olofmeister gold signature on the wood. Stunning combo, the holo effect of these stickers actually has small stars inside of the big Gambit star!


---
M4A1 Golden Coil
The A1 Meta is booming and it's actually a great thing since the A1 has a lot more good skins to offer! The Golden Coil is no exception, in a .058 it got solid saturated colors with barely any scratches.

Applied on it there's a whole variety of different Stockholm and London gold signatures starting out with a London Mou gold on best pos above the mag. Right behind it on second best pos we can see a Stockholm 21 Ax1le Gold followed by his own signature. Lastly on worst pos we got another London signature, this time from AdreN.


---
Aug Bengal Tiger
For this skin I got quite high hopes of the stickers being self applied. The Bengal Tiger itself comes in a statty .156 with four MLG Columbus Gambit papers applied. Pretty clean combo since the colors are quite close to each other.

I wish the skin itself came in a better float but I understand why he wouldn't get a perfect float for a bunch of paper stickers. Pretty decent Aug but nothing to write home about.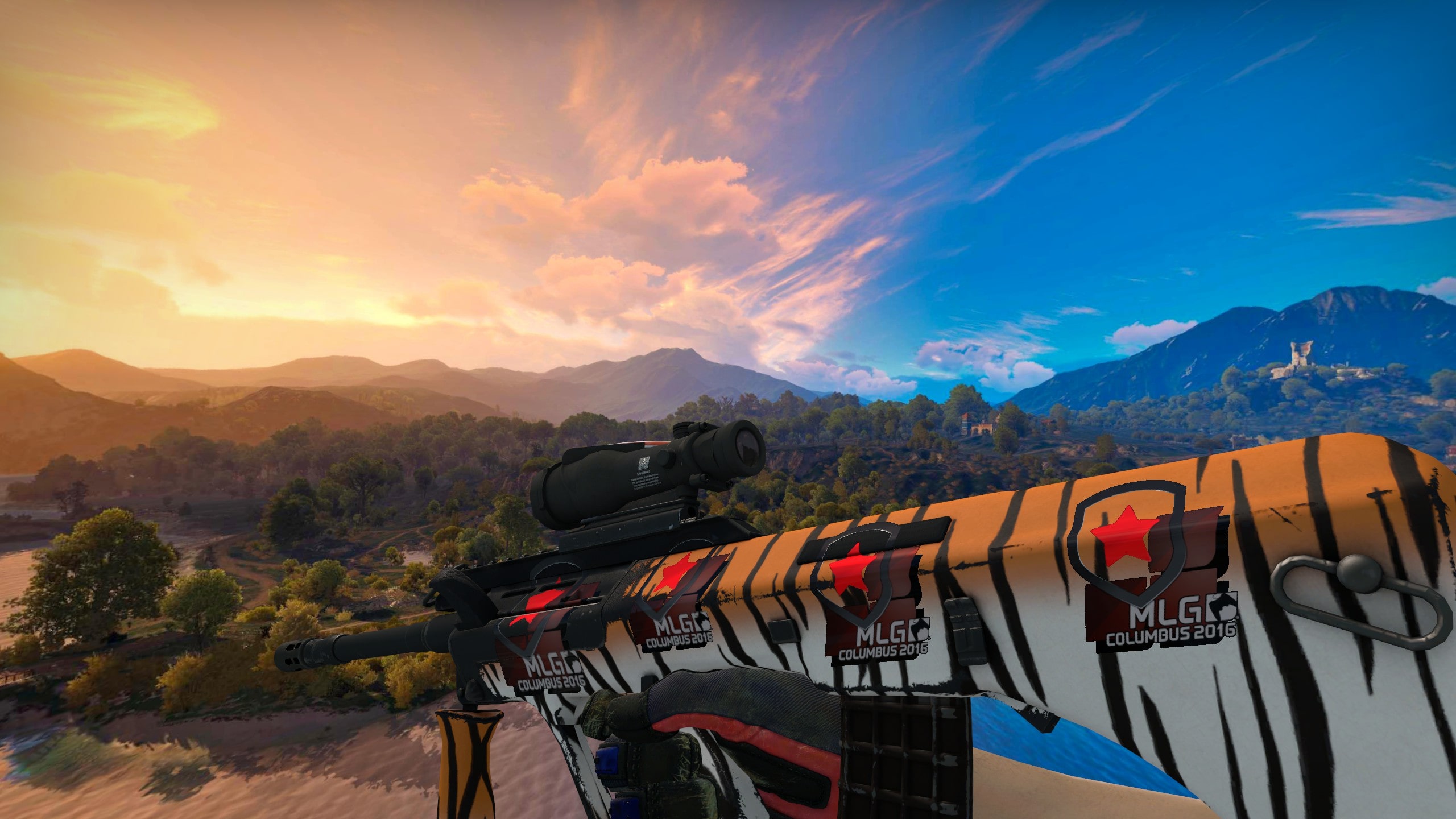 ---
SG Aloha
A pretty cool looking blue skin with a very flowery theme. The Aloha was first introduced with the clutch case but it looks more like an Operation Riptide skin than any other Operation Riptide skins.

He crafted himself a cheeky fire and ice combo with those London 18 Gambit papers. I've always liked red stickers on blue skins and these 2 shades go together phenomenally! In a statty .049 it might not be the cleanest but the craft is slapping nonetheless.


---
Hobbit's USP Road Rash
As a last entry into this review, I decided to go for one of Hobbit's pistols, since Nafany doesn't have a single mention worthy pistol and I didn't want this review to be all too one sided. This USP comes in a solid .061 barely making it to fn. That's not too bad tho because the whole premise of this skin is to be scratched.

Stickerwise we're talking about a magnificent combo with three Atlanta 17 Gambit holos on the top and a Krakow 17 Gambit holo on the handle to finish things off. As most crafts on the Road Rash, this one looks pretty clean. This skin is basically the USP Whiteout before the USP Whiteout was a thing.


---
*All pictures are taken on Broskins
Summary
Overall, I quite like this inventory or else I wouldn't have picked it for the review. You can really feel a certain love for skins which sadly doesn't extend to float values but rather sticks with crafts.

I would love to see his craftings go past his own team, I know that's quite literally a miracle in the pro scene when it isn't about Kato 14s tho.
Rating
My final rating will be a solid 5.873 since there's a cool combo and skins for most guns apart from the really unpopular ones such as Sawed Off and M249.

I'm kind of missing a theme in this inventory, he does have a couple of red skins but nothing very thorough. I very much enjoyed reviewing this inventory, haven't gotten around to snoop through Gambit's loadouts before.