Inventory Review Kazu's Store
Topic: Kazu's Store Steam Inventory Review & Value - CS:GO

A big name in the Spanish-speaking community as well as on Twitter in general. Kazu isn't just an insane cs player, he's also a full-time trader with a rather pretty inventory!

While this loadout may not be at the peak of its glory anymore, it still racks up an impressive (probably undervalued) USD 22'000 worth of items according to Sharkbay. Most of this value is accumulated by his gorgeous blue gems as well as some classic high-tier items.

General inventory
As I've mentioned before, there are a whole lot of blue gems in his inventory, but most of the value that Sharkbay recognizes should come from his high-tier liquid items. There is a Crown Foil, a .17 Howl, a Butterfly Ruby and that list goes on and on.

I think picking an honorable mention wouldn't do his past inventory justice, so I'd rather talk about the sheer frequency of trading that is happening here. The tradable items in his inventory start on page 4, with 92 untradeable items at the point of writing this! To put this in perspective, that are 92 items in one week or 13 per day that have entered this man's inventory. Not a single day of trade holds is missing either, there is no such thing as a weekend when it comes to full-time trading!
The Nomad Gem with Super Conductors
Ever since s1mple used the Nomad in a major CS:GO event, it became one of the most popular knives in all of CS. My guess is that this mostly comes from the funny rare animation and the decent-sized blade.

A .23 float is plenty for a blue gem to appear in its best colors. Matching this magnificent 668 pattern, we got ourselves a clean pair of 0.0918 Super Conductors making it such a pleasant combo.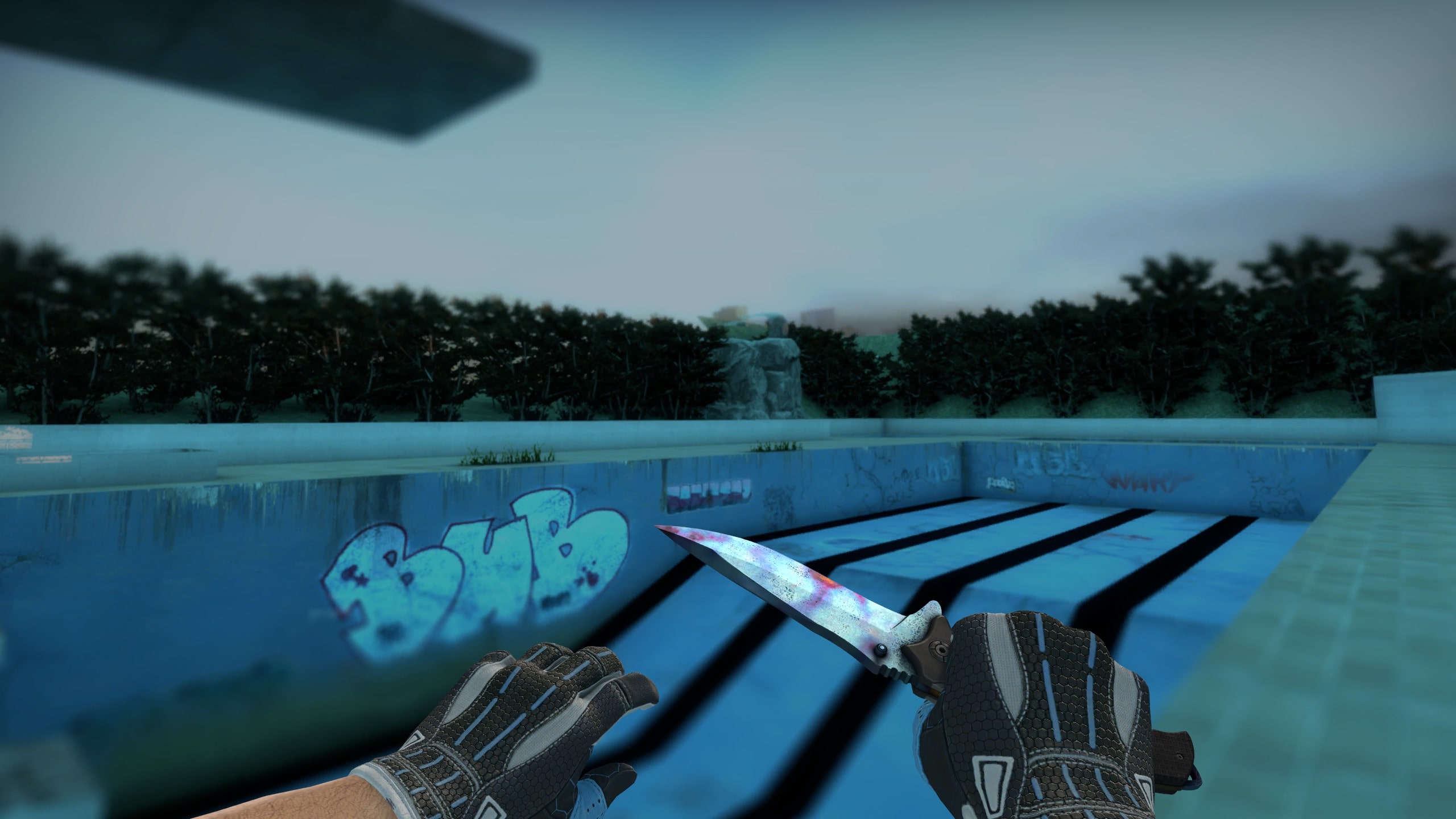 ---
Ocean blue, all throughout!
We are continuing our cruise through the Pacific with two more blue gems. On the left side, we got ourselves a nr 1 pattern Five Seven Case Hardened. While it may only come in a .603 float, the 690 pattern will catch your eye nonetheless. Fun fact, the Five Seven actually consists out of 3 separate pattern snippets, so it's extra hard to get a full blue one.

Not as OG yet quite beautiful. With a float of .253, we got ourselves a very bright Mac-10 Case Hardened with a 239 pattern!


---
The wolves are howling at night
Fairly rare in Factory New due to its float cap at .06, this Glock Night makes a dreamy background for those Cologne 2014 Copenhagen Wolves Holos.

They are applied all throughout the top and with a float of .06500 you can barely make out any scratches. Such a simple craft yet absolutely stunning while even matching the Super Conductors!


---
Shroud on the Dragon Lore
The Man, the Myth, the Legend! Shroud is coming in hot and all golden on this high-tier classic. Being the "OG dick" signature, I absolutely adore this sticker due to Krakow Golds being inarguably the best Golds of the game.

At a float of 0.566, it may look a bit scuffed but doesn't take away any of the matching color palette. Apart from the Krakow 2017 Shroud Gold on scope, a Stewie2K Boston 2018 Gold is applied all the way down the stock. Lovely craft for the king of AWPs!


---
ALL THE PRO FOILS
This is a true commitment to being an absolute CS legend. You might think to yourself: "Well a pro foil on a default AK-47 ain't too impressive", but he got those stickers applied on EVERY SINGLE DEFAULT GUN.

This sticker may have been a little cheaper back then, but it is still a Pink from this capsule so it definitely cost a significant amount! The Pro Foil sticker is one of the rare examples where the sticker actually works with pretty much all the default skins.


---
Back in the days of blue gems O'plenty
The infamous Karambit Case Hardened with the dragon claw pattern. This skin used to belong to Kazu at the peak of his inventory. With the 828 pattern you get a fully formed claw of ocean-colored goodness.

It may not be quite as desirable as the infamous 387 yet, in my opinion, I like the bit of character it gets with the golden front part. Despite the float of .427, it still shines bright with it's luscious colors!


---
Summary
Overall, the inventory seems a bit random which makes sense since he is trading on a daily basis. I appreciate his love for the OG classics such as Dragon Lores and Blue Gems.

It's pretty cool to find some cool crafts in the midst of all those traded and bought items. I also love Kazu's community involvement, he's helped out a ton of Twitch streamers and even has his own Esports team.
Rating
My final rating will have to be a very kind-hearted 6.041 due to it being very trading oriented. There isn't really a loadout theme to be recognized and at the point of me writing this article, a bunch of mentioned items are gone again.

That being said, I had an amazing time talking to Kazu and playing matchmaking with him!

*All the screenshots were taken on the ohnePixel server