CS:GO Market Recap March 2022
Topic: CS:GO Market Recap: crafts, prices, news

For those who haven't read the previous recap, these will include the latest news for CS:GO skins about:

-New rare and unique unboxes
-New expensive and or rare sticker crafts (Katowice 2014, Krakow 2017, contraband stickers, etc)
-Market changes (items going down/up)
-Official skin-related content (new cases mostly, but anything from valve)
-Uncategorized (New marketplaces, skins recently registered on or off databases)

Welcome to another edition of our Market Recap! We hope you enjoy reading, learning, and looking at the juicy skins that recently got crafted!

Hot Topic: Cases
Let's start with cases and their market changes:

The Clutch Case has seen an increase of almost ~150% since the start of March! Only time will tell if how steadily the case prices will increase but the recent uptrend was quite impressive once again.


---
Another example is the Glove Case that has gotten an increase of almost ~140% since early March!

At the time we are writing this article the Glove Case is just a mere 6 cents away from the Breakout cases price, with 6.000 less cases as supply on the Steam-Community Market! Will the Glove Case surpass the Breakout Case in price in the near future?


---
Cases concluding words
As you can see, the case prices are slowly but steadily spiking. Most cases went down during the operation and now, with Riptide concluded, cases go up in price again. Many people quick sell cases, drops, and liquid skins to buy the Operation Pass, Stars, or to open Operation Cases. So it is completely natural that, once the Operation has finally concluded, cases and liquid skins go down to their normal price again.


Skin prices
As with the cases we have also seen a continuously upwards trend with many items. A "classy higher tier" liquid, the Butterfly Marble Fade shows a straight upwards trend since the end of October, which also continued throughout March. In general, we saw a price increase of 10-20% in March for most liquid items. To show off another example we want to pick up the AWP Oni Taiji, which is a classy investment item and had a peek at over 500€ last summer. While falling back to below 200€ in October, we´re back at 310€ in March!


Skins and crafts!
Now that we got that out of the way, let's talk about skins and crafts! In the following paragraphs, we will show you a few of the craziest and most expensive crafts that happened in March.

Let's start with a few banger Katowice 2014 crafts!


#1 Souvenir AK-47 | Gold Arabesque with 4x Virtus.Pro (Holo) | Katowice 2014.
What a great fit between the "new", golden Ak-47 and some old, lovely Katowice 2014 VirtusPro holo stickers. Altogether a mysteric and beautiful match.


---
Souvenir AWP | Desert Hydra with 1x IBUYPOWER (Holo) on Scope!
We do love some nice crafts, but it is also kinda sad that all the Souvenir stickers have been scraped. Granted, they aren't the most liked Souvenir stickers, especially with the player signatures missing, but we liked how unique and different the map sticker is. Nevertheless, the craft itself is a true banger and looks quite amazing.


---
AWP | Gungnir with 1x Vox Eminor (Holo) | Katowice 2014
Now we're continuing with some expensive high-tier crafts! A rather unknown crafter decided to apply a VOX Eminor on a shiny, blue AWP Gungnir, making a quite unique match.


---
AK-47 | Wild Lotus with 1x Clan-Mystic (Holo)
Only a one-time craft, but still a unique match between the new colorful AK and the old, legendary Katowice 2014 Clan Mystic holo. @Trainwreckstv unboxed the sticker and traded up to the AK, to give you guys a little background story.


---
StatTrak™ M4A1-S | Printstream with 4x Dignitas (Holo)
This might be a nice fit, but we do hope that the M4A1-S Printstream crafts with Kato 14 stickers are done for now. After the Printstream-Mania in January, we have seen our fair share of Kato 14 stickers and expensive and rare stickers crafted onto this M4A1-S! (Although they all look quite amazing)


---
StatTrak™ AK-47 | Nightwish with 4x Dignitas (Holo)
The Nightwish is a controversial skin and the craft is also questionable. But all in all it looks better and better every time you look at it, til a point where you fall in love with it!


---
M4A1-S | Printstream with 4x LGB eSports | Katowice 2014
We're back at it again: Another Printstream M4A1 craft! Same as most of them, it looks stunning and gives a great fit. Overall it's probably hard to fail when crafting on a clean, shiny white background.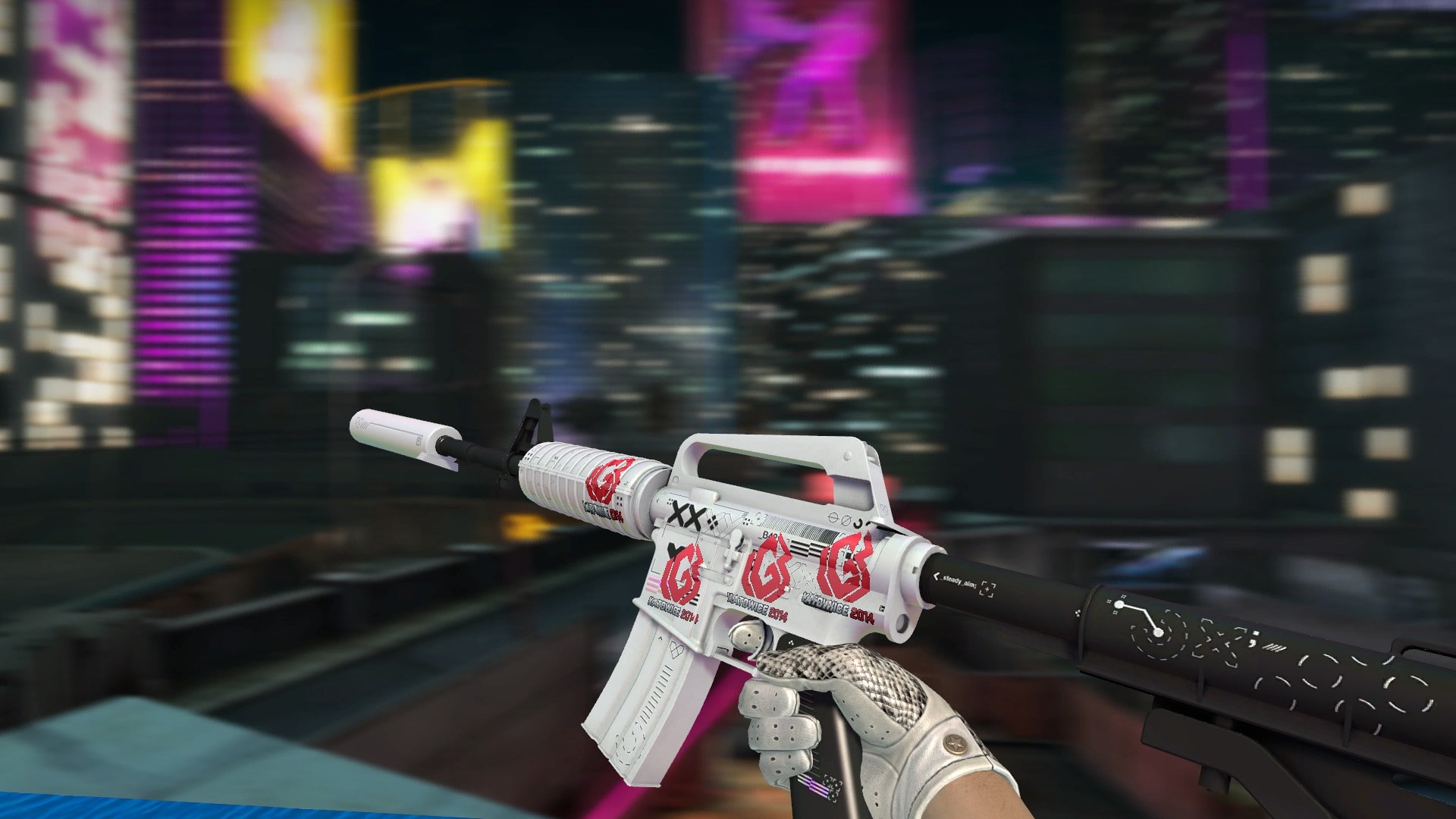 ---
M4A1-S | Blue Phosphor with 4x Titan | Katowice 2014 on a 0.000082 float!
Arguably the best paper Katowice 2014 craft in existence? What an awesome match between the M4A1 Blue Phosphor and four Titan papers. 100% EsportFire approved!


---
Discontinued sticker craft:
It is also worth mentioning that Swooce finally finished his collection of Neo-Noir Winged Defuser skins, which we previously included in our articles before, now with the final addition of his freshly crafted:


M4A4 | Neo-Noir with 4x Winged Defuser.
---
We are really fond of the dedication and think his whole collection is a very good and unique fit!

Our research tools for this article were: csgofloat.com/db, @RaCSGO's Kato14 holo database, csgostash.com/ and all screenshots were made on broskins.com