Stewie2k review
Topic: CS:GO Stewie2K inventory value, review

Together with shroud, he's probably the most famous NA CS:GO player. Stewie2k has been playing professionally ever since 2016 where his first big tournament happened.

He's always been into skins nowadays his inventory values in at a solid 41'000$ brought to you by Sharkbay. This value mostly comes from high-tier items such as doppler gems, gloves, a Howl and many more.

General inventory
Talking crafts, there aren't a whole lot but from what I've heard he made them all himself. There's no borrowed skins in this inventory which I quite appreciate.

As an honourable mention, I'll have to go for his only and quite weird Kato. This statty M4A1-s Basilisk comes in at a .048 float with a classic Complexity holo on what I'd consider worst pos. Due to the texture of the M4A1 barrel, the sticker slot all the way up front always looks a bit scuffed.
BFK Emerald and Spearmints
I didn't get to see the Butterfly Emerald ingame yet, but it's just as beautiful as I imagined it, although I have to admit that I like the p4 more. His comes in at a .032 float with a fat dark spot right in the middle of the blade.

The gloves are a pair of Spearmints with an average minimal wear float of .130, looking clean as most Moto gloves do. I don't mind the color combo but I think that he could have gone for a more fitting shade of green. All screenshots were provided to you by the broskins server.


---
AWP Gungnir
One of the holy trinity of AWPs, this Gungnir comes in at a .239 float which doesn't matter all too much since it's a brightness based skin. The Gungnir was the perfect high tier AWP to add to the game, beautiful use of the pearlescence effect with a unique style of inscriptions!

Applied on the scope we got a Cologne 14 Titan holo applied. I damn near like this more than a K14 Titan holo since I think the shade of the circle surrounding the Titan logo, matches the Gungnir color scheme perfectly.


---
AK-47 Fire Serpent
Matching the Spearmints, we got a statty AK Fire Serpent in the upper end of minimal wear. At a .144 float he can consider himself lucky that the Fire Serpent doesn't have much paint that can be scraped in the first place.

He decided to put a gold signature of himself on wood, you can't go wrong with Krakow gold signatures and I think his in particular is very shiny. Quite recently, he decided to finish this craft with a Stockholm Liquid paper as well as a foil plus an RMR Liquid holo. Wild combination but it's looking pretty neat.


---
M4A4 Howl
Coming in at a .065 this statty fn Howl might be in the upper end of the factory new condition, but not like Howls have a cleaner mag with lower float anyways. Statty fn Howls are pretty much the ultimate flex skin, I mean howls even have their own rarity.

Right ontop of the howl artwork there's a self applied London 18 Stewie gold signature. Contrary to most people, I actually quite like the London 18 stickers and the golds are no exception. However I don't like that it may be in best pos but the artwork of the infamous howl gets covered almost completely.


---
Deagle Blaze
You've probably noticed by now that there's a reoccurring theme of classic baller skins in this inventory. The Deagle Blaze falls into this category for me as well. With a .010 float it looks fairly clean scratchwise but there's quite a bit of backflame.

Applied on second best we got a wholesome NA star player placement. The one and only shroud is featured on a paper Krakow signature. Love to see pro players craft with signatures of their buddies.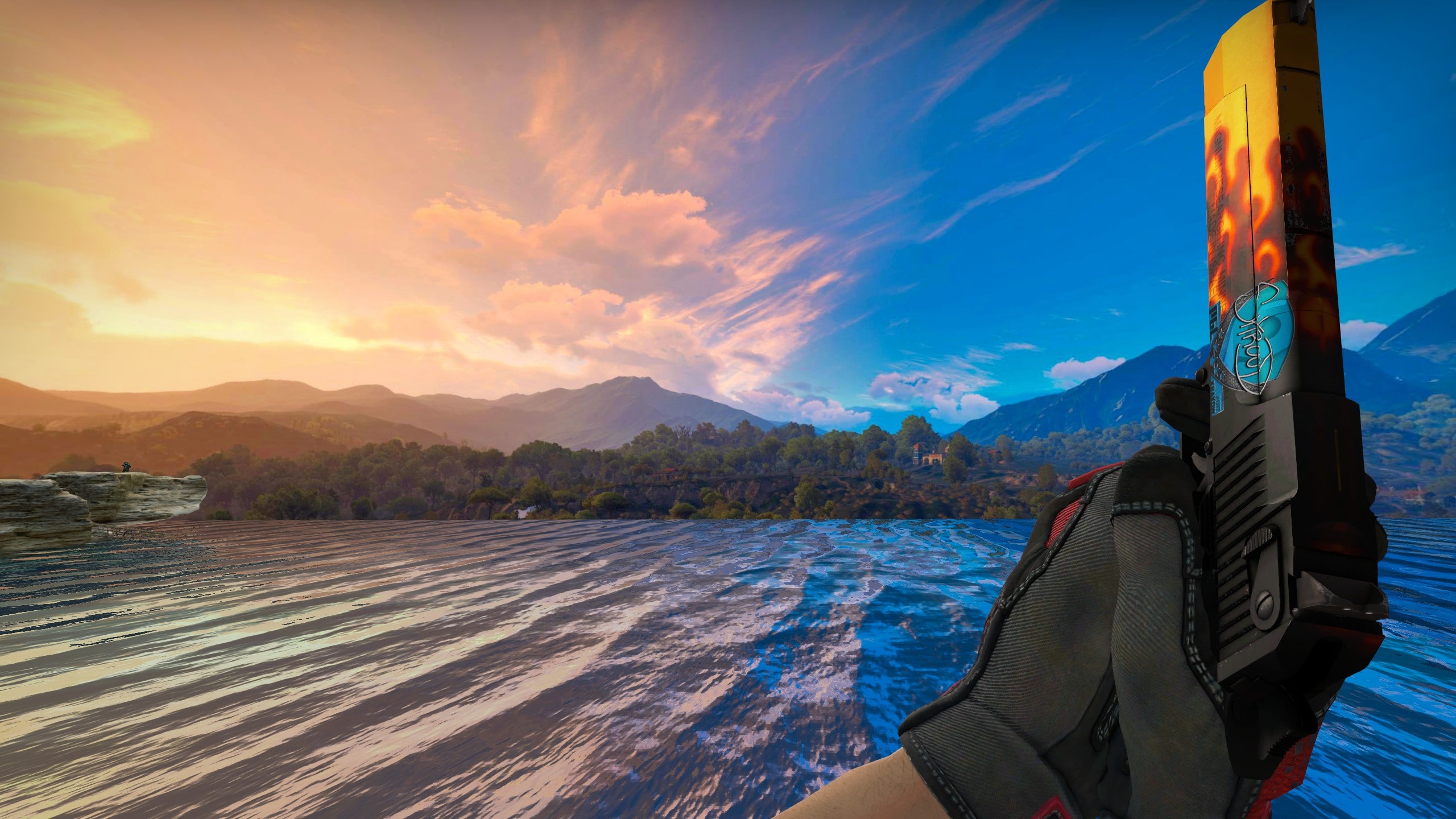 ---
NAF's AK vulcan
I just had to show off this little high tier beauty, even tho it's from NAF's inventory and borrowed from him. While it may not be very unique, it's quite the legendary craft. One of the most liked AKs in the game with an infamous sticker quad applied.

I pray to god that this AK has been crafted while the stickers were cheaper than the skin itself, because what kind of monster would craft this on a .403 Vulcan otherwise. The nametag says it all, "scuffed I guess?" but the Titan holos still make it look lovely!


---
Summary
Overall, I don't mind this inventory, although I have to admit that it is a bit basic. The crafts he made himself all look pretty neat tho apart from the Howl sticker placement.

I haven't considered the col 14 titan holo on the Gungniir before but now that I saw it, it deffo goes in my top 3 stickers on a Gungniir.
Rating
My final rating will be a solid 5.815 since there were a couple of interesting crafts. I'm a bit disappointed of his combo choice tho, while it's pretty cool that he got all the Doppler gems on different high tier knives, I don't like how average they all are. For instance the Kara ruby had a scuffed corner and the mw Crimson Kimonos came with a barely any red. Still liked reviewing this inventory, since he's such an iconic NA CS:GO player!