DreamHack 2014 Fnatic crafts, supply and stickers
Topic: Sticker Spotlight - DreamHack 2014 Fnatic crafts, price and supply

As time flies by, more and more people once again fall in love with old stickers from early Counter-Strike tournaments. One of those is the DreamHack 2014 Fnatic (Holo) sticker. Take a seat and grab a drink. Relax and join us for an insight into the past of Fnatic's run at the DreamHack 2014 tournament, as well as the stickers price, supply, and crafts!

DreamHack 2014 Fnatic - General Team Information
The well-known Swedish team was one of the big favorites going into the DreamHack 2014 Counter-Strike tournament. Playing on home court they had the support of the home crowd and big hopes of lifting the trophy. The Swedish lineup consisted of: Jesper "JW" Wecksell , Robin "flusha" Rönnquist , Markus "pronax" Wallsten , Olof "olofmeister" Kajbjer Gustafsson and Freddy "KRIMZ" Johansson with Jonatan "Devilwalk" Lundberg as their coach. One of the rosters that many people still remember up to this day and would consider legendary.

Their tournament run started in Group A next to Bravado Gaming, Cloud9, and HellRaisers. The first match was against Bravado Gaming and without any problems they managed to win with a 16-2 scoreline. The second match wasn't going to be as easy as the first one, as the next opponent was HellRaisers. After a long 50 minutes match, Hellraisers came out on top by beating Fnatic 16-14 on Mirage. The last chance to stay in the tournament for Fnatic was versus Cloud9. Unimpressed by the recent loss, they managed to qualify to the playoff by beating Cloud9 16-5.

The next game should stand out in the history of Counter-Strike and will be well remembered by enthusiastic fans. Fnatic's next opponent was Team LDLC.com. In the BO3 series Team LDLC.com started off strong and secured map 1 with 16-10. In the second map, Fnatic came back strong winning with 16-8. The last and deciding map was Overpass which ultimately ended with a 16-13 victory for Fnatic. Some of you might already know what's coming next, the final decision between those two teams has not yet fallen.

Team LDLC.com decided to file a complaint against the move Fnatic players did on Overpass A site which drastically changed the outcome of the game, nowadays known as "Pixel-walk". Fnatic performed a player boost which enabled them to see B short and parts of the A entrance at the scoreline of 3:13. The LDLC players shared their doubts if the boost was against the rules of competitive play. The tournament organizers, DreamHack decided to replay the second half of the Overpass with the reasoning that the position of the boosted player allowed Fnatic to see through transparent textures of the map. Fnatic then filed a complaint against a boost that LDLC performed, which also allowed them to see through transparent textures. Additionally, DreamHack announced that they discovered that both positions were allowed when going after the rulebook. However, Fnatic ended up forfeiting the match and leaving the tournament in 5th to 8th place. With that position, they qualified for the ESL One Katowice 2015 tournament and won USD 10,000 in prize pool.


DreamHack 2014 Fnatic (Holo) Sticker Supply
While it's hard to estimate the exact amount of unapplied DreamHack 2014 Fnatic (Holo) stickers, we can see the available supply that is listed on different marketplaces. Currently, there are only 8 of them listed on the Steam Community Market and around 30 on Buff163. There are for sure some hidden in private accounts, storage units and so on, just like any other sticker from the game. But, this is the best information that we can currently work with if we are talking about the supply.
DreamHack 2014 Fnatic (Holo) Price Trend/Development
The DreamHack 2014 Fnatic (Holo) sticker has been getting some attention alongside the release of the CS2. It caught up with the overall hype of holographic effects in the game. Overall, we can see a slow increase in prices for the Fnatic (Holo). There have been a few spikes in the past, such as those around July of 2020 and June of 2021. Currently, the cheapest sticker is listed for USD 195 on Buff163 with recent sales ranging from USD 145 to USD 175. We can assume that a new four-time craft would cost between USD 680 and USD 780.



DreamHack 2014 Fnatic (Holo) Sticker Crafts
Thus far we have 17,160 skins with one or more DreamHack 2014 Fnatic (Holo) stickers applied to them. Out of those 17,160 skins, 627 are four times. Let's explore those in a bit more detail! A first Fnatic craft that we would love to showcase is a FN 0.01 M4A1-S Printstream owned by @yates_csgo. Another awesome rifle craft is in the hands of @rick_cs2 who owns this FN 0.6002 AK Safari Mesh, which is also the lowest float one out of ten that currently exist.

The "dusty sand" theme continues with the Glock-18 Sand Dune in the hands of @kab1na_. What a gorgeous looking one-out-of-one Glock-18 craft. The next pistol we'd like to share with you is the CZ75-Auto Tigris that is in possession of @dx_csgo. A one-out-of-three craft that fits the orange skin theme perfectly.


DreamHack 2014 Fnatic Sticker Crafts
The DreamHack 2014 Fnatic (Holo) sticker has a wide spectrum of colors depending on the lighting. That's why we can see that this sticker also works very well with mixed-colored weapon skins. A good example of that is the FN 0.00008 BI83 Spectrum which was crafted by @At424_. Same goes for the FN 0.0001 P250 Visions that is in the inventory of @GoobrCS.

There are not many SMG crafts with the mentioned sticker, but those that do exists are truly unique. A good example of that is the ST FN 0.0004 MAC-10 Neon Rider who's owned by @jklsinclair. One more pistol that currently exists two times is the Tec-9 Terrace. One of them is in @Yugomar_ inventory.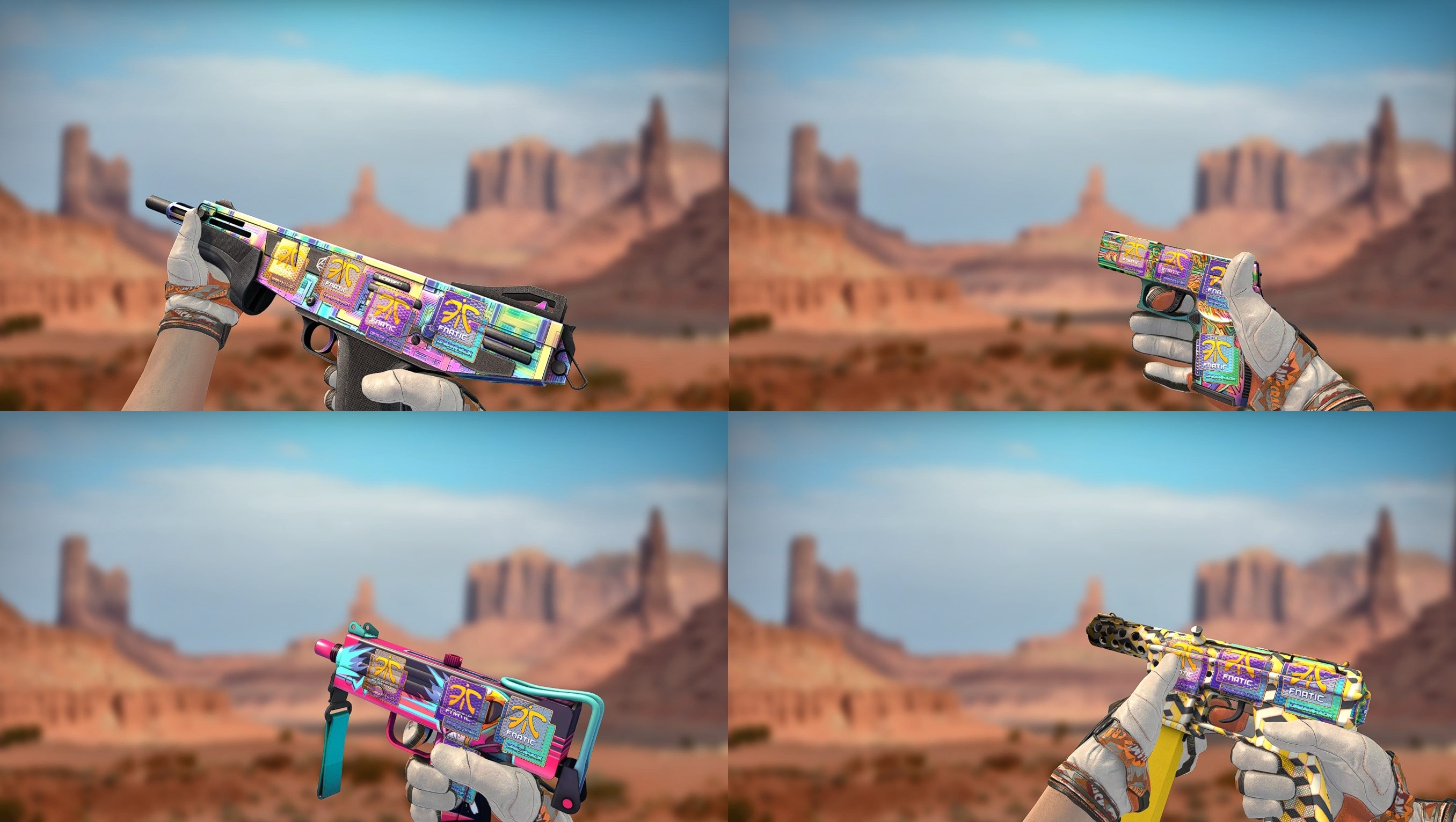 DreamHack 2014 Fnatic Sticker Crafts
Fnatic stickers also work really well with dark-themed skins. As of now, only one AWP Wildfire with four DreamHack 2014 Fnatic stickers applied to it exists. It's owned by the pattern 777 collector, @777hef. As many of you would have expected, there are quite a lot of old skins with four stickers applied to them. For example, the M4A1-S Nitro which exists eleven times. The proud owner of one of these is @pocket_tweeting. The same goes for the AK-47 Redline which exists quite a few times, 85 to be exact. One owner of those is @we3csgo. The perfect transition to our last crafts paragraph is a P250 Asiimov that is part of a collectors inventory that features a full set with four of the DreamHack 2014 Fnatic (Holo) stickers applied to Asiimovs.


DreamHack 2014 Fnatic Sticker Crafts
One of the best collections with DreamHack 2014 Fnatic (Holo) sticker has to be @Adrian_Trade's. His collection consists of all Asiimov skins with four DreamHack 2014 Fnatic stickers applied to them. All of them are in StatTrak, which makes them even more unique. Overall, we can see that there are plenty of people who really enjoy playing with four-times Fnatic (Holo) crafts. What do you think of this sticker? Be sure to let us know on our Social Media.


Writers favorite
I need to give some praise to @Adrian_Trade for his amazing DreamHack 2014 Fnatic (Holo) collection. You don't see these types of load-outs often. Outside of those five gorgeous crafts, the AWP Wildfire from @777hef, the MAG-7 BI83 Spectrum in the inventory of @At424_ and the Glock-18 by @kab1na_ would be on my top-three list for this Sticker-Spotlight edition.
Conclusion
We hope you loved the showcase of the DreamHack 2014 Fnatic (Holo) sticker crafts and some interesting statistics behind it like the price trend and supply. If you haven't already, be sure to take a look into our other Sticker Spotlight articles or the articles featured right below this paragraph. As always, be sure to leave a follow on our Social Media so you won't miss out on any future articles from us. Have a great day!

Information powered by Liquipedia