Crafts, prices & supply Dignitas (Holo) - Sticker Spotlight #16
Topic: Sticker Spotlight - Katowice 2014 Dignitas (Holo) crafts, supply & price trend

This article will dive into the Katowice 2014 Team Dignitas (Holo) sticker, its supply, price and crafts. Furthermore, we will also explore the team's performance during the tournament and look into the overall price and supply trends of the sticker in the past and present. Finally, we will examine and take a look at the various crafts that have been created using the sticker.

Katowice 2014 Dignitas (Holo) – General Information
Team Dignitas had a strong run at the 2014 Katowice tournament. Their roster at the time consisted of Henrik "FeTiSh" Christensen, Peter "dupreeh" Rasmussen, Andreas "Xyp9x" Højsleth, René "cajunb" Borg, Steffen "3k2" Markussen, and Nicolai "dev1ce" Reedtz. They started off strong in Group A, taking down both TEAM iBUYPOWER and Reason Gaming in a convincing fashion with score lines of 16-8.

Their victory in the quarterfinals against HellRaisers was especially impressive, as they won the BO3 series with 2-0. Unfortunately, their tournament run ended in the semifinals against Ninjas In Pyjamas, who won with 2-0 in maps. Despite their loss in the semifinals, Team Dignitas had a solid run at the Katowice 2014 tournament. In the end they placed 3rd-4th alongside LGB eSports. One really memorable moment from their tournament run was a quad kill by cajunb in the quarterfinals game against HellRaisers on Dust 2.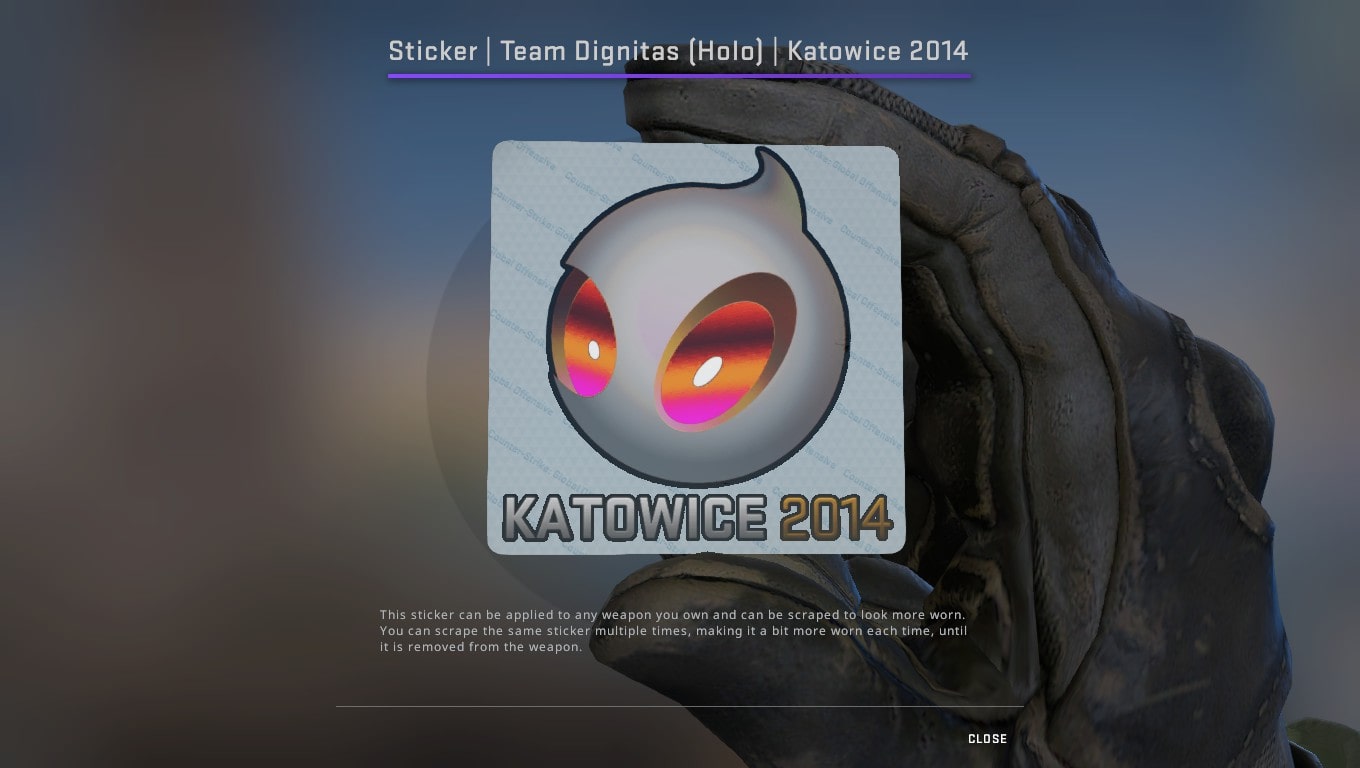 ---
Katowice 2014 Dignitas (Holo) - Sticker Supply
The Katowice 2014 Team Dignitas (Holo) sticker is a highly sought-after collectible. Supply of these stickers have gone down since last year, when 70 stickers were still available. Currently, there are only 57 tradable stickers in circulation. The number of confirmed banned stickers has stayed within the same range of around 45 pieces. The reason behind the quite fast supply decrease is fairly simple. Twelf stickers were applied to CS:GO skins in the year of 2022, and 30 more in 2021. This only shows how desirable this sticker is for crafting and what potential it has. Hopefully the apply rate will continue to be like the last two years in 2023.


Source: cantry.dev
---
Katowice 2014 Dignitas (Holo) - Price Trend/Development
The price trend of the Katowice 2014 Team Dignitas (Holo) has seen a significant increase since the start of 2021. Starting at USD 5,400, the sticker reached a peak of USD 15,000 within the same year. During 2022, the price of the sticker fluctuated between USD 13,000 and USD 16,000. Currently, the cheapest listed sticker on Buff163 is USD 16,350, with the last five sales being for USD 13,500. For a four-times craft, the price would be estimated between USD 50,000 and USD 65,000. It's hard to determine a precise price range as current holders of the Katowice 2014 Team Dignitas (Holo) sticker are not too keen on selling them at the current market.



---
Katowice 2014 Dignitas (Holo) - Sticker Crafts
We can see that Katowice 2014 Team Dignitas (Holo) sticker crafts were quite common back in the day. Currently, we have 6,099 skins with at least one sticker applied to them. Unlike some other Katowice 2014 stickers, this one is still fairly popular amongst crafters, which we can see from the past two years and all the Katowice 2014 Dignitas crafts that were made.

At the moment 146 four-time Katowice 2014 Team Dignitas (Holo) sticker crafts exist. The sticker works really well with all different kinds of skin patterns and color bases. A perfect example of those would be the AK-47 Phantom Disruptor in @ProdigyDDK inventory and the USP-S Stainless that is owned by @luksusbums. One of the newest crafts with this sticker was on a M4A1-S Printstream.


---
Uniqueness and perfect combinations are usually most seen on AK and M4A4 / M4A1-S crafts. Some of the more classic ones would be: The awesome AWP Gungnir that was crafted three times since its release, the amazing AK Vulcan that was crafted five times and the P90 Death By Kitty which also has five of the same crafts.

One of these five P90 Death By Kitty crafts is owned by @goblin_jp_. The combination of tons of different colors on that skin really helps the Katowice 2014 Team Dignitas (Holo) sticker to merge into the skin better than anyone would have ever expected.


---
There is a possibility that we will see one of these beautiful crafts live on big stages, as @dev1ce has one out of the three M4A1-S Hot Rod crafts in his inventory. Sadly, the other two are banned. As some of you may already have guessed it, the AK Redline is the most common AK with Katowice 2014 Team Dignitas (Holo) stickers applied to it.

There are in total 19 of that exact crafts out there. Two of them are in the possession of @KirmirCS and @LadisDad. Another recent craft happened in March of 2021. Four stickers were applied on a new AK in CS:GO, the AK Nightwish. The total applied value was USD 64,000 .


---
We don't see Katowice 2014 Holo crafts on the AUG that often, but the AUG Chameleon in the hands of @flash5219 shows us how good they can actually fit onto them! A more recent Katowice 2014 Dignitas craft that we got was on a FN 0.001 AK Wild Lotus in November of 2022. The crafting price was around USD 52,000. Would you say it's worth the price or would you go for something else if you had the money? Make sure to let us know on Social Media!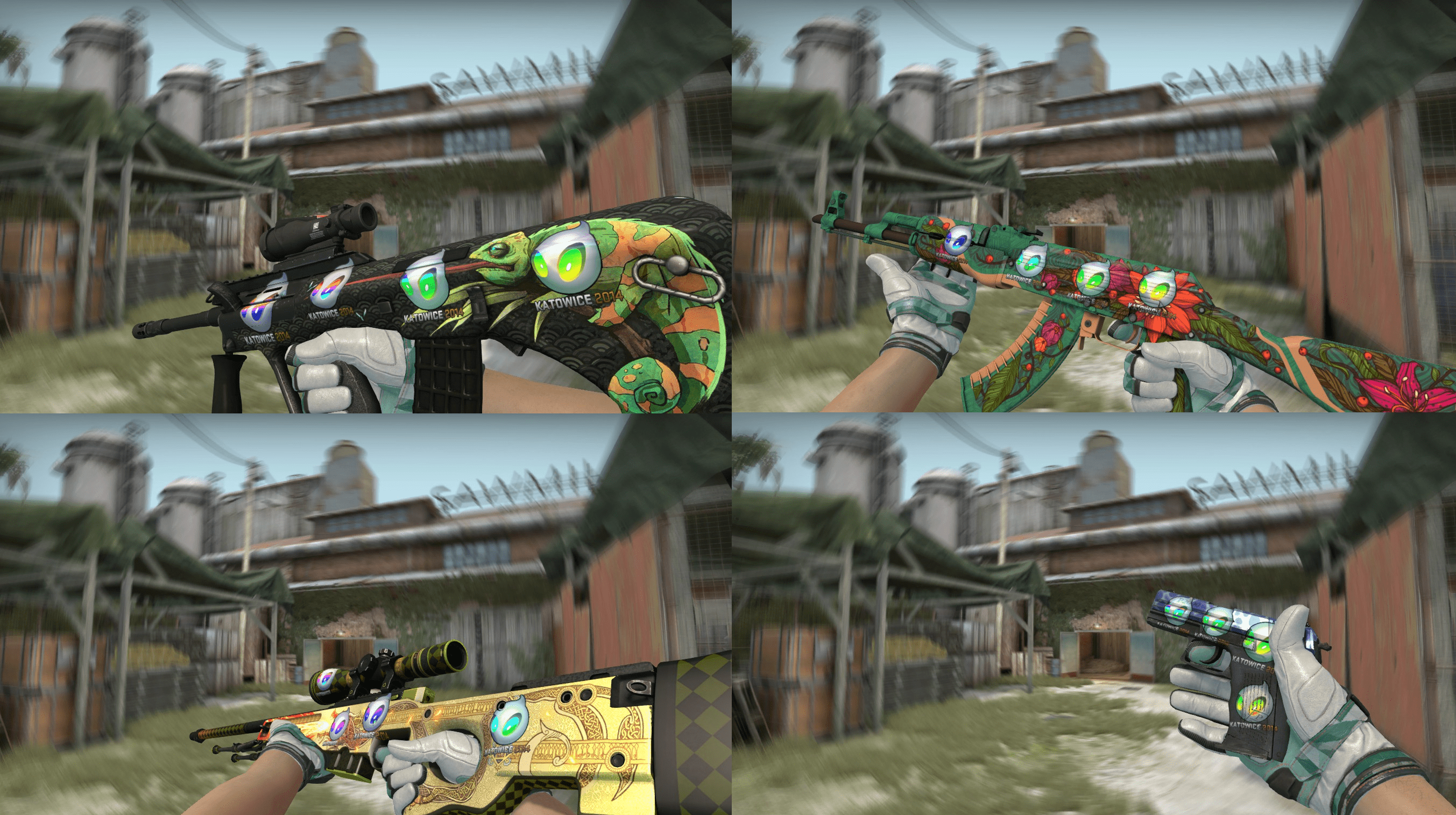 ---
Writers favorite
There are so many different and unique crafts with the Katowice 2014 Team Dignitas (Holo) sticker. With that, it's really hard to choose a favorite one, but those that stand out a bit more than others would be the newly crafted M4A1-S Printstream and the one out of five, AK Vulcan. For the honorable mention, I would go for the P90 Death By Kitty.
Conclusion
We hope you enjoyed reading through today's article and would love to know your favorite Katowice 2014 Team Dignitas (Holo) craft. Be sure to share it with us on our Social Media!

Information powered by Liquipedia