Crafts, Prices & Supply Katowice 2015 Vox Eminor (Holo) - Sticker Spotlight #59
Topic: Sticker Spotlight – Katowice 2015 Vox Eminor (Holo), Price, Crafts & Trend

The final team I will discuss in the Katowice 2015 Sticker Spotlight series is Vox Eminor. Their sticker, which commemorates their participation in the Counter-Strike Major, currently holds the highest value of any other sticker from the same tournament. But first, let's explore the team's performance at Spodek Arena and how they stood up against other formidable opponents.

Katowice 2015 Vox Eminor – General Team Information
Vox Eminor is an Australian gaming organization founded in 2010, and they were part of the Katowice 2015 Counter-Strike Major. They reached the big stage after going through the LAN qualifier, which secured them a challengers spot. Aaron "AZR" Ward, Luke "Havoc" Paton, Justin "jks" Savage, Chad "SPUNJ" Burchill, and Azad "topguN" Orami were the five players who were part of the squad and had the opportunity to go deep in the tournament, leaving a mark for the OCE CS region.

Starting out in Group A wasn't the easiest task. The opening match was set to be between Vox Eminor and Fnatic. Inferno didn't look great for Vox Eminor, as could be seen from the final scoreboard. Fnatic came out on top with a score of 16-3. The first match was a tough pill to swallow for them. However, they learned from their mistakes, which they demonstrated in the second game on Cache. In this game, they met Flipsid3 Tactics and easily secured their first victory in the group stage with a convincing 16-2 win.

The final game of the group stage, which would decide everything, was set to be between Vox Eminor and Natus Vincere, once again on the map where their Katowice 2015 journey began, Inferno. Throughout the group stage, Vox Eminor gave their all in an attempt to secure wins in each map. However, they faced opponents with superior tactics, and the same happened in this game where Na'Vi was the team that reached sixteen rounds first for a map win. They defeated Vox Eminor with a score of 16-3 and advanced to the playoff stage, marking the end of the road for Vox's players.

With a 1-2 record in Group A of Katowice 2015, Vox Eminor didn't manage to qualify for the playoff stage. They finished third in the group, resulting in a 9th to 12th place finish in Spodek and USD 2,000 in prize pool winnings.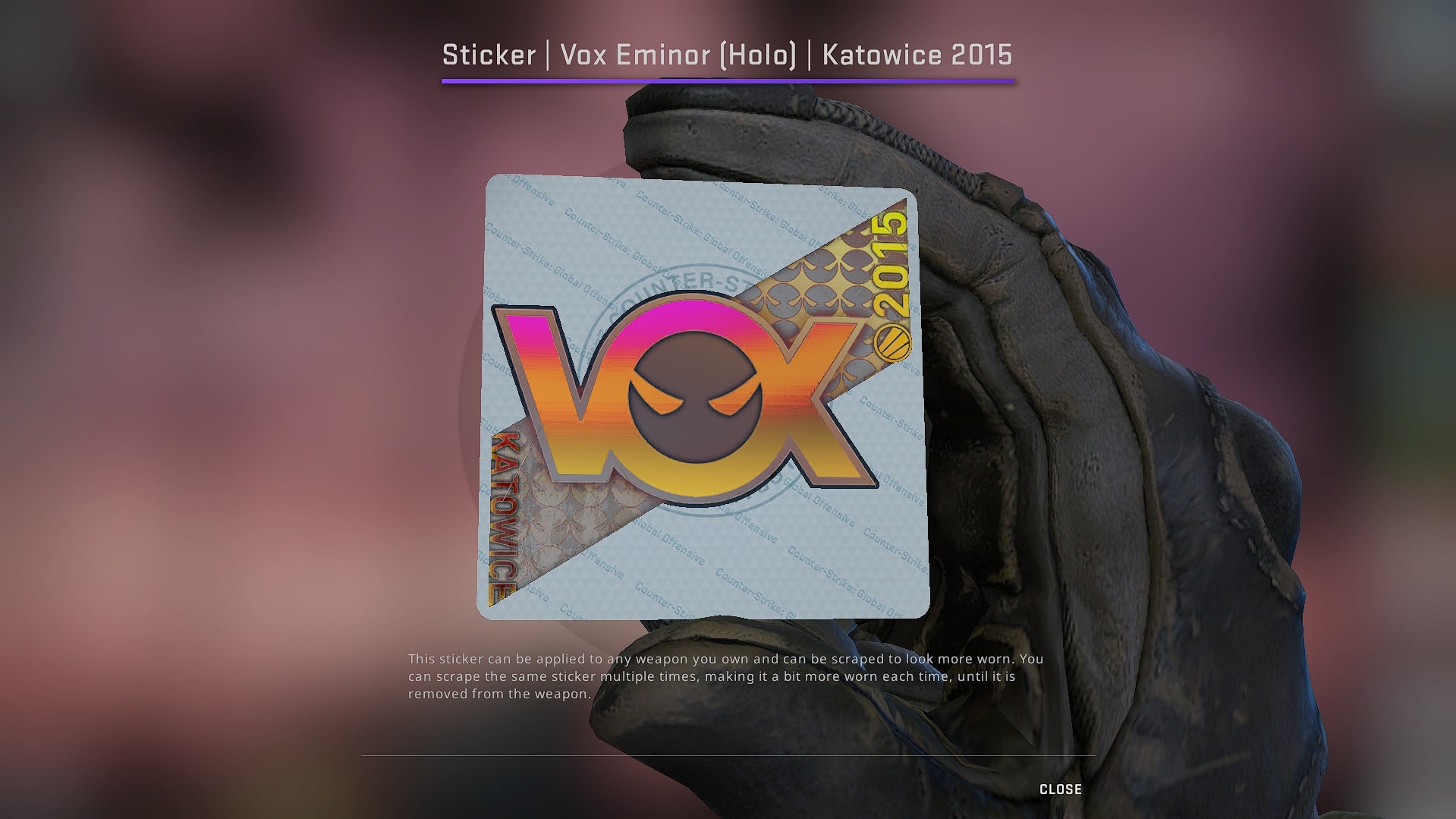 Katowice 2015 Vox Eminor (Holo) - Sticker Supply
The public information regarding the overall supply of the Katowice 2015 Vox Eminor (Holo) sticker is not known. We can only estimate and speculate based on the information we have. The largest supply available for sale can be found on Buff163, with 86 of them currently listed. Additionally, there are 6 available on Skinport and 1 on the Steam Community Market. However, it's essential to keep in mind that there may be numerous Steam accounts that have more of these stickers in their private profiles or storage units. If you want to learn more about the available supply, you can explore our EsportFire Skin Database.
Katowice 2015 Vox Eminor (Holo) - Price Trend/Development
If you're interested in acquiring a Katowice 2015 Vox Eminor (Holo) sticker, the most affordable option you can find is on Buff163, priced at around USD 1,200. Purchasing four of these stickers would cost you around USD 4,800. Notably, this sticker was previously sold in the range of USD 1,430 to USD 1,500, which is an extraordinarily high price for a sticker released eight years ago.

However, when we examine the Steam Community graph, we can see that the price is following its upward trend. The most significant increase can be observed from March 2021 to July 2021 when it surged from USD 800 to USD 1,600. Such spikes raise questions about what the future holds for the Katowice 2015 Vox Eminor (Holo) sticker in terms of its value and demand.


Katowice 2015 Vox Eminor (Holo) - Sticker Crafts
Over the past eight years, 5,884 skins have had the privilege of having one or more Katowice 2015 Vox Eminor (Holo) stickers applied to them. Out of these, 707 are four-time crafters, making up approximately 12% of all Katowice 2015 Vox Eminor (Holo) sticker skin crafts. There are numerous distinctive skins worth trying out in the game, but here are some that I find particularly appealing. Given the wide variety of skins available, there is a significant range of color variations to explore.

Starting with the AK-47 Bloodsport, which has already been crafted 25 times, you can find examples of this in @MewoMewoCS and @gglasgow61's inventories. Many of you may know @Gaules as a person who has contributed an immense amount of unforgettable memories to professional Counter-Strike history. However, have you ever taken a look at his CS inventory? If you have, you may have already seen his incredible skin collection, including the M4A1-S Dark Water, a rare craft with two out of seven existing on banned IGXE bot accounts.

For those who are fans of one-out-of-one crafts, I'd like to showcase the following AUG: the AUG Stymphalian previously owned by @quyy112. And let's not forget about the USP-S Orion; this specific pistol has seen numerous Katowice 2015 Vox Eminor (Holo) sticker crafts, likely due to its introduction to the game slightly before the sticker itself. One of the twelve crafts can be found in Steam/King Bob's inventory and used to be owned by @Krieke_CSGO.


Katowice 2015 Vox Eminor (Holo) - Sticker Crafts
When discussing old skins, it's impossible to overlook the AK-47 Case Hardened. @tohbeeCS possesses one with four Katowice 2015 Vox Eminor (Holo) stickers on a 571 pattern. Our Katowice 2015 showcase wouldn't be complete without mentioning @RadiantCS_ and their skin with four stickers from the tournament—an AWP Containment Breach in StatTrak with a 0.0003 float value. This incredible sniper rifle can easily catch your eye when playing the game.

Lastly, among the pistols, I have something that many of you may not have seen in-game very often: the Desert Eagle Heirloom. There is only a single one with four Katowice 2015 Vox Eminor (Holo) stickers, and it's currently in the possession of @KatoBuff. To conclude, there is @BigBlackholeski's AK-47 Neon Rider in Factory New condition. There are twenty of them with four Katowice 2015 Vox Eminor (Holo) stickers, but one is in Minimal Wear condition.


Writers favorite
Without a doubt, I can say that the AWP Containment Breach owned by @RadiantCS_ would be among my top three favorite crafts featuring the Katowice 2015 Vox Eminor (Holo) sticker. I also can't deny that the AUG Symphalian from @quyy112 is another craft that pairs extremely well with a sticker from the Katowice 2015 tournament. One craft that hasn't been showcased but, in my opinion, looks fantastic in the game is the AK-47 Hydroponic, which has been crafted 37 times so far with four stickers.
Conclusion
We highly encourage you to share your favorite craft with us on our social media and provide us with your overall thoughts on this sticker. Do you like it? Would you consider crafting with it at current prices? Please let us know what you think, and stay tuned for a special sticker spotlight article coming very soon.

Information powered by Liquipedia