Crafts, prices & supply Virtus.Pro Katowice 2014 (Holo) - Sticker Spotlight #10
Topic: Sticker Spotlight - Virtus.Pro Katowice 2014 (Holo) crafts, supply & price trend

In today's CS:GO Sticker Spotlight article we will cover the line-up of the 2014 Katowice ESL Champions. Not only did they bring home the trophy, but also 100.000 USD in winnings and tons of memories. This roaster started a legacy and manifested its organization in the history of CS:G. Ever since, the team is a well-known participant in the big stage events and tournaments all around the world. Not only that. Their logo is one of the most known ones within the CS:GO skin world. So let's not waste any time and get you up to date with the Virtus.Pro team from the 2014 Katowice tournament.

Katowice 2014 Virtus.Pro (Holo) – General Team Information
The Virtus.Pro Katowice 2014 team was one of the most impressive rosters in Counter-Strike history. Featuring now legendary CS:GO players such as Wiktor "TaZ" Wojtas, Jarosław "pashaBiceps" Jarząbkowski, Janusz "Snax" Pogorzelski, Paweł "byali" Bieliński and Filip "NEO" Kubski. The team was a powerhouse of skill and experience that had already taken home several titles prior to the tournament. Their successful run in the Katowice 2014 tournament started in Group A. In their opening match, they faced Hellraisers and beat them 19-16. In the winner's match, they were matched against Titan and without any problems finished the game with a scoreline of 16-7.

As mentioned, Virtus.Pro had an impressive run throughout the tournament. The playoffs started with a 2-0 victory in the quarter-finals against Team LDLC.com. They then went on to beat LGB eSports 2-1 in the semi-finals and faced Ninjas In Pyjamas in the finals. The grand finale was an enthralling affair and Virtus.Pro eventually emerged as the victors winning 2-0, claiming the tournament victory. It was an impressive run from Virtus.Pro and a deserved victory. Some of the highlights from their tournament run would be Byali's Ace with the Glock-18 against Titan, Neo 1v3 against Ninjas In Pyjamas with 4HP and PashaBiceps 4k against Ninjas In Pyjamas.


---
Katowice 2014 Virtus.Pro (Holo) - Sticker Supply
The Virtus.Pro Katowice 2014 Holo stickers have been in a high demand for some time now, yet the supply has been decreasing. There are only 57 tradable and 27 confirmed banned "Virtus Pro Katowice 2014 (Holo)" stickers in circulation, making them a rare and desirable item. The Holo stickers have a unique, eye-catching look, with the Virtus.Pro logo featured in the center surrounded by a vibrant and colorful design.

Collectors are eager to get their hands on the Holo stickers, which often sell for a high price. As the supply continues to decrease, the stickers become increasingly difficult to obtain. Those who are able to get their hands on a Holo sticker might see a high return on investment.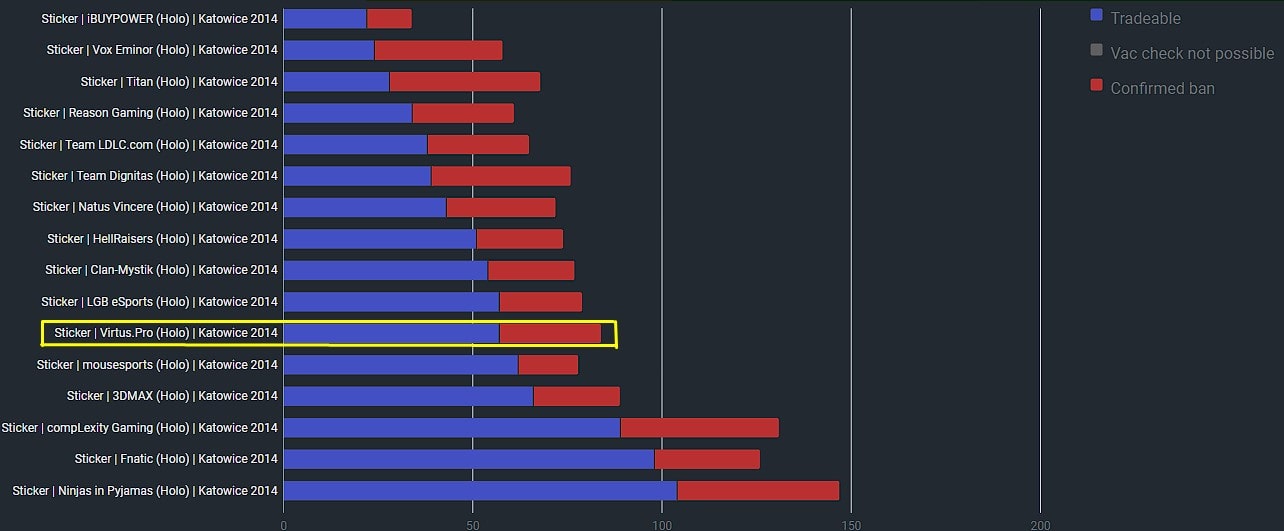 Source: cantry.dev
---
Katowice 2014 Virtus.Pro (Holo) - Price Trend/Development
The sticker has seen remarkable price growth over the past eight years. Currently one Katowice 2014 Virtus.Pro Holo sticker is worth 4160 USD. Recent sales of the Virtus.Pro Holo have ranged from 4150 USD to 4500 USD, showing that the sticker is still in high demand. Collectors have been willing to pay a premium for the rare and desirable item, and the sticker price has only continued to rise over the years.

As the sticker's availability decreases, its price is expected to continually increase, making it an excellent investment for collectors. It's crazy to think that a four-time Katowice 2014 Virtus.Pro Holocraft nowadays costs between 16.000 USD to 18.000 USD. Do you think the look of the sticker justifies its price?


---
Katowice 2014 Virtus.Pro (Holo) - Sticker Crafts
We all know the legendary and iconic look of the Virtus Pro logo. With that, we could say that some of Katowice's 2014 Holo crafts are fairly recognizable. Currently, there are a total of 3.516 skins with at least one Virtus Pro Katowice 2014 (Holo) sticker applied to them. Out of those 3.516 skins, 55 are four times crafts. Some of the most beautiful crafts with this sticker are an AK-47 Hydroponic owned by @LadisDad and an AWP Fade that was crafted by @pathcsgolol in January of 2021.


---
Overall, we have quite some AK-47 crafts with the Virtus.Pro Katowice 2014 (Holo) sticker. 19 out of 55 four times Virtus.Pro Katowice 2014 (Holo) sticker crafts are on AK-47s. We've recently got a new craft on an AK-47 Souvenir Gold Arabesque that is now owned by @1678_CSGO and was crafted by @Koi_Swifty in the May of 2022.

Another yellow AK-47 with four stickers applied onto it is the AK-47 Fuel Injector t is in currently owned by @doudycs. Which one do you like the most? The Gold Arabesque or the Fuel Injector, let us know on Social Media!


---
There are currently only three USP-S crafts with Virtus Pro Katowice 2014 (Holo) stickers registered. One of them is a 1/1 craft on the USP-S Caiman. This old USP-S skin and lovely craft is currently in the hands of @Eduard2YT.

Furthermore, there are two Glock-18 crafts with the VP Holo. The Glock-18 Fade is the perfect base-colored pistol and gives that extra special touch to the sticker. The current lucky owner of this absolute beauty as we speak is @CHarambeCS who owns that craft for a year now.


---
The lowest float four-time craft is on a #1 M4A1-S Printstream that was also crafted by @Koi_Swifty, just like the AK-47 Gold Arabesque that we talked about earlier. Furthermore, worth mentioning is that we also have a Katowice 2014 Virtus.Pro craft on a #1 M4A4. Here we're talking about the StatTrak M4A4 Buzz Kill which is owned by @LifelessRussian.

Overall, we can see a wide spread of different crafts since there are a lot of one out of one crafts out there. We are patiently waiting for the next four times Virtus Pro Katowice 2014 (Holo) sticker craft. Maybe we will get lucky with the new case or the next operation? Time will tell.


---
Writers favorite
My personal favorite is the M4A1-S Printstream that was crafted by @Koi_Swifty. Lovely use of an old sticker on a new and modern looking M4A1-S skin. I'd also like to shout out the four times craft that was made on a StatTrak AWP Paw with a float value of 0.0007. This AWP was crafted back in 2018. Sadly, it has been banned on the account of the person that also crafted it. Also, one more skin that hasn't been showcased that I personally love is the Glock-18 Moonrise owned by @thepeter114.
Conclusion
Overall, the Virtus.Pro Katowice 2014 Holo is an incredibly rare and valuable item. Its vibrant design and increasing scarcity make it a highly sought-after item amongst collectors. With its popularity and price continuing to rise, it will be interesting to see how many new crafts are still to come. Be sure to share your favorite craft with the Virtus.Pro Katowice 2014 Holo sticker on our Social Media.