Some CS:GO tools you don't want to miss out on!
Topic: The Best CS:GO Tools - Trading and more!

As the CS:GO skins scene grows exponentially by the day, more and more traders and investors are being introduced into the scene. However, trading can sometimes be difficult, and it is hard to know which sites and traders you can trust. But trading doesn't have to be complicated, and thanks to some incredibly devoted members of the CS:GO community, countless tools have been developed to make the job of CS:GO traders more efficient, safe, and enjoyable. The following are 5 essential tools for CS:GO traders.
Carkyss jAlex csgofloat.com/db

1.) CS:GO Trader: Steam Inventory Enhancer
CS:GO Trader is an inventory enhancement extension available on Chrome, Firefox, and Microsoft Edge, and is used and recommended by countless content creators and large cash traders such as ohnePixel and ArrowCS_GO. It has countless features that make trading and looking through inventories significantly more efficient. The extension shows the total inventory value in the top right corner of any steam inventory and gives users the ability to sort by default (in chronological order), tradeability (whether or not the item is trade locked), price, float, sticker price, and alphabetically.

Every item in the inventory has an added background that shows its rarity(blue for Mil-Spec, purple for Restricted, pink for Classified, etc). Users can mass-select items from their inventory, and list them based on the current market prices. Three options are available for listing items: Sell (the user determines the price), Instant Sell (the extension automatically lists the item to match the highest buy order), and Quick Sell (the extension lists the item slightly cheaper than the current price trend). There are countless additional features that the extension provides, which you can find by visiting their website, where you can learn more and find links to download the extension for your browser of choice.


Source
---
2.) SteamRep: Scam Avoidance
Unfortunately, with such a large number of traders and billions of dollars in skins circulating across the market, there are thousands of malicious actors who try to present themselves as legitimate traders in order to scam your skins. Luckily SteamRep's widely used reputation database can save you from losing money to these scammers. On the site, users can input the Steam ID or custom URL of any steam profile, and if they have participated in trades in the past, it is likely that information regarding the account will be provided.

When a successful trade is completed, many traders will contribute to each other's reputation by using SteamRep. This way, users can find how reliable fellow traders are. While positive rep isn't always added after a successful trade, it is more important that when a scam occurs, the scammed trader will report the incident to SteamRep, who will ban the account and warn users not to trade with said account. You can find the site at steamrep.com. Nevertheless, also a good reputation doesn't mean everything, always take care when trading!


Source
---
AD 2.) CSGO-rep.com
Additionally, to SteamRep, which marks known scammers, we also wanna present you another tool especially made for CS:GO traders and with the goal to showcase +reps in different sections. With that buyers and sellers can leave a positive or negative comments on each other's profiles. Therefore the page is a pretty good indicator whether a seller or buyer is trustworthy. Once again we want to remind you that both of those tools are great indicators, but still don't 100& confirm that the person you deal with is legit. Always be careful!


Source
---
3.) FloatDB: Database of Every CS:GO skin
FloatDB is an incredibly well-designed database that gives users access to over 900,000,000 skins that are registered in 10s of millions of steam inventories. The site features an advanced database with the ability to search the most specific parameters of skins. Users can sort by skin, paint seed, category, float, and stickers, and can even select which slot each sticker is applied on. It is a perfect tool for users looking for owners of extremely specific skins and crafts and is a great database for collectors who focus on collecting low and high-float items.

The site also has a browser extension used by many traders in combination with CS:GO Trader. The extension shows how any skin's float ranks up against the rest of the floats of the same skin, and highlights particularly low and high float skins by giving them a unique background (gold for #1 highest, silver for #2, bronze for #3). The site also features a marketplace heavily based around skins with unique floats, all of which can be found at csgofloat.com.


Source
---
4.) BroSkins: Craft Builder and Inspect Server
BroSkins is a skin-crafting tool, a forum devoted to CS:GO skins, an inspect server where you can take impressive screenshots of your crafts, and much more. The site features a crafting screen where you can generate any craft idea you want. Users can select any skin, stickers, and even has the ability to change float and paint seed. After generating a craft, BroSkins automatically generates a "gen code," which users can then paste into the chat of their inspect server to receive the weapon in-game.

The user can then see how the skin looks in-game, and can even head over to the screenshot room where they can really make their craft ideas pop. The 3 screenshot rooms feature tons of different backgrounds, so there is a background for any genre and color of skin, and there is even a green screen room so users can create their own background art to show off their craft. Along with the craft generator and inspect server, the site also has an active Forums page, a fade checker where users can find the fade percentage of their knives and skins, a database of crafts that use the Katowice 2014 stickers, and more. All of this can be found at broskins.com, and you can join their inspect server by typing [connect 51.75.73.121:27015] without brackets into the in-game developer console.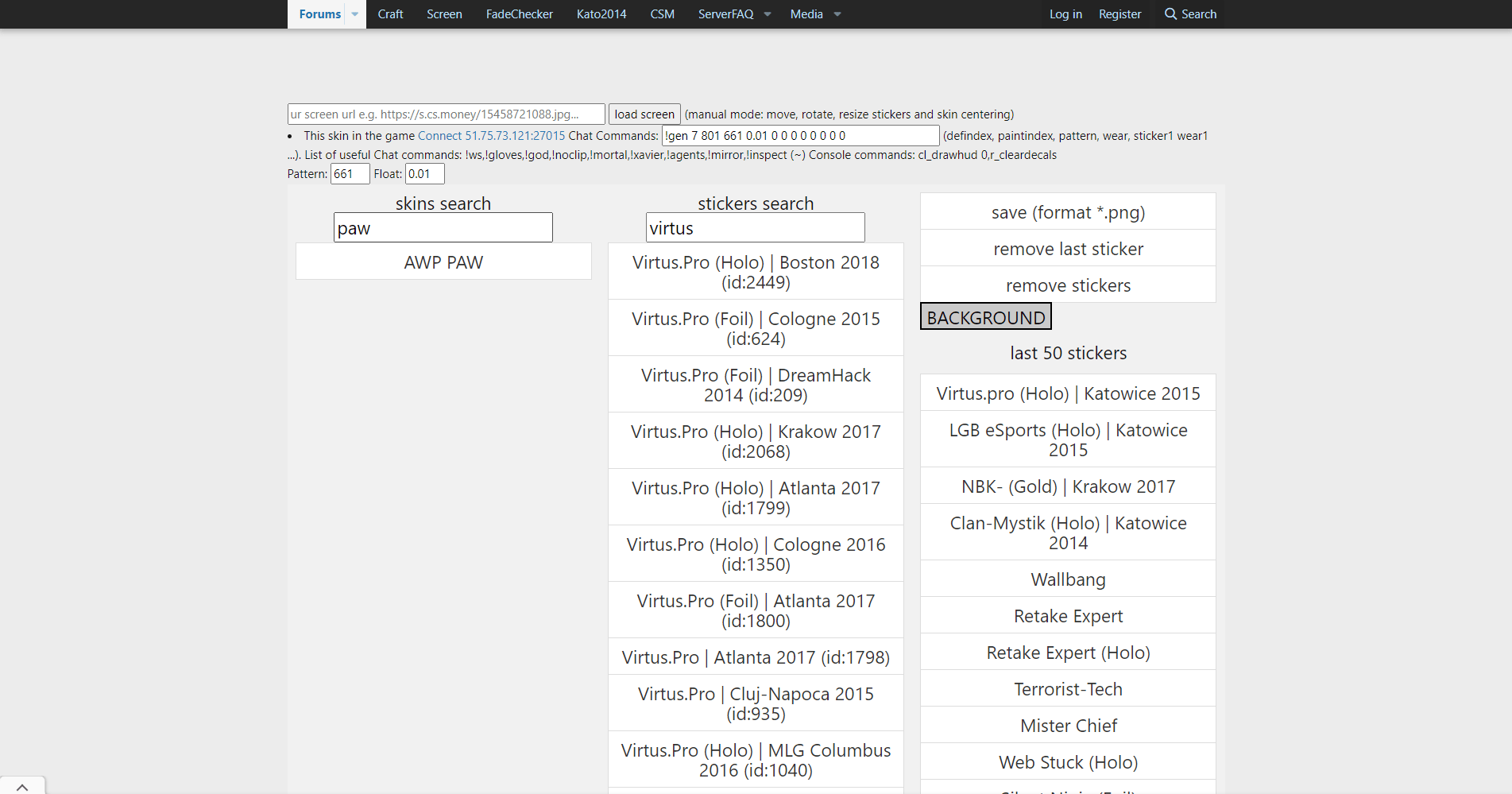 Source
---
EsportFire Skinworld - Indexes
Last but not least we would love to present you two of our own features that you might want to check out! To celebrate our 2-year anniversary as a part of this incredible community of collectors, traders, and gamers, EsportFire has launched a broad range of indexes that show price developments for both individual and general items. Central to our collection of helpful indexes is the EsportFire300 Index, a collection of 300 hand-selected skins that represent and encapsulate the general overall price trend of the CS:GO market by combining the individual graphs of each item.

You can learn more about the index and which 300 items were selected in the following article: The new EsportFire 300 Index. Along with the overall graph, EsportFire's collection of indexes also includes 29 graphs featuring combined price trends of cases and Major stickers. Graphs include overall price trends of cases grouped by release year, as well as the total price trend of all stickers from each Major in CS:GO history. All 30 indexes can be found underEsportFire.com/Indexes.


Source
---
EsportFire Skinworld - Games
Sometimes CS:GO trading, or even life in general, can get stressful, and you need time to relax. Well, EsportFire Skinworld has a treat for you! Alongside our collection of indexes, EsportFire recently released 4 games where you can put your skins knowledge to the test. Players can compete in Higher/Lower, where they must determine if a certain skin is worth more or less than another, Souvenir or Not, where they have to recall whether or not a specific skin is available in Souvenir form, Guess the Release Year, where players are given a skin and have to select between six options which year the skin was released and finally Older/Newer, where the players have to know whether a skin got released earlier or later. Players can fight to climb the leaderboards and compete with their friends and other community members. The EsportFire Skinworld graphs are the ultimate fun experience to put your knowledge of CS:GO skins to the test, and are a great tool to learn more while having a great time. You can find the games underEsportFire.com/Games.

For the month of December, the players who top the leaderboard of each game will receive a skin reward worth up to $20! So hop on over to EsportFire Skinworld and test your skin knowledge for a chance to win some super cool skins!


Source
---
Conclusion
We hope you enjoyed today's article about some helpful CS:GO tools for traders and general players! If you want to see a part two feel free to let us know via Social Media! Enjoy the rest of your day.