Best CS AK-47 Aquamarine Revenge Crafts
Topic: Top-10 Best AK-47 Aquamarine Revenge Sticker Crafts

We all know CSGO's most loved one-tap headshot machine, the AK-47, has this beautiful skin called Aquamarine Revenge. It is a covert rarity weapon from the Falchion Collection, which was introduced around 8 years ago on May 26, 2015. The AK-47 Aquamarine Revenge has a chance of 0.64% to be unboxed from the Falchion case in standard quality, and unboxing a StatTrak one makes it much harder.

With red-yellow dolphins on it, the skin itself is so beautiful that it looks cool even without any stickers. However, if you want to make your AK more decorative, here are some sticker crafts we would love to share. Little tip: Click on the stickers in order to find out the cheapest marketplace to purchase them!

Aquamarine Revenge Vitality (Holo) Craft
This yellow/orange sticker fits so perfectly with our AK Aquamarine Revenge and has to be at the top of our list. The Holo effect of these Stockholm stickers is so pleasing to the eye on our AK. A single Vitality (Holo) | Stockholm 2021 sticker costs around $4 on the Steam market, so that makes the craft cost $16.


Aquamarine Revenge Supreme Master Class (Holo) Craft
The Supreme Master First Class (Holo) is no doubt one of the best stickers from the skill groups capsule, and its Holo effect looks absolutely amazing on this AK. The craft costs around $8, as a single sticker costs around $2 on Steam.


Aquamarine Revenge Firestarter (Holo) Craft
Great stickers with a not-so-cool Holo effect, but the detailing is so good that it is a must-have Aquamarine Revenge craft. A single Firestarter (Holo) costs around $5.5 on the Steam market, making the total cost of the above craft $20.


Aquamarine Revenge Entropiq (Holo) Craft
As a fan of the team and a green theme enthusiast, the Entropiq Holo sticker matches perfectly with the green art on the skin. A single Entropiq (Holo) | Stockholm 2021 costs around $12 on Steam, and the total cost for this Aquamarine Revenge craft is around $48-$50.


Aquamarine Revenge Fnatic (Holo) Craft
Here's a cheap little craft for your AK, which only costs $0.5 per sticker. People are sleeping on these Fnatic (Holo) | 2020 RMR's, as this sticker has a perfect orange-red color and background that looks so cool when applied next to those dolphins.


Aquamarine Revenge Astralis (Holo) Craft
Next up we're presenting an expensive AK-47 Aquamarine Revenge craft that costs around $160 with each single sticker priced at $40. The Holo effect of these Astralis (Holo) | Boston 2018 stickers is absolutely amazing and complements the red color on the dolphins so well.


Aquamarine Revenge Teamwork (Holo) Craft
This wholesome sticker comes with a vibrant and colorful Holo effect that enhances and elevates your skin to the next level. The current price of the Teamwork (Holo) is around $2 on Steam.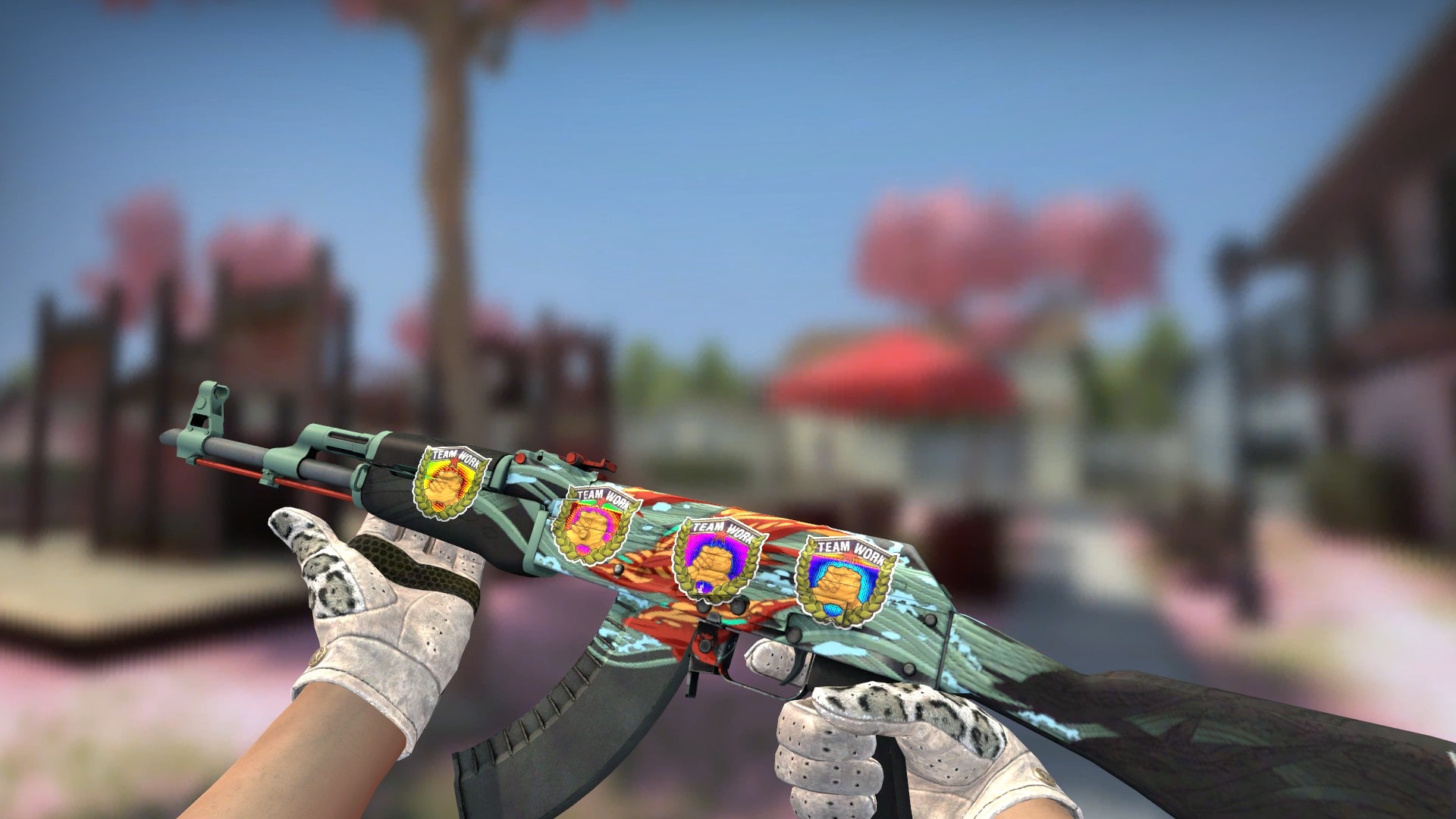 Aquamarine Revenge Fnatic (Holo) Craft
The all-new Paris Major stickers have the most majestic Holo effect with little or no background. The Fnatic (Holo) | Paris 2023 sticker complements the dolphins and looks amazing in-game. The cost of the craft is only $20.


Aquamarine Revenge Twin Koi (Holo) Craft
This gorgeous sticker from the Perfect World Sticker Capsule 2 goes so well on our AK. The round sticker has a perfect size and glows with a colorful Holo effect. The craft costs us around $5.


Aquamarine Revenge Hippocamp (Holo) Craft
Our last but not least craft comes with a Sticker of horse which came 6 years ago to CSGO with Bestiary capsule. The holo effect is not as cool as on some of the other stickers but the detailing on the Hippocamp (Holo) stickers looks amazing in-game. The final Aquamarine Revenge craft cost us less then $4.


Conclusion
We hope you enjoyed our article on the AK Aquamarine Revenge. If you want to craft any of the sticker combos mentioned above, make sure to check out the links behind each sticker in order to find the current cheapest offers.

What skin should we feature next? Let us know on Twitter or on our Discord server! And if you want to check out more sticker crafts, be sure to explore our other articles!