A Pretty Face With An Even Prettier Inventory
FaZe is quite a name in the gaming community, no matter what Esport title we're talking about. CS:GO is no exception to this rule, while they may not have made it to the champion's stage, they are up there when it comes to skins.

We'll take a look at Twistzz inventory because I think it looks the best out of all. He's rocking a total value of 31'000$ deriving from mostly high-tier items such as knife/glove combos and operation reds.

General inventory
Talking crafts, while there is a total of two K14 holo crafts, it's looking fairly empty after that. Most crafts have his own signature or either a Liquid or FaZe sticker.

A weird skin that I most definitely have to mention is his M4A1-s Hot Rod with three Stockholm 21 FaZe papers and a holo in the worst pos. for some reason. The float isn't any less weird, it comes in at a .079 making it the nr. 22 highest float Hot Rod in the world.
Spearmints 'n Blue gem
First up, as always, we gotta look at a little combo! As glovies he went for Moto gloves Spearmint with an incredible .094 float looking mad clean as most Moto gloves do.

To complete this combo, he went with a .084 Paracord that has a lovely pattern. Clean Ocean Blue on both sides are the features of the 316 pattern it seems. While the backside isn't quite as blue, it's still pretty cool that it's not poopy.


---
AK-47 X-Ray
I'm not a huge fan of this skin, to this day I don't understand why they chose to remake the most disappointing tradeup outcome. I do have to admit that it looks MUCH better in red, even with a .062 float it's looking fairly clean.

Matching the red/yellow color are an array of different FaZe gold stickers. On best pos we got an RMR 2020 FaZe gold, from there on out it keeps flipping between RMR and Stockholm golds all the way to worst pos.


---
CZ75 Twist
Not only is this an absolute banger craft, the skin itself is literally called Twist. It comes in a .100 float and I have actually never seen this skin before. That's quite the rare occasion for me, especially with older skins.

Applied on it are none other than the literal titan of sticker, K14 Titan holo on best pos. This craft looks phenomenal with the slight blue up top and the deep, shiny, beautiful, royal blue of the Titan holo.


---
Deagle Heirloom
Moving on to the second and last Kato 14 skin in his inventory, we got this cheeky little .334 float Desert Eagle Heirloom. I love the Heirloom, it's quite simple but these small golden accents make it look like an actual heirloom I got from my grandma.

On best pos. we got a Berlin 19 Twistzz gold autograph, while on second pos there's a f0rest foil autograph from the same tournament. Last, what you've been waiting for, all the way up front we got a K14 NiP holo! It looks pretty neat plus I can barely recognize the Kato 14 text underneath the team logo.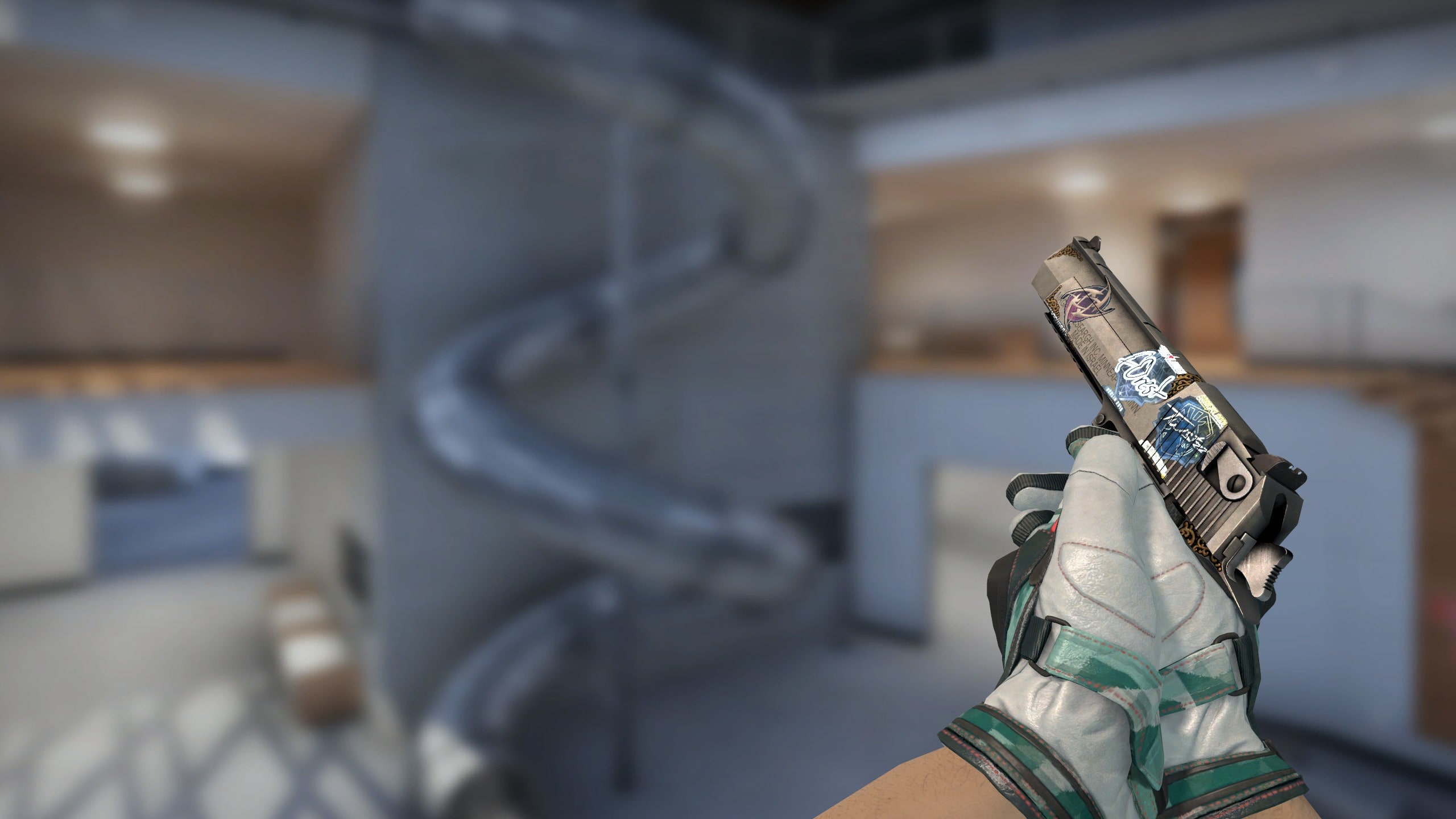 ---
Nr.1 worst float statty Skeleton Vanilla
While this may look like your average Skeleton Vanilla, it has a certain quality that makes it stand out. It comes in a .794 float making it the highest float available out of every statty skelly vanilla.

I'm not a huge fan of Vanilla knives in general, they are kind of lacking personality in my opinion. I do have to admit that the skelly has quite the nice black on it tho. I paired it with his battle scarred Pandoras, nothing to write home about but they were the best fitting gloves in his collection.


---
USP-S Torque
One of the oldest popular USP skins, I remember back in the days everyone used to rock this bad boy. The colors look vibrant, that distinctive separation between black and white with the yellow line is pretty innovative for those times.

The float is barely in the fn range with a .059, you can kinda see it on the top. Applied on best pos. There's a little pizza sticker aka the DH14 NiP holo, you can't really go wrong with this sticker plus brown on yellow isn't the worst combo.


---
Summary
Overall, I gotta admit the inventory isn't the most unique out there. There aren't a whole lot of crafts, only 2 really special ones but he at least stayed true to his signature, having a total of 15 guns with Twistzz signatures on it.

That little Paracord blue gem does look amazing tho, haven't seen alot of Paracords in general within the pro scene and especially not such a pretty one.
Rating
My overall score will be a solid 6.741 mostly because of these few beauties in his inventory. Without the CZ and the blue gem, he might even fall below a 5. There's a bunch of doubling up and blank skins without sticker. Nonetheless greatly enjoyed writing this review, I've only ever seen Twistzz's pretty face at the ESL but never his inventory.

All images taken on: Broskins.com