Buy and Sell Dota 2 Items easiest ways
Topic: Where to Buy Dota 2 Items - Skinport

Today, we want to provide you with some assistance in building your dream Dota 2 loadout. We will explore a method for acquiring your items at a considerably cheaper price. We hope this article will be helpful to you, and that you will have a great time reading through it!

This article will mainly revolve around our partner Skinport, who are located in Germany and one of the best marketplaces to buy and sell your Dota 2 skins with 0 percent buyer fees.

Introduction
In Dota 2, we mainly acquire our items from the beloved Steam Community Market, paying exorbitant prices for items that are worth much less in real-life currencies. People often resort to SCM because they are accustomed to it after purchasing Battle Pass levels and keys with their Steam Balance. However, this situation can and should change because no one should have to pay such excessive fees, nor should they have to overpay for their skins!
Skinport - Fast and Easy
There are many cash trading sites for Dota 2, but today we are focusing our attention on Skinport, a delightful solution for Dota 2 enthusiasts! With Skinport, you can quickly and safely purchase your favorite cosmetics at prices 20-30% lower than those on the Steam Community Market. This is a significant advantage, especially for high-value combinations! Moreover, there are no hidden fees when making a purchase, so the price you see is precisely what you will pay.
How Do I Buy?
Buying from Skinport is extremely easy. You simply select the game from which you want items, in our case, Dota 2. Then, you can search for your favorite items using various sorting and filtering options, making it easy to find what you are looking for. After you have successfully located and added the items to your cart, you only need to proceed with the payment. Skinport supports Visa, Mastercard, Maestro, and Apple Pay for skin purchases, and there are absolutely no fees for buyers. Once you purchase the skin, you can withdraw it into your Steam Account from the Skinport bots.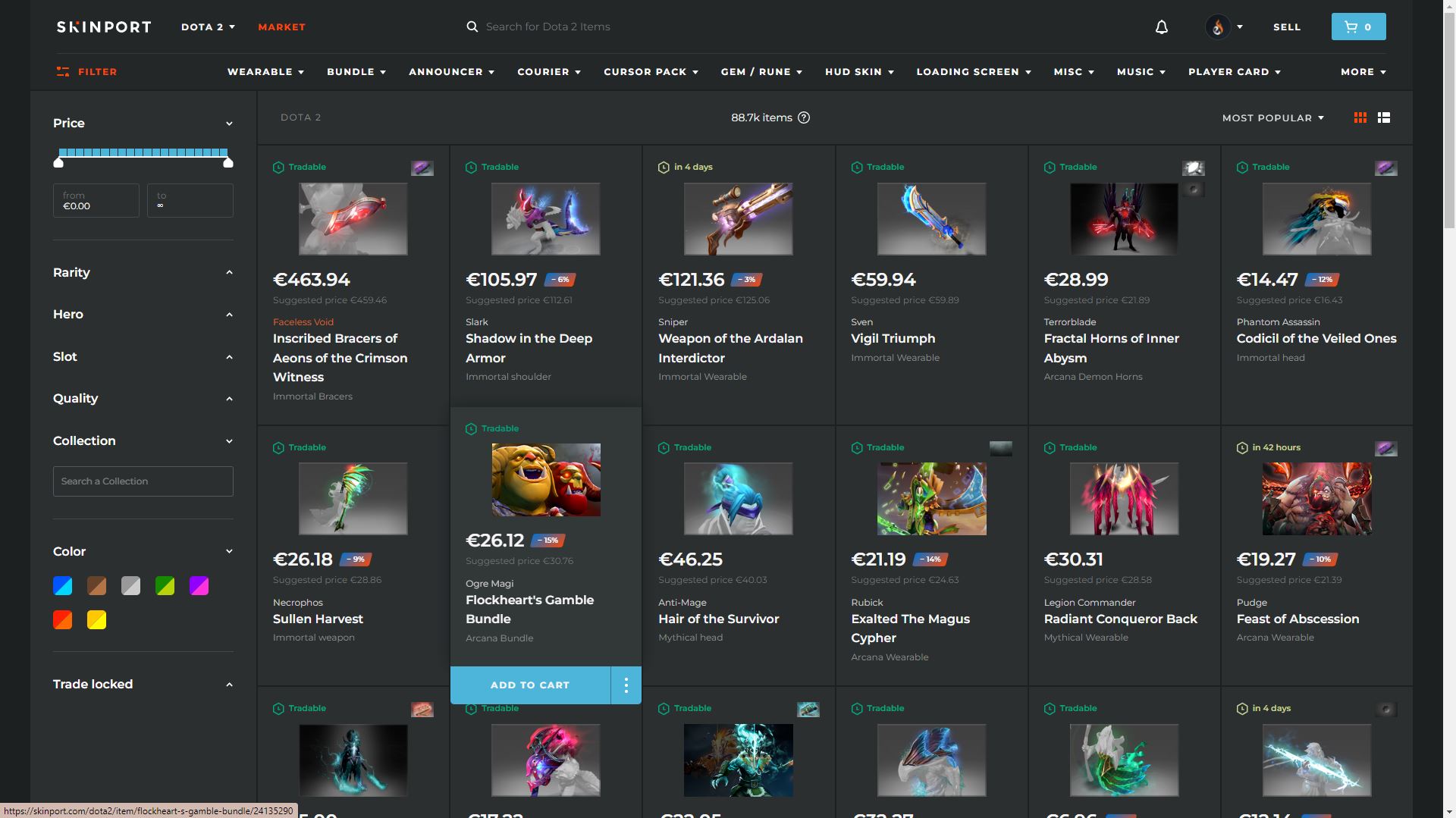 Can I Sell Items?
In our Dota 2 community, many people are not very accustomed to cashing out their inventories for real-life money. Quite a few people don't even know about that possibility, and some are just apprehensive about doing it. One primary reason for this is the significantly lower trading activity compared to games like Counter-Strike, in which people are very comfortable with the real-life value of the items. So, the answer is yes, you definitely can and should if you can make better use of your money in your real life.
How Do I Sell?
Maybe you want to sell now, but you might be worried that it's going to be very hard to do. Well, that's not actually the case; it's, in fact, pretty easy, much easier than any ranked game that you might have played.

You just click on the "Sell" button, and then you will see your skins, which you can select and choose the prices you want to list them for. While you choose a price, you will see an estimation of how fast it might sell.

After all the prices are set, you will receive a trade offer from the Skinport bot that you have to accept in order to list the skins on the market. Always make sure you check out the details of the bot so you accept the right offer.

The fees are 12 percent for items under USD 1,000, which is still less than Steam's fees. After your item is sold, you can withdraw the money directly to your bank account!


How To Get Steam Balance
Many people are simply depositing money on Steam, but what if I told you there is a cheaper way? If you buy Dota 2 or CSGO items on Skinport and sell them on the Steam Community Market, you will in most cases actually have more money in your wallet even after the 15% Steam fees. So, if you need the balance to purchase in-game keys or Battle Pass levels, this is a very effective way to acquire them.
Conclusion
We hope that our tips helped you and that you will have an easier time buying and selling your Dota 2 skins from now on. And if you wonder what skins will fit your favorite hero, we might have the answer in our Dota 2 category!