Recap April 2022: Everything regarding CS:GO skins
Topic: CS:GO - Market-Recap April 2022!

For those who are new to our monthly recap series, these will include the latest news for CS:GO skins about:

- New rare and unique unboxes;
- New expensive and/or rare sticker crafts (Katowice 2014, Krakow 2017, contraband stickers etc.);
- Market changes (items going down/up);
- Official skin related content (new cases mostly, but anything from Valve);
- Uncategorized (New marketplaces, skins recently registered on or off databases);

Welcome to yet another edition of our monthly Market Recap! We hope you enjoy reading, learning, and looking at the skins and crafts that the CS:GO community has provided for you!

Gambit to the moon:
With the transfer of the Gambit lineup to Cloud9 the Gambit stickers will be discontinued for the forseeable future. This has led to an insane price upwards trend for a short period of time, spiking at around 200% for the Gold Stickers. Most stickers are up for ~125 % as of now.


(Price of the Gambit Gaming (Gold) I Stockholm 2021 in months on the steam community market)
---
Cases are still performing!
One of the cases that has had a steady upwards trend for quite some time is the Operation Breakout case. And we can't blame it! Chasing the Butterfly Fade or the Crimson Web StatTrak Factory New is the dream of many who still unbox them. Apart from being a popular investment, it's the only case where you're guaranteed a Butterfly knife when you unbox a gold!


(Price of the "Operation Breakout" case in months on the steam community market)
---
While the Clutch and the Glove case are still very consistent with a slow and steady rise in their prices, the Dreams & Nightmare case is very consistent and strict - An anomaly in the CS:GO market, as new cases normally decrease in price quite quickly!

The case got released all the way back in January! We have barely seen a non Operation case that shows this kind of pattern and market trend.


---

(Price of the "Dreams and Nightmare" case life-time vs. the last month on the steam community market)
---
Unboxes:
In the following paragraphs, we will show and introduce you a bit to the new unboxes that CS:GO has seen this month.

It's not all too much, but the items we're talking about in this piece are very special and amazing unboxes. If you know more unboxes that would be worth mentioning, feel free to send them to us via our Social Media!
xQc's 8th max Karambit Fire & Ice
Popular Twitch Streamer xQC unboxed a StatTrak 8th max Karambit Fire and Ice with the pattern ID 655!

Quite remarkable is also that he apparently opened two knives within 200 cases. With a price tag of around ~2.000€ for the Karambit that's insanely lucky! Furthermore the knife comes in a 0.024 float and with that in Factory New and is additionally StatTrack! The odds of getting that alone are unbelievably low.


---
Blue Gem Nomad Knife | Case Hardened
This knife seems to be unboxed by an unknown user with a private Inventory. We don't have a 100% sure lead on this but decided to trust the Twitter post. As we have been told, the Nomad seems to come in Minimal Wear and with the Pattern ID: 281.

There currently is a WW one listed on Float.DB for ~3.700€! From the current standpoint we could only speculate about the price tag of this beauty, if it really exists.


Source
---
Skeleton Knife | Case Hardened Backside Gem
The Skeleton is very special and a #3 backside! We are happy that we have seen some more Blue Gem unboxes this month. Last month was pretty dry when talking about CS:GO skin unboxes.

The pattern ID of the Skeletoni is 497 and it comes in Field-Tested. A decent condition for such a special knife.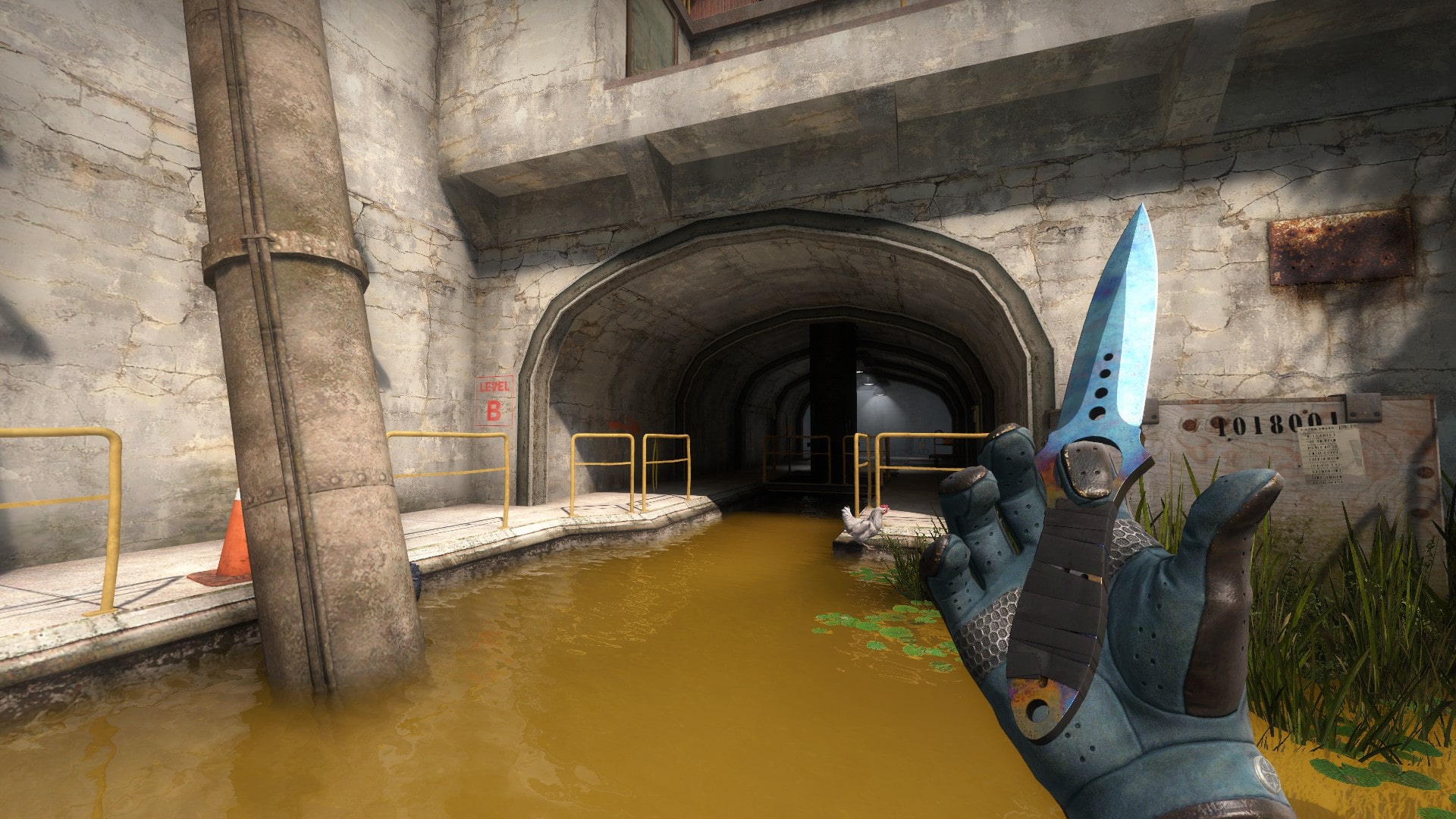 ---
Crafts Section!
As usual, we're starting this section with some Katowice 2014 CS:GO crafts. This month we have seen two very "controversial" crafts, although one of them was not all too intentional.

After that, we will also look at a few other nice crafts that have been made this month. All in all, we will mostly feature special and unique crafts in this series as we anyways report on all the CS:GO crafts in great detail in our regular series "Craft-Talks" that you can find in the category "Skins".

Let's get started!
---
Interested in another skin related article?:
Check out the category here: Skin articles
---
AWP | Desert Hydra mixed Katowice 2014 craft
As promised we're starting off with a very controversial craft by @OnlyRealNap. Although it might not seem like it: This mixed Kato 14 Hydra has some reasoning behind it: The Katowice 2014 iBUYPOWER fits perfectly on the snakes head, same with the Dignitas on the back. The Katowice 2014 VOX and the Clan Mystik stickers also got chosen because they fit the overall color spectrum and style of the gun very well.

Even though this is a controversial and misunderstood craft, we kinda like it. It would have been exactly crafted like that if the AWP Desert Hydra would have been around in 2014. We respect that!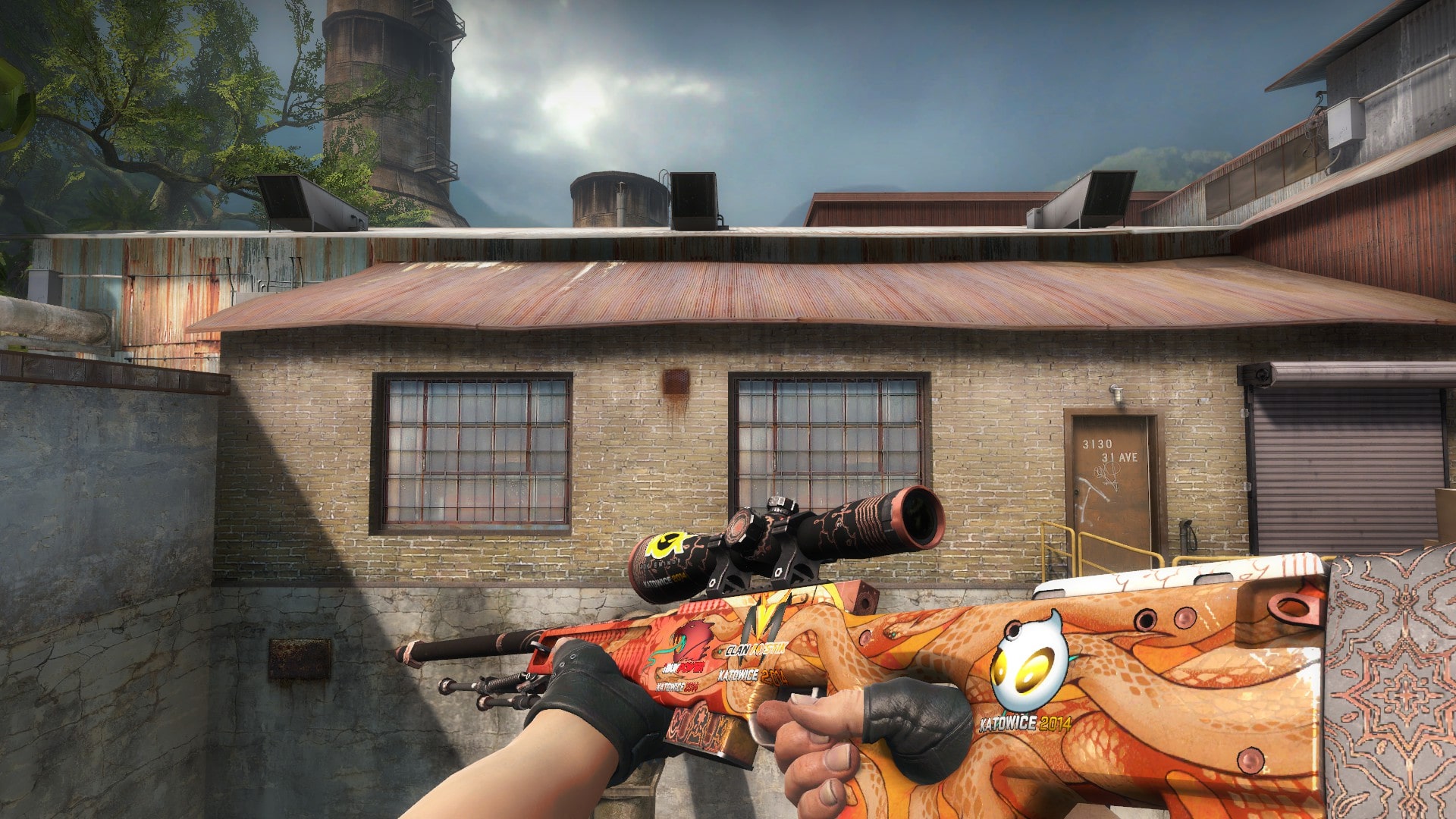 ---
Deagle | Mudder-Missclick
Some of you might have already heard that story: The Twitter user @nosovnd accidentally applied his compLexity Gaming (Holo) | Katowice 2014 on the worst positioning of his Desert Eagle | Mudder while he was "trying to make a it", but that backfired.

If you already have three stickers applied, the last one doesn't have the second confirmation when trying to apply it because all other spots are already taken up by other stickers. So it applies instantly. A harsh truth that this user had to learn the hard way.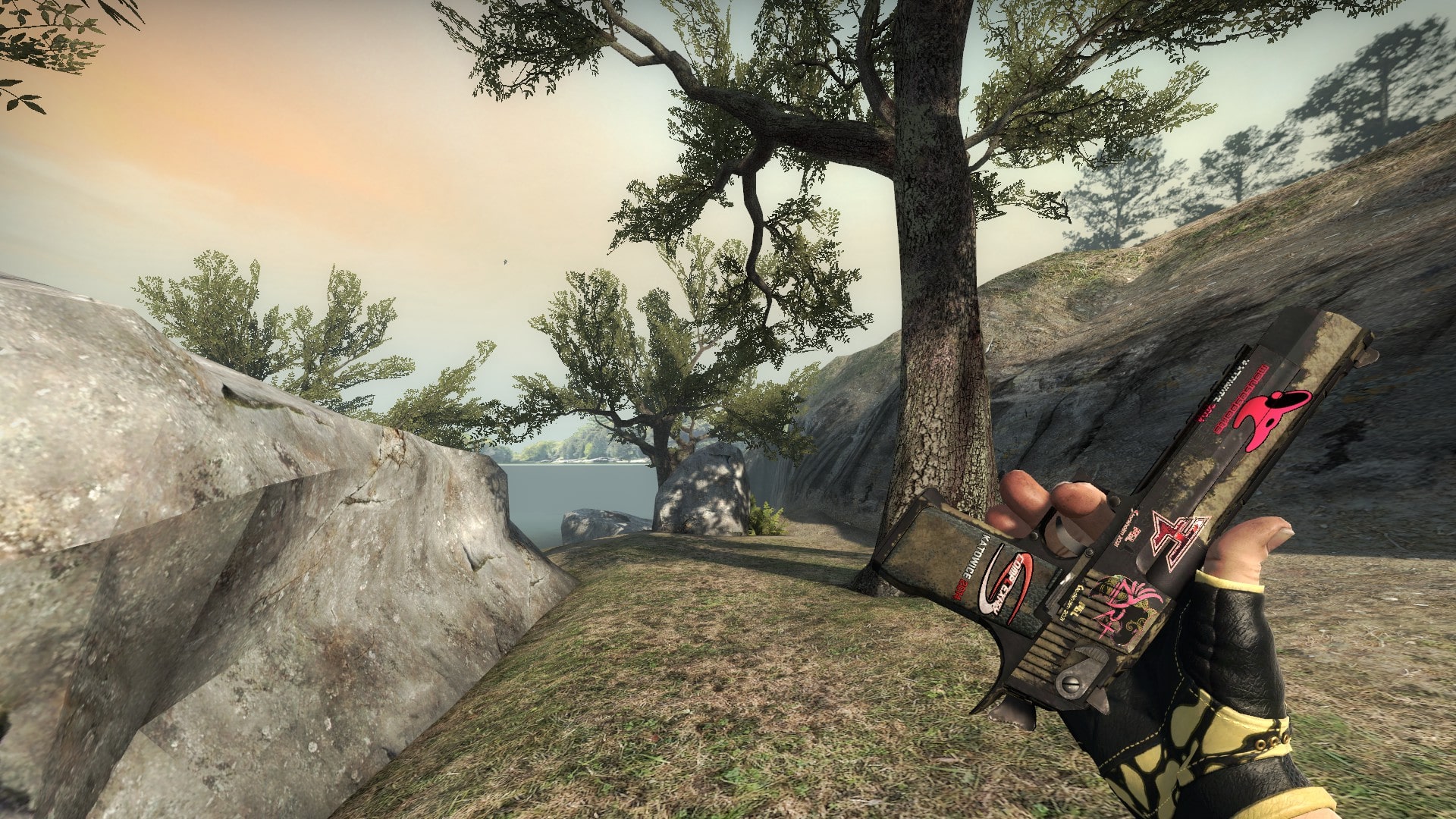 ---
M4A1-S | The Knight Guard
Here we have a very well matching craft! Usually, we don't include Katowice 2015 crafts here, but for this skin, we wanted to make an exception. The M4A1-S | Knight with 4x Keyd Stars (Foil) | Katowice 2015 is too pleasing for the eyes not to mention.

It is the only 4x craft of its kind with two 3x crafts existing. With that @Alkem1st owns the only finished craft which additionally also has the best float out of these.


Source
---
Discontinued sticker craft:
We have also seen a very lovely new Winged Defuser craft this month. With the Neon-Rider collection finished recently, we didn't think that we will see another Winged Defuser craft soon, but here we are again.
AK-47 | Vulcan 4x Winged Defuser
We are very fond of this Vulcan craft. The "Flying Vulcan" might be one of our new favourite Winged Defuser crafts. The smooth and clean look of it, together with the matching colors is amazing!

This is also a 1/1 and we have no clue why this hasn't been crafted before! So here it is, for you all to gaze upon.


---
Conclusion
We hope you enjoyed reading through this months market recap. If we missed anything special make sure to let us know on our Social Media! Stay awesome and see you again in two days for our next piece!

Our research tools for this article were: csgofloat.com/db, @RaCSGO's Kato14 holo database, csgostash.com/ and all screenshots were made on broskins.com & the OhnePixel server.