Sticker Spotlight DH 2014 LDLC Crafts, Prices and Supply
Topic: DreamHack 2014 LDLC Crafts, Price & Supply

Welcome to the final Sticker Spotlight, where we took a closer look at all the team that participated in the DreamHack 2014 Counter-Strike tournament. The team we will focus on today is Team LDLC.com, a French roster that boasted popular players and a large fan base. Without further ado, let's delve into their participation, sticker availability, sticker price trends, and, most importantly, sticker crafts.

Team LDLC.com – General Team Information
As the favored team in the tournament, Team LDLC.com emerged as a formidable powerhouse with a lineup of talented and extraordinary Counter-Strike players. Representing the French CS scene in this prestigious tournament were Nathan "NBK-" Schmitt, Edouard "SmithZz" Dubourdeaux, Fabien "kioShiMa" Fiey, Richard "shox" Papillon, and Vincent "Happy" Cervoni Schopenhauer. Supporting them was their coach, Emmanuel "MoMaN" Marquez. Right from the start of the tournament, Team LDLC.com faced immense pressure. As major favorites, they had to prove that they were here to win it all. Their tournament journey began in Group C, alongside Ninjas In Pyjamas, ESC Gaming, and Planetkey Dynamics.

Their first match was against ESC Gaming on Cobblestone. As expected by many, it was not a close scoreline, and Team LDLC.com emerged victorious with a commanding 16-4 score after just 20 rounds. The second match was the winners' match, where the victor would secure first place in the group stage and a direct spot in the playoffs. Here, Team LDLC.com encountered Ninjas In Pyjamas, a strong competitor for the title race. After a back-and-forth battle on Overpass, the French roster emerged triumphant with a 16-13 score, placing them in first position in Group C.

In the quarterfinals, Team LDLC.com faced Fnatic in a best-of-three (BO3) matchup. While they secured the victory, the match was marred by controversy that unfolded after the last game on Overpass. Fnatic ultimately forfeited due to an infamous "pixel-walking" boost that occurred during the final map. This win propelled Team LDLC.com to the semifinals, where they met Natus Vincere. Compared to their previous encounter with Fnatic, this game was relatively easier, lasting only two out of three rounds. After an intense hour and 40 minutes, Natus Vincere succumbed 2-0 to Team LDLC.com on Inferno and Dust 2.

The team's hard work and cohesive teamwork paid off as they advanced to the Major finals. There, they faced a familiar opponent, Ninjas In Pyjamas, whom they had already defeated in the group stage. In what can be described as one of the most extraordinary finals witnessed by Counter-Strike players, Team LDLC.com emerged victorious in the third and final map of the DreamHack Winter 2014 tournament, clinching the win in overtime on Overpass. This victory secured their status as Major winners.

By winning the DreamHack 2014 tournament, Team LDLC.com not only earned prize pool winnings of USD 100,000 but also secured direct qualification to the ESL One Katowice 2015 tournament and created countless unforgettable memories.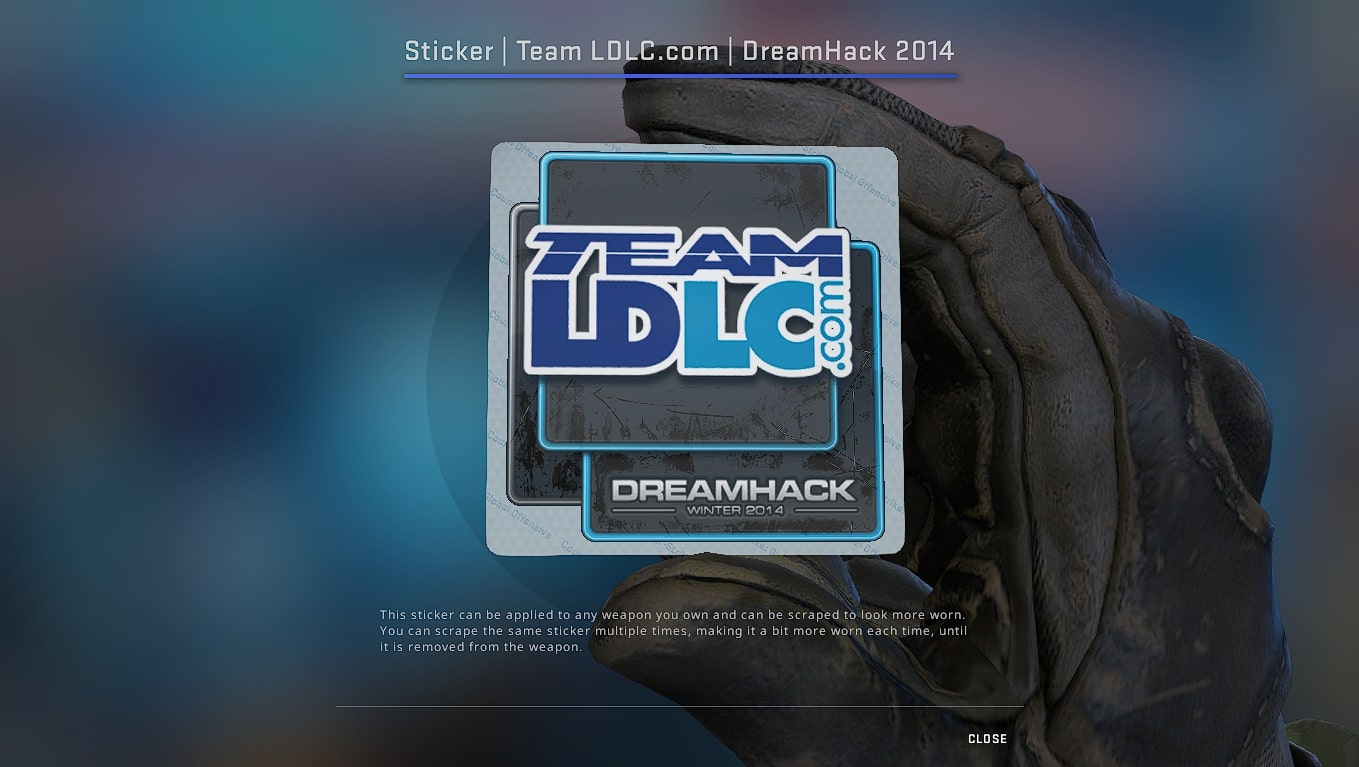 DreamHack 2014 Team LDLC Sticker Supply
The DreamHack 2014 Team LDLC sticker currently has the largest supply among the stickers listed for sale on different marketplaces. If we search on Buff163, we can find 73 of these stickers listed, and 51 of them are available on the Steam Community Market. This is significantly higher than any other team sticker from the same tournament. However, this information does not provide us with the complete knowledge of the overall supply for this sticker. Therefore, it is important to consider that there could be many more of these stickers hidden in thousands of different accounts and storage units.
DreamHack 2014 Team LDLC Price Trend/Development
Similar to many other stickers from the DreamHack 2014 Counter-Strike tournament, the DreamHack 2014 Team LDLC.com sticker experienced its first price increase in March 2019 and has been on an upward trend since then. Prior to that, the price remained stable between USD 1.00 and USD 2.00. Currently, the price of one DreamHack 2014 Team LDLC.com sticker is USD 28, with previous sales falling within the range of USD 25 to USD 30. This information provides us with an estimated price range for future four-time crafts, which is likely to be between USD 100 and USD 120.


DreamHack 2014 Team LDLC Sticker Crafts
The substantial supply of stickers also brings a significant number of skins that already have DreamHack 2014 Team LDLC.com stickers applied. Currently, there are 30,515 skins with one or more DreamHack 2014 Team LDLC.com stickers, and out of those, 928 are four-time crafts. We have plenty of unique crafts to share with you, so sit back, relax, and enjoy these lovely art pieces.

Let's start with a rather unusual weapon that is not commonly seen in use, the PP-Bizon Sea Bird crafted by @SughCS at the end of January this year. Another uncommon weapon is the SG 553, which has only three crafts with Team LDLC.com stickers from the DreamHack 2014 tournament. One of those is a one-out-of-two SG 553 Anodized Navy owned by @ALPHABRAVOK9. On the other hand, we also have a one-out-of-one craft, the USP-S Whiteout from the Train 2021 collection, currently owned by @U3U___UwU, and the Galil AR Aqua Terrace from @OfficialRepo.


DreamHack 2014 Team LDLC Sticker Crafts
Among the older crafts, there are several one-out-of-one creations. The M4A1-S Player Two from @sh0ck3duwu showcases an amazing combination of stickers and skin with different blue tones. Similarly, the Galil AR Sugar Rush, owned by @FalkorCS, can be described in the same manner. These crafts are truly astonishing.

We must also mention the Desert Eagle Trigger Discipline, crafted by @_Sabach in October 2022. Another noteworthy older skin is the M4A4 Magnesium, which has had four DreamHack 2014 Team LDLC.com stickers applied to it a total of six times. One of those six crafts is proudly owned by @GaryTCxD, but we must not forget @red507, who has also managed to add one of these to their DreamHack 2014 collection.


DreamHack 2014 Team LDLC Sticker Crafts
The AK-47 Vulcan is a well-known AK skin that pairs well with numerous blue stickers. There are a total of 183 AK-47 Vulcans with four DreamHack 2014 Team LDLC.com stickers applied to them, and one of those is owned by esports talent, @GuzzCasts. Some other crafts from the same era, similar to the AK-47 Vulcan, include the Glock-18 Blue Fissure, which exists in ten instances, with one in the possession of @Jon5367. The USP-S Guardian is in the hands of DreamHack 2014 collector, @ViMaCSGO, and the MP7 Cirrus is a one-out-of-one craft that used to be owned by @MainBaze.

We have explored many different DreamHack 2014 Team LDLC.com crafts, but we also encourage you to do some exploration on your own. Perhaps you will discover something you like even more. In the meantime, be sure to let us know your thoughts on this sticker. Do you think it lives up to the hype and the number of times it has been applied?


Writers favorite
The classic AK-47 Vulcan craft adorned with four DreamHack 2014 Team LDLC.com stickers is the type of craft that you can never go wrong with. The colors of the stickers complement the skin perfectly, creating a seamless and visually appealing design. Personally, I would rate it 10 out of 10. Additionally, some of the older skins from a couple of years ago would be at the top of my list, such as the Galil AR Sugar Rush, M4A1-S Player Two, and M4A4 Magnesium.
Conclusion
This concludes the coverage of the last team from the DreamHack 2014 tournament in our Sticker Spotlight article. However, we have more exciting content in store for you. Stay tuned by following us on our social media channels. And as always, don't forget to share your favorite craft from our spotlight with us.

Information powered by Liquipedia