Sticker Spotlight DreamHack 2014 myXMG crafts, price and supply
Topic: DreamHack 2014 myXMG crafts, price and supply

Welcome to yet another Sticker Spotlight article, Esportfire's series in which we take a deep dive into the history of specific Counter-Strike stickers. Alongside the team's performance in the DreamHack 2014 tournament, we take a look at the sticker supply, price trend, and DreamHack 2014 myXMG crafts.

DreamHack 2014 myXMG – General Team Information
The myXMG lineup for the DreamHack 2014 tournament, which was held in Jönköping, Sweden consisted of the following players: Mathias "MSL" Lauridsen, Nicolai "HUNDEN" Petersen, Asger "AcilioN" Larsen, Michael "Friis" Jørgensen and Danni "smF" Dyg. The Danish team was considered an underdog at the event and had to prove themselves against Virtus.pro, Natus Vincere, and FlipSid3 Tactics in Group D.

Their opening match at the DreamHack 2014 tournament was versus Virtus.pro, who were the heavy favorites going into the matchup and also a title candidate for the event as a whole. Sadly for myXMG, they didn't stand a chance against Virtus.pro in their game on Inferno, in which they lost 16-2. The following match was versus FlipSid3 Tactics. A slightly easier opponent on paper and myXMG wanted to showcase their strength on Mirage. Nevertheless, after 27 rounds, myXMG again had been defeated and although showcasing a good performance it wasn't enough to keep them in the event.

With those two losses, they ended their DreamHack 2014 tournament participation in 13th to 16th place and with USD 2,000 in prize pool money.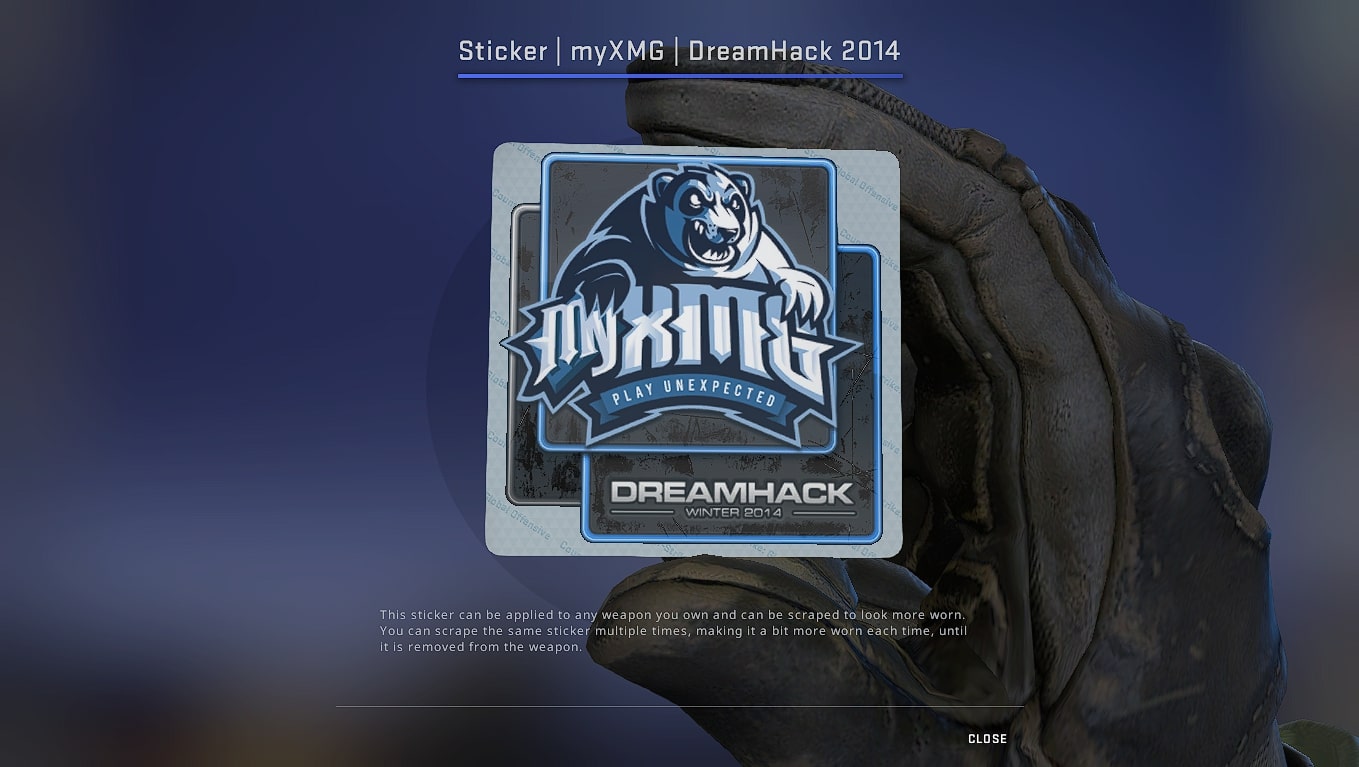 DreamHack 2014 myXMG - Sticker Supply
When we talk about the DreamHack 2014 myXMG sticker supply, it's hard to estimate an exact amount. But, we can take a look at the Buff163 and Steam Community Market to see how many of them are available for purchase. On Buff163 there are 22 listed and on the Steam Community Market 25. That is a decent amount compared to some others from the same tournament.
DreamHack 2014 myXMG - Price Trend/Development
Like most DreamHack 2014 stickers, myXMG has seen continuous price increases since mid-2019. If we take a look at the bigger picture, we can see that the price trend is on a stable upwards trend with few spikes that quickly recovered. At the time of the release, the cheapest sticker could be found on Buff163 for USD 21. The last couple of sales ranged from USD 17 to USD 21. With those numbers in mind, we can estimate that a new four-times craft would cost somewhat between USD 65 and USD 90.


DreamHack 2014 myXMG - Sticker Crafts
With only 2,394 skins that have one or more stickers applied to them, myXMG is one of the stickers that have the least applied amount out of all teams that took part in the DreamHack 2014 event. As of now, there are only 118 mYXMG four-times crafts out there. Let's take a closer look at some of them! Starting off with a MAC-10 Strats which was crafted by @DreamHack2014 and is currently owned by @pocket_tweeting. Only three SSG-08 crafts with four of these stickers got crafted over the years and all of them are one-out-of-one's. Out of those three, we would like to showcase an SSG 08 Abyss that is currently in the hands of @JrShweg.

Next up in terms of DreamHack 2014 myXMG crafts is a less common weapon, the R8 Revolver. @Cyanidex333 decided to craft five DreamHack 2014 myXMG stickers to expand his R8 Revolver collection, what a lovely combination. Even more uniqueness can be found on the MP7 Ocean Foam which is owned by @SanterialYT. Yet another one-out-of-one craft that works well when inspecting it in-game.


DreamHack 2014 myXMG - Sticker Crafts
Next up is a MAC-10 Neon Rider, which was crafted fairly recently (considering we don't see that many DreamHack 2014 myXMG sticker crafts) by @ViMaCSGO. Furthermore, @xdurdz is the proud owner of the M4A4 Desolate Space which he completed.

Also, there are only two AUG skins with four myXMG stickers applied to them. One of those is an AUG Anodized Navy, which is actually owned by myself. Last, but not least, we wanna showcase the only Negev with four myXMG stickers, that got crafted by @ZVayma. This one fits his DreamHack 2014 collection quite perfectly.


Writers favorite
Without a doubt, I can say that the MAC-10 Strats owned by @pocket_tweeting is one of my favorite DreamHack 2014 myXMG crafts. Outside of that one, two more skins I'd like to mention, which were not featured in this article, would be the R8 Revolver Grip with five of these stickers and the Galil AR Rocket Pop. Truly amazing crafts.
Conclusion
We hope everyone enjoyed today's article featuring the DreamHack 2014 myXMG sticker. If you have any ideas which skins would also look great with this sticker, be sure to let us know on our Social Media. Feel free to check out our newest article releases right below this paragraph!

Information powered by Liquipedia