Sticker Spotlight DreamHack 2014 PENTA crafts, supply & prices
Topic: DreamHack 2014 PENTA Sports , price, crafts & trend

Welcome back to another Sticker Spotlight article in which we cover everything worth knowing about specific Counter-Strike stickers. Not only will you learn more about the PENTA Sports team and their history, but also about the price development, supply, and crafts of their DreamHack 2014 sticker.

PENTA Sports – General Team Information
PENTA Sports is a German esports organization that first entered the scene in early 2013. Ever since they took part in many known tournaments, one of those was the DreamHack Winter 2014 Major. Their roster consisted of the following five German players: Felix "fel1x" Zech, Kevin "kRYSTAL" Amend, Robin "r0bs3n" Stephan, Denis "denis" Howell and Timo "Spiidi" Richter.

Their opening match of the DreamHack 2014 tournament was against Team Dignitas in Group B. After a decent performance and 25 rounds of playing PENTA lost and with that had to already face elimination in their next game against Copenhagen Wolves. With a scoreline of 16:12, PENTA managed to win their second group game and thus advance to the final match of group B, facing iBUYPOWER. Coming into the game, PENTA Sports was heavily considered as the underdogs and the game didn't start well for them at all. iBUYPOWER was up eleven rounds, but that didn't stop the German team from giving their all in order to advance. They managed to pull an incredible comeback and won the game with 16-13, which put them in 2nd place in group B and with that spot in the playoffs was secured.

The next step in order to advance was beating Virtus.Pro in the quarter finals. This B03 was the hardest game so far for the boys from PENTA Sports, and that was reflected in the scoreline. After only two maps, Virtus.Pro came out on top by beating them with 16-9 and 16-5. Although that last game was quite one-sided, reaching the play-offs was a great success for the German lineup. PENTA placed 5th to 8th place with USD 10,000 in price money earnings and secured a spot for the ESL One Katowice 2015 Counter-Strike tournament.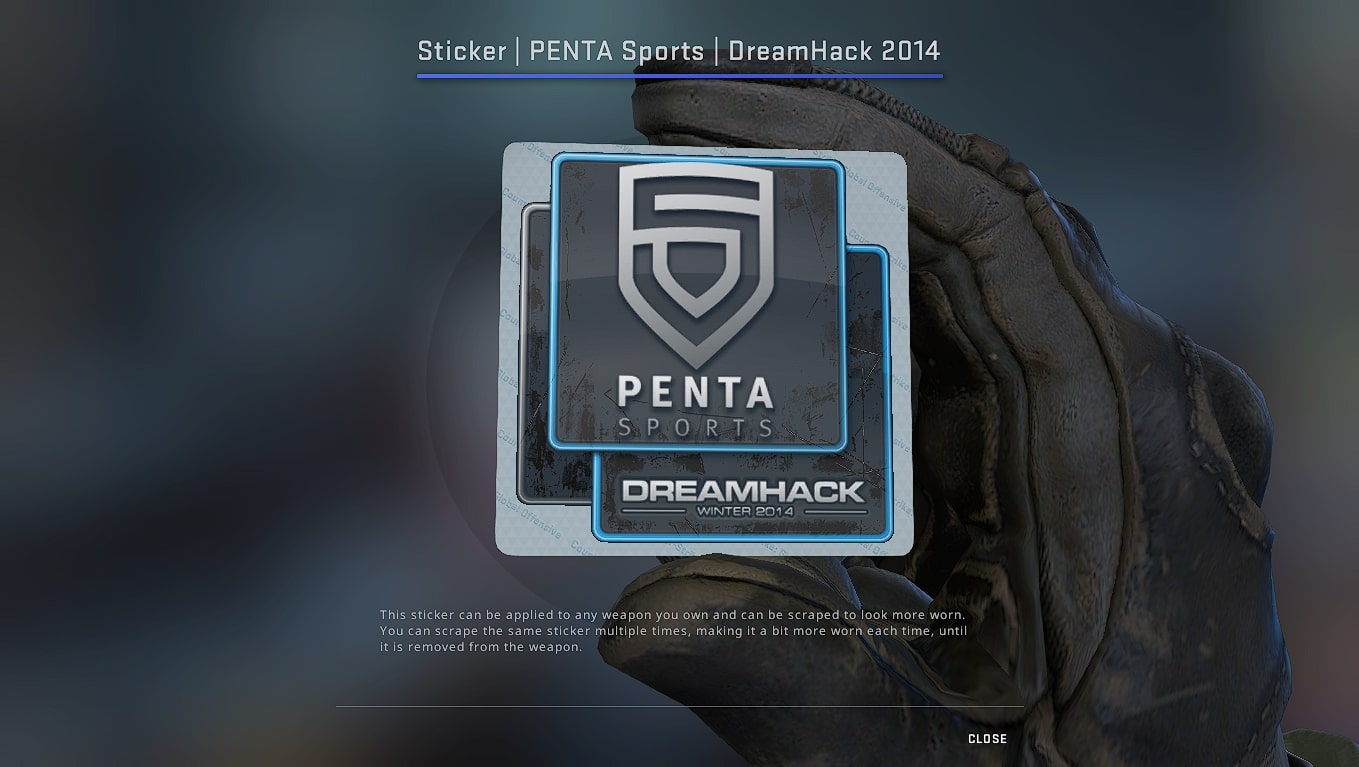 DreamHack 2014 PENTA Sports - Sticker Supply
The currently available DreamHack 2014 PENTA sticker supply is as low as you would expect it to be for such an old sticker. 25 of them are listed on Buff163 and 31 can be found on the Steam Community Market. As time passes by, more and more of them have been used for crafts. As always, the currently available supply on the different marketplaces logically doesn't reflect the total supply of the DreamHack 2014 PENTA sticker, as many of them are still in inventories or storage units around the world.
DreamHack 2014 PENTA Sports - Price Trend/Development
Just like many other DreamHack 2014 stickers the PENTA Sports stickers got more and more in the focus of collectors and investors in the middle of 2019. Before that year, the price was stabilized at around USD 3. However, at the moment the cheapest PENTA Sports sticker is listed on Buff163 for USD 12. Recent sales have been ranging between USD 11 and USD 15. With those numbers, we can estimate that a new four-times craft would cost between USD 40 and USD 60. In comparison to all the other DreamHack 2014 stickers that we covered it's rather affordable.


DreamHack 2014 PENTA Sports - Sticker Crafts
With a total of 2,929 PENTA sticker crafts and only 121 four-times out there, PENTA Sports is one of the rarest crafted stickers from the DreamHack 2014 event. When talking about crafts we wanna start with the P90 Death Grip from @_Sabach. It already looks stunning when inspecting it, but even better in the game. Up next, we have a one-out-of-one USP-S Ticket To Hell which I, just recently, got the pleasure to call my own.

Another clean pistol craft is in the hands of @777hef. He currently holds on to an out-of-one PENTA craft, the Dual Berettas Elite 1.6. The uniqueness keeps on coming with this Desert Eagle Blue Ply which was crafted by @ViMaCSGO.


DreamHack 2014 PENTA Sports - Sticker Crafts
Going back in time, we have some older, but really cool and unique DreamHack 2014 PENTA sticker crafts. One of them is yet another one-out-of-one craft and owned by @exactethx. Another collector, @U3U___UwU, got his hands on a Glock-18 Twilight Galaxy which is a skin from the Chop Shop Collection.

Furthermore, back in October of 2022, @olivianorbergg decided to craft four PENTA stickers on a M4A1-S Decimator. Another old skin, which works really well with stickers due to matching skin colors. One more rifle we want to mention is the Galil AR Stone Cold, which has only two four-time crafts and is currently in possession of @Jon5367.


DreamHack 2014 PENTA Sports - Sticker Crafts
The AK-47 Ice Coalded is one of the fairly newer AKs added to Counter-Strike. The one with four PENTA stickers applied is currently in the hands of @Cosmoocs. As we could see from the previous crafts, there are quite a lot of one-out-of-ones. Another one we would like to showcase is the M4A4 Urban DDPAT that was won by @dlcofficial in @red507's giveaway in April of 2022. What a lovely community we have right here.

Going forward, we can't forget about @Kewiiji, the DreamHack 2014 collector who has a wide variety of crafts in his inventory. One of those is the SG 553 Wave Spray which is the only SG 553 in a game with four of these stickers applied to it. Last but not least: The Tec-9 Ice Cap in @aslan_501's inventory, which is yet again another one-out-of-one DreamHack 2014 PENTA craft.


Writers favorite
It may not be the perfect match, but the M4A4 Dark Blossom owned by @notactiveGER is probably one of my favourite PENTA Sports DreamHack 2014 crafts. Alongside that one, I want to mention the P90 Schematic which recently got purchased by @wtr_csgo. The color match between skin and craft is just perfect.
Conclusion
There are still a few teams that have been a part of the well-known DreamHack 2014 tournament and are waiting to be covered in our Sticker Spotlight series. With that said, be sure to keep an eye on our Social Media for the upcoming articles that will cover everything you want to know about the specific sticker. Enjoy your day and feel free to check out some of our latest articles right below this paragraph.

Information powered by Liquipedia