EU RMR - Daily Update Article - Group A
Who's qualifying for the Antwerp Major?
Topic: CS:GO RMR Europa Major Antwerp

This article will be updated daily and feature all the news regarding the European RMR event. This region is divided into two qualifying groups with 16 teams per. Group A started on the 17.04. and is currently live with the second day of play.

First of all, we will give you a general overview of who already qualified for the PGL Major in Antwerp and after that, we will go into a bit more of detail with the European qualifier. All the games are broadcasted live on Twitch by PGL! Make sure to check them out.

You will always find the latest updates at the bottom of the article, the top will not be rewritten over the days!

by @jAlexCSGO
TN by: @Andy
---
Want to sell your skins for ZERO FEES? Try out: GamerPay
*ad
---
Table of Content
Current status
Per 18.04. 12 p.m. CET eight teams already secured their spot at the Antwerp Major 2022. While FURIA is the only team that got a Legends spot yet, mibr and Imperial qualified for the Challengers pool. All of them qualified over the American RMR event, which already concluded last week. The remaining five teams that are already qualified will participate in the Antwerp Major as Contenders. For those five we're talking about Liquid, Renegades, Complexity, 9z, and IHC Esports.

At the European qualifiers, half of the teams will qualify for the main event in Antwerp. Group A has four Legends spots available, while Group B got three! Furthermore, the groups got four/five Challenger and Contender spots that can be earned by the teams. We will now continue with day 1 of the European RMR in Group A!
Europe RMR Group A - Day 1
Day 1 of the European RMR started off with 16 bo1 matchups and most of the favorites were able to secure two wins. Unbeaten on the first four spots are currently Heroic, NAVI, FaZe, and BIG. Followed by eight teams who were starting into day 2 with a tie in maps. Those are: OG, Outsiders (Virtus.Pro lineup), Vitality, Fnatic, SAW, Eternal Fire, forZe and MOUZ. For all of these, it will be important to start off day two with a win, in order to not play against elimination early.

The remaining four teams will already face the threat of elimination on day two. Dignitas, GamerLegion, QUAZAR and Unique lost both opening matches and will have a hard time qualifying for the Major.


Source
Europe RMR Group A - Day 2
The second matchday of the European RMR concluded. With Heroic and BIG two teams already managed to qualify for the Major as Legends. While the Danes won out over NAVI, BIG Clan managed to beat FaZe Clan in their third game. For both teams quite impressive victories and quite a statement going into the PGL Major in Antwerp.

On the other end of the table two teams already need to pack their stuff after the second day of play. GamerLegion and QUAZAR lost their duels against Dignitas and Unique and are out of the RMR event and with that also the Major cycle for Antwerp!

Apart from a favorite win of Vitality against Eternal Fire, MOUZ pulled off an upset against Outsiders on Inferno! Furthermore forZe and SAW managed to surprise with wins over OG and fnatic and one of the two teams will qualify for the Major in Antwerp tomorrow, as they face each other! All 1:2 teams will play against elimination tomorrow - you can see who we're talking about below in the table!


Source
Europe RMR Group A - Day 3
Today, six more matches took place in group A of the European RMR, all of which were deciding games! While forZe, NAVI, and FaZe managed to secure their spots at the PGL Major in Antwerp, Unique, Fnatic, and Dignitas were eliminated from the event and will not have another chance to qualify for the Major!

Tomorrow, the three losers of the upper matches and the three winners of the lower matches will play against each other. With that, we have three games between Vitality & MOUZ, OG & Eternal Fire, and SAW & Outsiders (Virtus.Pro). Every winner of those three duels will book their ticket to the PGL Major! The games will be going live tomorrow at 10 a.m. CET. Don't miss them!


Source
Europe RMR Group A - Day 4
Today was the final day of the European RMR Group A. Six teams were still fighting for spots at the CS:GO Major in Antwerp! The day started with a (for OG) heartbreaking 0:2 loss against Eternal Fire. The Turkish star team managed to win out both maps with 16:14 and qualified as Contenders. The second match of the day took place between Vitality and MOUZ. The game was entertaining and Vitality managed to win it out with a 2:1 on Nuke, Dust2, and Mirage at the end. Especially on Dust2 MOUZ was close to winning out the series 2:0 and qualifying for the Major.

The final two games of the day were a deciding one for the Legends Status between forZe and NAVI, in which the star ensemble around s1mple managed to win out quite convincingly! The final game for the last Major spot in Group A of the European RMR was played between SAW and Outsiders (Virtus.Pro). The duel ended in a 2:1 win for James and his squad, while sAw had to face a heartbreaking loss in the overtime of map three. All in all an amazing matchday. Tomorrow Group B will go live and with that also our second LIVE article. Check it out below!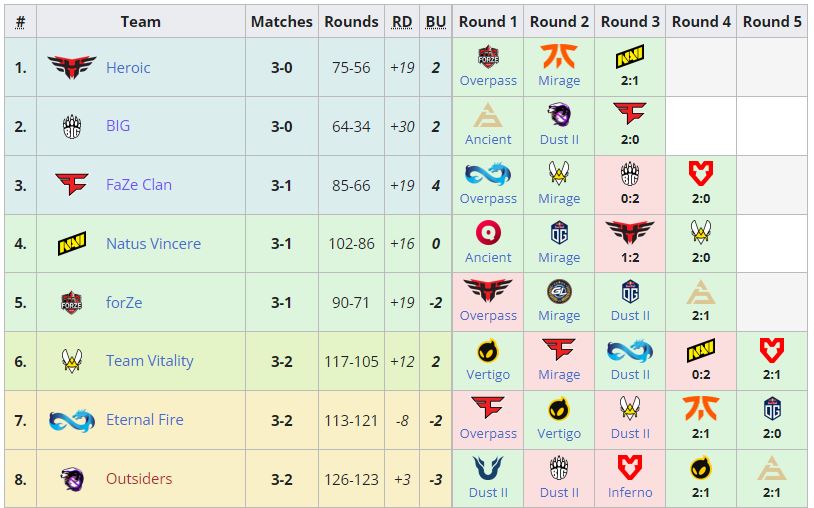 Source
Europe RMR Group B - Day 1
LIVE ON 20.04.2022 AT 10 a.m. CET: Check out PGL on Twitch here: A-Stream & B-Stream

We will publish a different LIVE article for the Group B of the European Group B qualifier!
Check it out here: RMR Group B
---
Interested in another CS:GO esports article?:
Check out the category here: General articles.
---
Information powered by Liquipedia