LIVE: Daily update on group B of the European RMR
Topic: CS:GO RMR Major Qualifier Group B Europe

Welcome to our second *LIVE Article* for the European RMR event. Now featuring Group B of the event. Another 16 teams are fighting for eight spots at the CS:GO Major in Antwerp. There are three Legend, four Challenger and one Contender spot up for the taking.

Some of the most notable teams in the group are G2, NiP, Astralis, ENCE, Team Spirit and Copenhagen Flames! The first games will go live on 21.04.2022 at 11 a.m. CET and the will be live til the 24.04.2022.

For general information about the Major and the different regions make sure to check out our general PGL Major Antwerp article here: EsportFire.com/article/rmr-update-antwerp

Europe RMR Group B - Day 1
Today 16 opening bo1 matches took place. Every team played twice and some managed to set themselves up for the qualification to the Major, while others already play against elimination tomorrow. Three of the top teams in the group (Players (Gambit), NiP and Astralis) won both of their games. Up there is also Copenhagen Flames who managed to win both of their maps against Sprout and Sinners.

The probably biggest upset of the day is the win of Anonymo against G2 on Mirage. An amazing showing of the Polish squad. With ASG, Sprout, Endpoint and Sangal four teams will already play against elimination tomorrow!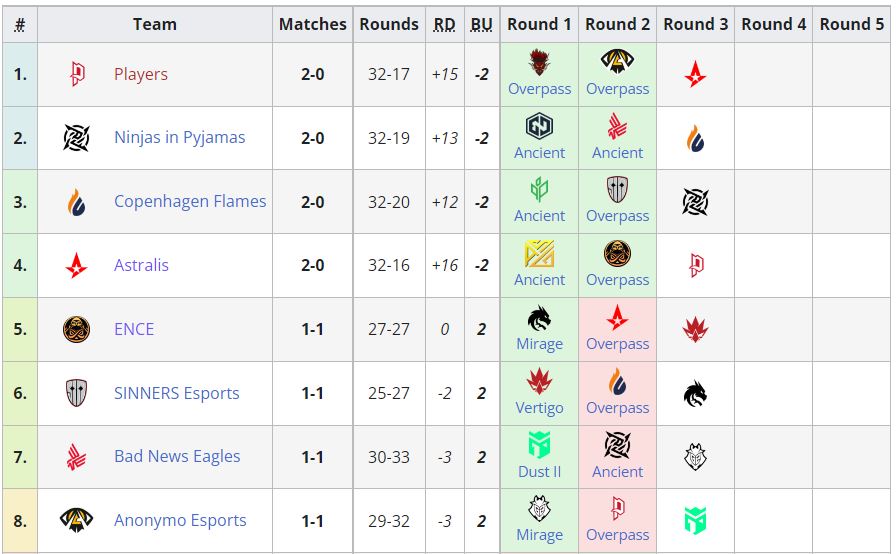 Source
Europe RMR Group B - Day 2
On the second day of group B, with Players (Gambit) and Copenhagen Flames, two teams already managed to qualify for the Legends stage of the CS:GO Major in Antwerp. While Players managed to defeat Astralis 2:1, Copenhagen Flames was able to beat NiP 2:0!

On the other end of the table Sangal Esports and Sprout went out 0:3 and don't have another chance to qualify for the Major! With that Endpoint and ASG are still in the race for the qualification and need to fight against elimination again tomorrow. With G2, ENCE, Anonymo and Sinners four teams managed to get their second win today.

Tomorrow Astralis, G2, ENCE, Sinners, NiP and Anonymo will play for their spot at the Major, while Spirit, Bad NEws Eagles, Entropiq, HEET, ASG and Endpoint will play against elimination! Another exciting match day is coming up.


Source
Europe RMR Group B - Day 3
Day three of the European RMR Group B was quite an exciting one. With NiP, ENCE and G2 three more teams managed to qualify themself for the Major in Antwerp, while Entropiq, ASG and Endpoint are no longer in the race for spots at the Major.

Tomorrow three deciding matchups will take place between Sinners and Bad News Eagles, Team Spirit and Anonymo & Astralis and HEET. Each winner of these duels will qualify for the Major in Antwerp, while the loser will be out of the event and not make it to the Major.


Source
Europe RMR Group B - Day 4
LIVE TOMORROW AT 9 a.m. CET: Check out PGL on Twitch here: A-Stream & B-Stream

Information powered by Liquipedia