Inventory Review Special featuring Gaveeeyy
Topic: Gaveeeyy Inventory Review - CS2

Welcome to a special edition of "Inventory Reviews". Today we're taking a look at Gaveeeyy's amazing collection, consisting of unboxes and amazing sticker crafts. He is well-known in the Twitter community for his crafts and has been featured multiple times in our Craft-Alert posts on Social Media.

In today's article you will find out how he got into Counter-Strike, what his most amazing crafts look like and which pro player managed to pull off an ACE with one of his skins in the Paris Major qualifier. Enjoy! (You can click through the pictures in paragraph 3,4 & 5!)

The Beginning
He first started playing CS:GO in 2020, when he stumbled across a trade-up video from ChaBoyyHD, a very well-known YouTuber in the space. It all started when Gaveeeyy saw the AWP | The Prince and fell in love with it. He started playing the game more regularly and also unboxed his first knife, a Karambit | Black Laminate, later this year.

His favorite glove-knife combo that he ever owned are Driver Gloves | King Snake in combination with a Stiletto Knife | Ruby. Quite rare to see as someone's favorite combo but I gotta tell you, they're an unbelievingly well matching combination.


The Hot Trio - What a stunning set
You all would be quite amazed if I would tell you that he has a four-times Katowice 2015 HellRaisers M4A1-S Hot Rod right? What if I tell you that he doesn't only have the M4 but also the MP9 & AUG Hot Rod, while even crafting the MP9 himself. What a stunning collection of perfectly well matching red crafts.

Crafts We All Remember
One of the most well-known crafts, that I still remember seeing on my timeline the day it got crafted, was Gaveeeyy's Negev | Mjölnir with four Boston 2018 | Zeus (Gold) stickers. What a stunning sticker craft that nobody ever expected to see. Furthermore, he decided to apply four DreamHack 2014 NiP (Holo) stickers on his AK-47 | Gold Arabesque, as well as two different MAC-10 skins, the Gold Brick and Copper Borre. Although the last two may sound a bit questionable at first, make sure to check out their in-game look down below and all your doubts will be gone.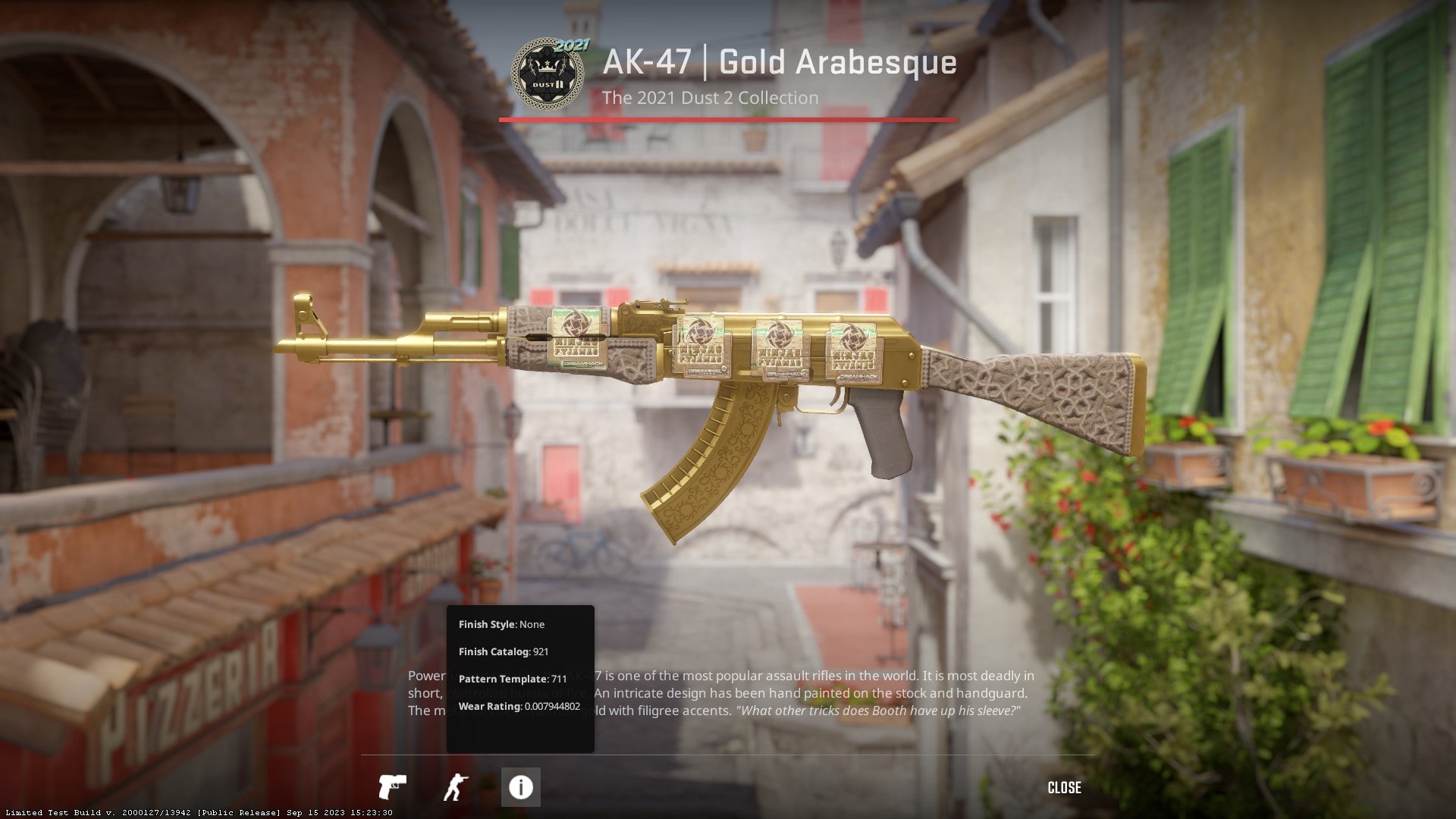 Unique, Beautiful, Amazing
While we already showcased you some of his Katowice 2015 and DreamHack 2014 crafts right above, we will take a look at some of the others now. Although the sticker placement is still a bit weird for some crafts in CS2 you can not deny the unbelievable great match of the Desert Eagle Sunset Storm with four Boston 2018 Tyloo (Holos). Up next we got a very special 1/1 craft. Gaveeeyy decided to apply four Flammable (Foil) stickers on an UMP-45 Crime Scene.

For our last two crafts we got a Glock-18 Twilight Galaxy with four Boston 2018 North (Holo) stickers applied to it. The base skin is super clean and comes with a float value of 0.0046. Last but not least is a craft that perfectly blends in with the skin itself. Gaveeeyy decided to apply four Atlanta 2017 mousesports (Holos) onto the Nova Bloomstick.

The Beloved Prince
What a better way to end the article then by showcasing the beloved Prince that first made Gaveeeyy fall into love with Counter-Strike. Around two years after seeing the successful trade-up by ChaBoyyHD, he managed to acquire one for himself. The golden/red skin is one of the most unique and exquisite looking skins out there and even more special by having a King on the Field sticker applied on the scope.

BUT that's not everything we would love to share when it comes to that very special AWP. Pro player zorte lended out that exact AWP for some pro matches and managed to pull off an ACE at the BLAST Paris Major qualifier against Aurora with it! See it yourself: YouTube Shorts


Conclusion
We hope you enjoyed today's article about Gaveeeyy's inventory. Make sure to show him some love on Social Media and follow us for more content about skins and unique stories. On the 7th of October he will be hosting a big crafting stream on his Twitch channel. Mark the date and feel free to leave him a follow over at Twitch.

Feel free to check out our most recent article releases right below this paragraph - Have a great rest of your day!