Live updates on the IEM Rio Major Final
IEM Rio Major Final Outsiders vs. Heroic - Live Ticker

Welcome to our live ticker for the IEM Rio Major Final between Outsiders and Heroic. The CIS squad around IGL and starplayer Jame will take on the Danes who managed to beat the home team of FURIA in yesterday's semi-final.

Live Ticker under the Champions Stage bracket picture!
jAlex ESL | Stephanie Lindgren
Introduction and map veto
One thing is clear going into the Major Grand Final: None of the players on the server have ever won a CS:GO Major and for Heroic it would also be the first in the organization's history. For Virtus.Pro / Outsiders it would be the second Major after their victory at the ESL Major Series One Katowice 2014.

While it's safe to say that Outsiders will ban Nuke and Heroic will ban Dust2, the picks for the final bo3 of the event are unsure! A little side fact: The two teams have played twice within the last few weeks, both of those games were a best of one and the maps played Overpass and Mirage. Both teams managed to win once.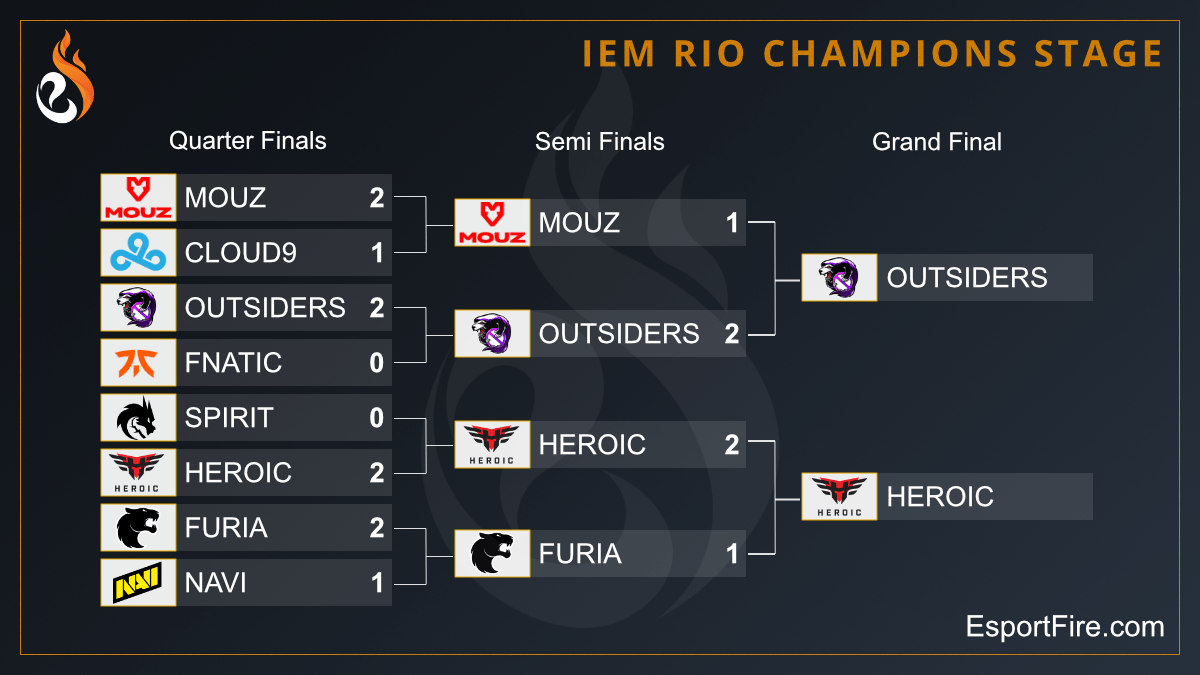 ---
LIVE TICKER:
Overpass second half
- 9:54 p.m. CET: The first out of 10 championship points. A slow B entrance brings them everything they ever wished for. Outsiders is your IEM RIO CHAMPION and with fame, FL1T, Qikert, Jame and n0rb3r7 we got five new CS:GO Major winners. Congratulations! Outsiders 16 : 5 Heroic

- 9:52 p.m. CET: An eco round for Heroic in the possibly second last round of the series. Heartbreaking for the Danes. A valuable attempt by stavn was too little. Outsiders up on match and series point. Outsiders 15 : 5 Heroic

- 9:50 p.m. CET: After a timeout we see another full investment from both teams. Outsiders outplayed Heroic in a 3 vs. 3 situation. Outsiders 14 : 5 Heroic

- 9:47 p.m. CET: With leaving enough balance in the account we see a full buy round out of Outsiders with four AKs but little utility. CadiaN got an opening kill on toilets and Outsiders decided to execute on A. The 4 vs. 4 afterplant ends in a 1 vs. 1 win for Jame against jabbi. Outsiders 13 : 5 Heroic

- 9:45 p.m. CET: Force buy for Outsiders with an AK on Jame and some pistols around him. On the slow A go nothing worked out for them. Heroic wins out the round. Outsiders 12 : 5 Heroic

- 9:43 p.m. CET: Time to get a close to flawless CT half for Heroic! An important win on the B split of Outsiders for Heroic. Great pistol defence. Outsiders 12 : 4 Heroic

Overpass first half
- 9:37 p.m. CET: Another A contact play, another late B go, another flawless hold be Outsiders. Heroic needs to step their game up on the CT half of Overpass after a horrible half! Outsiders 12 : 3 Heroic

- 9:35 p.m. CET: While Jabbi managed to entry on B the rest of the team went towards A where Jame was their end boss. Nothing is working out for Heroic right now, Outsiders is not buying their fakes at all. Outsiders 11 : 3 Heroic

- 9:33 p.m. CET: Time for a full-buy round. Another B go ended with the strong defence of Outsiders. CadiaN lost it out in the 1 vs. 2 and Outsiders secures double digits. Outsiders 10 : 3 Heroic

- 9:31 p.m. CET: Timeout by Heroic.

- 9:31 p.m. CET: Another eco for Heroic, with five deagles in the hands of the Danes. Didn't work out all too well with zero kills from Heroic in round 12. Outsiders 9 : 3 Heroic

- 9:29 p.m. CET: All 10 players are on the A side where Heroic executes at 50 seconds. A strong hold by Outsiders secures them the 8th round. It's not getting easier for Heroic. Outsiders 8 : 3 Heroic

- 9:27 p.m. CET: An opening from Jame on mid set Outsiders up for the win in a 2k force buy by the Danes! Time for the next full buy round now, as Outsiders also is very limited money wise.Outsiders 7 : 3 Heroic

- 9:25 p.m. CET: Another force buy by Heroic after a timeout ended in a B contact go from Heroic. In the end fame managed to win out the one vs. one against cadiaN! Outsiders 6 : 3 Heroic

- 9:22 p.m. CET: Heroic got an entry on Jame on A, but got shut down while moving in. The rotation to B with the three remaining players didn't bring any success either. Outsiders 5 : 3 Heroic

- 9:19 p.m. CET: Another time out by Heroic!

- 9:19 p.m. CET: Heroic gets two opening kills on the B default and decided to move into the B side at the 50 seconds mark right before backing up to A via connector. Jame time for Outsiders. Outsiders 4 : 3 Heroic

- 9:17 p.m. CET: First timeout for Heroic.

- 9:17 p.m. CET: Time for a 2k Glock and Tec-9 buy for Heroic while Outsiders is fully equipped. The mid-round B execute ended in a frag movie for FL1T! Outsiders 4 : 2 Heroic

- 9:15 p.m. CET: After a tactical timeout Heroic decided to go for a Deagle/Galil/AK force buy in round 5, while Jame is on the AWP for the first time. Clean victory by Outsiders on the mid-fights. Outsiders 3 : 2 Heroic

- 9:13 p.m. CET: Heroic decided to go for an A execute around the 45-second mark and faced two players from Outsides. A two-on-two after plant had the better ending for Outsiders! Outsiders 2 : 2 Heroic

- 9:11 p.m. CET: Normal spread-out default from both teams in the first full buy round of the game. Late round the Danes decided to end on B but a n0rb3r7 flank and good rotations finished them out. Outsiders 1 : 2 Heroic

- 9:09 p.m. CET: Full eco by Outsiders who are stacking B. Heroic didn't get any problems although they walked into the stack. First, buy for Outsiders in round three. Outsiders 0 : 2 Heroic

- 9:07 p.m. CET: Heroic pressures into B early, but Outsiders were ready with multiple players on that side, as well as fast rotations. In the end, Heroic managed to win it out! Great start for the Danes on their own pick. Outsiders 0 : 1 Heroic

Mirage second half
- 8.45 p.m. CET: Time for a short break, we're right back!

- 8.45 p.m. CET: Heroic with an amazingly times B push as nobody was there for Outsiders in an early round gamble! At the end cadiaN lost it out in a 1 vs. 2 - GGWP the first map goes to Outsiders. Outsiders 16 : 12 Heroic

- 8.43 p.m. CET: Last round of the first map? Jappi says no with a great entry. After losing another fight on A Outsiders went for the save - it's Jame time! Outsiders 15 : 12 Heroic

- 8.41 p.m. CET: Heroic on a slow A walkout but two opening losses. In the end, Outsiders managed to win it out! Outsiders 15 : 11 Heroic

- 8.40 p.m. CET: Timeout by Heroic.

- 8.39 p.m. CET: A strong mid hold by Outsiders destroyed the under walkout from the Danes. Outsiders 14 : 11 Heroic

- 8.37 p.m. CET: A force buy round around the AWP purchase of Jame for Outsiders. Heroic decided to execute on A at the one-minute mark and did well in doing so! Outsiders was forced to save. Outsiders 13 : 11 Heroic

- 8.34 p.m. CET: Timeout called by Outsiders.

- 8.33 p.m. CET: Another full-buy round for Outsiders as their money is build up well. Heroic managed to win it out on the late B go with some nice kills from cadiaN and Jabbi. Outsiders 13 : 10 Heroic

- 8.31 p.m. CET: A second full-buy in the half for Heroic who are playing a wide spread default with two entries on mid from the Danes. Heroic decided to enter B over short and Outsiders went for the save. At the end the Danes hunted them down and got the AWP out of the hands of Jame. Outsiders 13 : 9 Heroic

- 8.29 p.m. CET: Timeout called by Outsiders.

- 8.28 p.m. CET: An attempted B rush that ended in a B contact play in the 2k buy for Heroic ... without any successes. Outsiders 13 : 8 Heroic

- 8.28 p.m. CET: Timeout called by Heroic.

- 8.27 p.m. CET: Heroic losing out the individual battles and the B-split at the end didn't work out. Outsiders 12 : 8 Heroic

- 8.26 p.m. CET: Time for a Glock round by Heroic. Fame had fun on short with the under go on the side of Heroic and gets four kills. Outsiders 11 : 8 Heroic

- 8.24 p.m. CET: Into the force war! Heroic bought back in and went for an under pop-out with cadiaN on top-mid. Heroic gets a bit lost on the A split in the end. Outsiders 10 : 8 Heroic

- 8.22 p.m. CET: Outsiders managed to win the second round with a force buy on the A execute of Heroic. Outsiders 9 : 8 Heroic

- 8.20 p.m. CET: It's time for the second pistol round! Heroic went for a fast under to mid-A split with Jabbi on ramp. In the mid-round Heroic went back to B with Jabbi as the lurk. NORB3R7 was left in a 1 vs. 2 and got knifed by cadiaN on the defuse. Outsiders 8 : 8 Heroic

Mirage first half
- 8.15 p.m. CET: Half-time break!

- 8.14 p.m. CET: The last round of the half was a 4 vs. 4 mid round play that ended in another A split. At the end Outsiders secured the round in the afterplant. Outsiders 8 : 7 Heroic

- 8.12 p.m. CET: An A sneak out that got pressured back by Heroic. The mid-round A split ended in a 2 vs. 3 afterplant in the advantage of Heroic! Jame was left in a 1 vs. 3 and lost it out after one kill. Outsiders 7 : 7 Heroic

- 8.10 p.m. CET: Time for the next full-buy. Heroic wins out the battle for mid and Jame was left in a 1 vs. 4, doing what he's known for - saving! Outsiders 7 : 6 Heroic

- 8.07 p.m. CET: A five-man A ramp push by Heroic in the full eco - solid win for Outsiders, Heroic managed to save one AK-47. Outsiders 7 : 5 Heroic

- 8.05 p.m. CET: A two-man palace walk-out and a fast A-go works wonders for Outsiders! Outsiders 6 : 5 Heroic

- 8.02 p.m. CET: Another A go by Outsiders with a 2 vs. 2 after plant that fame managed to win out in a 1 vs. 2! Outsiders 5 : 5 Heroic

- 8.00 p.m. CET: Some mid-fights and a mid-round A go works well for Outsiders after Jabbi brought it back to a 2:1 in favor of Heroic. The round ended with a ninja defuse by TeSeS. Outsiders 4 : 5 Heroic

- 7.58 p.m. CET: Timeout called by Heroic

- 7.58 p.m. CET: Fame gets two entries on the half-buy of Outsiders. A mid to A split forced Heroic to save a rifle and the AWP. Great win in the 2k buy for Outsiders. Outsiders 4 : 4 Heroic

- 7.55 p.m. CET: Another fast B go, but this time with rifles, leaves Outsiders with a 3 vs. 5 early in the round. Going late A didn't bring them anything, four alive for Heroic. Outsiders 3 : 4 Heroic

- 7.54 p.m. CET: No chance for Outsiders on the eco B push. Outsiders 3 : 3 Heroic

- 7.52 p.m. CET: Heroic plays mid aggressively and got two entries! In a 2 vs. 5 Heroic managed to win it out with two alive on the A retake. Outsiders 3 : 2 Heroic

- 7.50 p.m. CET: Outsiders went towards A at 40 seconds in a 4 vs. 5 and lost it in the after plant! Outsiders 3 : 1 Heroic

- 7.47 p.m. CET: First timeout for Outsiders after three rounds!

- 7.47 p.m. CET: Full eco, no chance for Heroic in round 3, we will get into the first rifle round now! Outsiders 3 : 0 Heroic

- 7.45 p.m. CET: Heroic bought into the second round but was without a chance against the rifles! Outsiders 2 : 0 Heroic

- 7.43 p.m. CET: Quick A go on the pistol round for Outsiders - FL1T with three kills entering the bomb side and even ending it with a fourth! Outsiders 1 : 0 Heroic

- 7.42 p.m. CET: WE ARE LIVE!!!

Prematch
- 7.35 p.m. CET: Over 30 minutes of delay. No news yet regarding what's going on. ESL tweeted that they're facing some technical difficulties.

- 7.22 p.m. CET: A short update regarding the earlier announced 2023 Brazil event. The event will be part of the core of the ESL Pro Tour for CS:GO in 2023. 16 teams will play for a total prize pool of 250.000 USD.

- 7.18 p.m. CET: There seem to be technical difficulties - let's see when we can get started with the game.

- 7.07 p.m. CET: The players are all connected. Everything seems ready to get started!

- 7.03 p.m. CET: The players are getting ready and we will soon go live!

- 6.58 p.m. CET: Heroic enters the arena.

- 6.57 p.m. CET: Outsiders enters the arena.

- 6.55 p.m. CET: FalleN enters the arena with the trophy! The crowd is filling up but not yet on yesterday's level.

- 6.52 p.m. CET: ESL announced that there will be a CS:GO event in Brazil in 2023!

- 6.41 p.m. CET: The map veto is live: Mirage, Overpass, Inferno are the maps that will be played in the IEM Rio grand final.

- 6.37 p.m. CET: 23 minutes until the grand final starts, the crowd is slowly filling up.

Information powered by Liquipedia