Introducing EsportFire Games and Indexes
The Skinworld - Biggest EsportFire Update ever!

Welcome to the biggest update we ever released on EsportFire: The Skinworld. This newly created section will, next to the articles, be our second main focus and content our users can enjoy and use at any given time.

The EsportFire Skinworld is accessible through the menu or via the newly added banner on the top of our landing page and features two main content points: Games and Indexes. Furthermore, you can now log in to EsportFire via Steam. More on all of that in a second!
EsportFire Games
It's play time! The newly added "Games" section of EsportFire will feature fun minigames around CS:GO. For the first launch, we came up with three games. In the future there will be more and different game modes, feel free to also suggest some! We always love to integrate community feedback.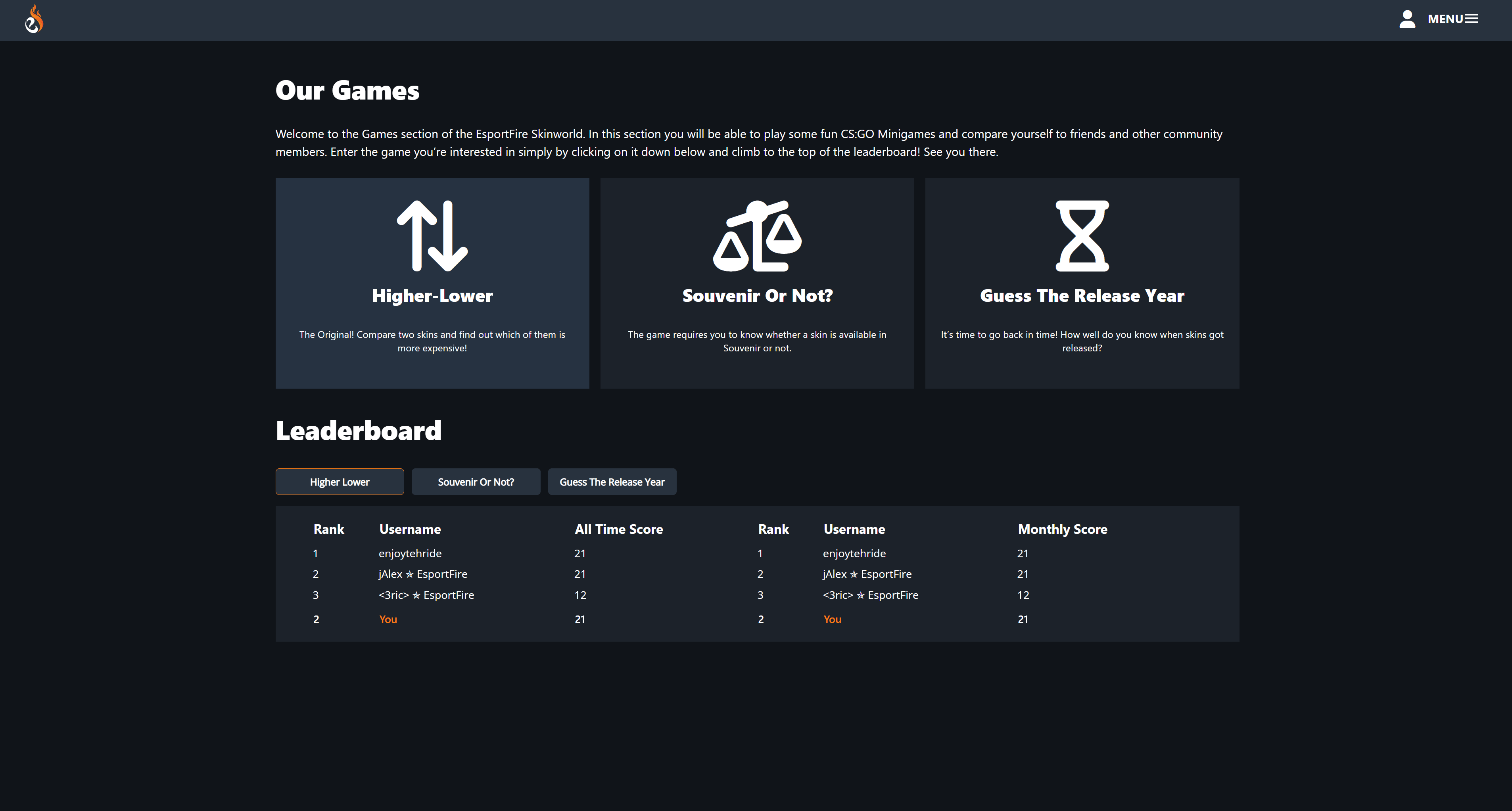 The first game mode will be the classy Higher-Lower game that is well-known for many different use cases and was first inspired by @pabloelescargot within the CS:GO community.



Our second game is "Souvenir or not?" where the players can test their knowledge on whether a specific skin got released as Souvenir or StatTrak! We expect some high scores for that one.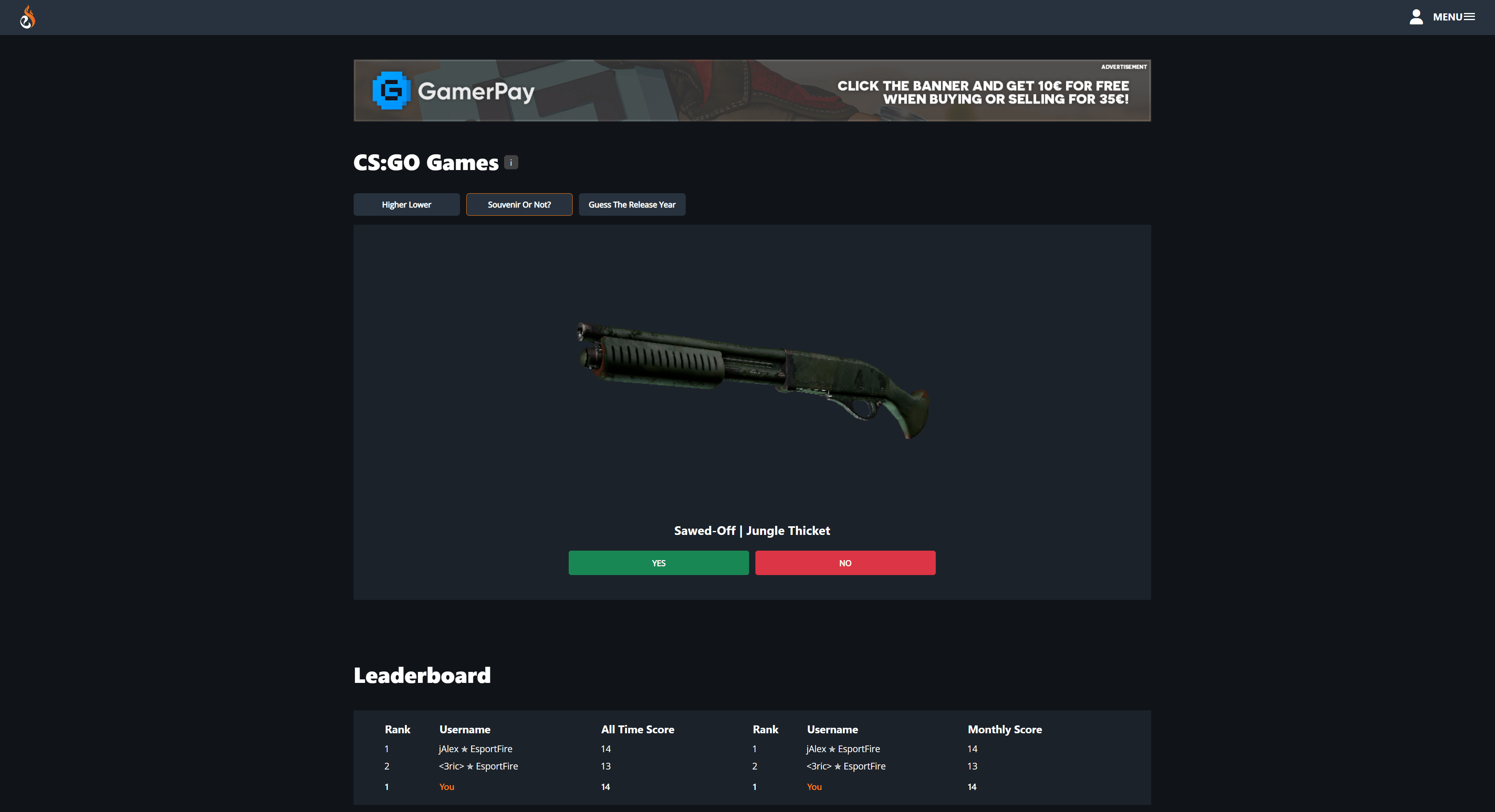 To make it a bit harder and also provide a challenge for all skin experts we decided to come up with "Guess The Release Year" where the players have to choose between six options. We're very much looking forward to the first high scores for that mode.



To spice things up a bit more we will host a monthly event where the user with the highest score in every of the three game modes will win a prize! More on that tomorrow on our Twitter profile!
EsportFire Indexes
The EsportFire Indexes are a new way to follow and track the CS:GO skin economy. With many different weapon, case and rarity indexes you can overview market changes in a very detailed and easy way. Our very own specialty: The EsportFire300 index is a cross-section of 300 liquid CS:GO items that shall give you an overview of the CS:GO market development as a whole.


---
Profiles
Next up in today's release notes is the Open-Beta of EsportFire Profiles! You can now create your very own profile on our page by simply logging in with your Steam Account! Creating a profile will enable you to take part in the leaderboards for the games and make it possible to select favorites indexes.

The first release of the profiles is very minimalistic but highly functional. We will continuously add new features to it - stay tuned for that!


---
Future of the EsportFire Skinworld
Today's release only covers a small portion of the plans that we got with the Skinworld as a whole. The options are unlimited and the hopes and plans for this new part of EsportFire are big. We appreciate any support and feedback given by the community and hope to bring out a lot of informative, as well as fun features for all of you!
Conclusion
Thanks for reading today's article about the introduction of the EsportFire Skinworld! We're beyond excited about this release and have been working on it for months. With our still very limited budget and small team, big updates like that one are a huge challenge, time investment and hustle from everyone involved. With that, I wanna thank everyone here at EsportFire for their awesome work and continuous effort, as well as the community for always supporting us! Enjoy the updates and have an awesome rest of your day.

We are EsportFire.