Plopski / es3tag inventory review special edition
Topic: CS:GO Inventory Review Plopski & es3tag

To celebrate Gamerpay's inventory rehaul for Plopski and es3tag, that will take place live today at 4 p.m. CET, we decided to make a special version of our weekly inventory review including both of those beloved NiP players. I'll be comparing and talking about their main gun loadout, meaning AK-47, M4A4, AWP, Glock, USP-s and ofc. the combo they are rocking.

First off, we'll compare the total value, brought to you by the Sharkbay discord server. On the lower end of these two, es3tag is sitting at a remarkable 4800$ while Plopski is chilling at a solid 7 grand.
General inventory
Talking crafts, we got a solid amount on es3tags side but they are exclusively with Cloud9 stickers. This is probably due to his previous engagement with Cloud9, funnily enough it matches his cyan themed inventory wonderfully! Plopski on the other hand prefers to stick with NiP stickies and a bunch of different signatures including his own.

As an honourable mention, I just have to talk about es3tag's statty Tec-9 Decimator in a .006 float with four stunning Dreamhack Cloud9 holos!!! Beautiful match and for the sake of this combo, I have to include a screenshot, very out of the ordinairy process for an extraordinairy pistol!


---
Skelly Crimson Web and a Cyan Combo
Plopski chose to strike a red guideline throughout his inventory starting with his Skelly Crimson Web sitting at a decent .135 float. On the backside we see half of a web spreading through a good bit of the knife but the playside wasn't as lucky. Sadly there aren't any gloves, I think he needs a community suggestion to complete or even upgrade this combo!

On es3tag's side we have a beautiful .016 bta Cyan Karambit Gamma Doppler! Even tho the corner is a bit scuffed, it's a stunning knife I love Cyan Bits, owned a total of two myself so far. The gloves match this knife beautifully! They are barely minimal wear at a .1482 float, the pattern on the other hand is quite phenomenal. On what is usually the right hand there isn't alot of granma table cloth pattern, most of the glove has this magnificent cyan color matching the knife!


---
Fire vs water
It's almost poetic, the two most expensive M4A4s in the game, yet there's such a vast difference in theme, color, design and even rarity between the two.

In Plopski's loadout we can see a gun so legendary it has it's own rarity. The Howl is infamous due to a stolen artwork on the original design that lead to it disappearing from the Huntsman case! His piece of CS:GO skin history comes in a remarkable .0837 float, sadly there are no stickers applied yet.

Es3tag keeps his cyan theme intact with a must have in every shade of a blue inventory! Barely making it to fn in a .061 float, we got ourselves a M4A4 Poseidon to look at. All the way back he applied a Boston 18 Cloud9 holo which doesn't just compliment the gun but also his gloves.


---
Royalty against the traitor
A terrific craft in es3tag's hands: This USP-s Royal Blue is pretty rare in factory new due to it's .06 float cap. Coming in at a .062 he's on the better side of the fn range! He decided to decorate this gun with four Kato 19 Cloud9 papers, needless to say this goes along lovely with his theme.

Talk about matching a theme, Plopski keeps it red with a .417 USP-s Traitor. The float might not be the greatest but since it's a brightness skin it doesn't matter too much. He applied three Stockholm 21 Plopski gold signatures on the top of the gun. The special pattern on the Stockholm golds makes the NiP logo look like some snake symbolism to go along with the skin!


---
Bullet Queen vs Water Elemental
We got two oddly similar glocks in themes that couldn't be any further apart. Es3tag kind of breaks free from his cyan theme witht his .257 Glock Bullet Queen. Although I have to admit these cyan eyes of the queen herself make a better addition to his theme than initially expected. Missing some personalisation tho!

Switching over to Plopski, we see a .084 Glock Water Elemental with assumbably self applied Seeing Red foils on all available sticker positions. Not only does this go great with his theme, but it's also quite the OG skin with a very new and vibrant sticker. Bomb craft, I like this one quite a bit!


---
Misty frontsides vs the drought of Egypt
This time the constellation is flipped due to es3tag sticking with his theme while Plopski steps out of line.
As previously mentioned this Frontside Misty in a statty .061 float makes a perfect addition to his Cyan theme, unfortunately he seems to have gotten rid of it fairly recently. Applied are four complimenting Kato 19 Cloud 9 foils. Now he only has an unstickered st. ft Bloodsport left, GamerPay is gonna have to do something about that!!!

There isn't a huge mismatch to his red loadout with this .305 Legion of Anubis, yet it's still noticeably standing out. It comes with a set of four RMR NIP golds, i'm usually not a huge fan of RMR crafts, but I definitely gotta admit that this is quite the fitting craft!


---
Meteorology vs Geology
I'll say it from the get go, both those AWPs could use a little upgrade, neither of them really match their theme.
First off we got es3tag with an AWP that was probably crafted back when there weren't any good cyan options for the AWP. The Lightning Strike is one of the oldest AWP covert skins and it had quite a revolutionary purple color scheme for the time. His comes in a clean statty .010 with a juicy Boston 18 Cloud 9 holo on scope which kind of makes it fit into the cyan theme a bit more but not as much as it could.

A Graphite can be used as an allrounder, in my opinion it would need some sort of red stickers at least on the body for that, for instance battle scarred papers. Another very old skin with quite the monochrome color scheme this time. On this statty .052 classic there is a Kato 15 NIP foil applied on scope as well as a Plopski Stockholm paper signature.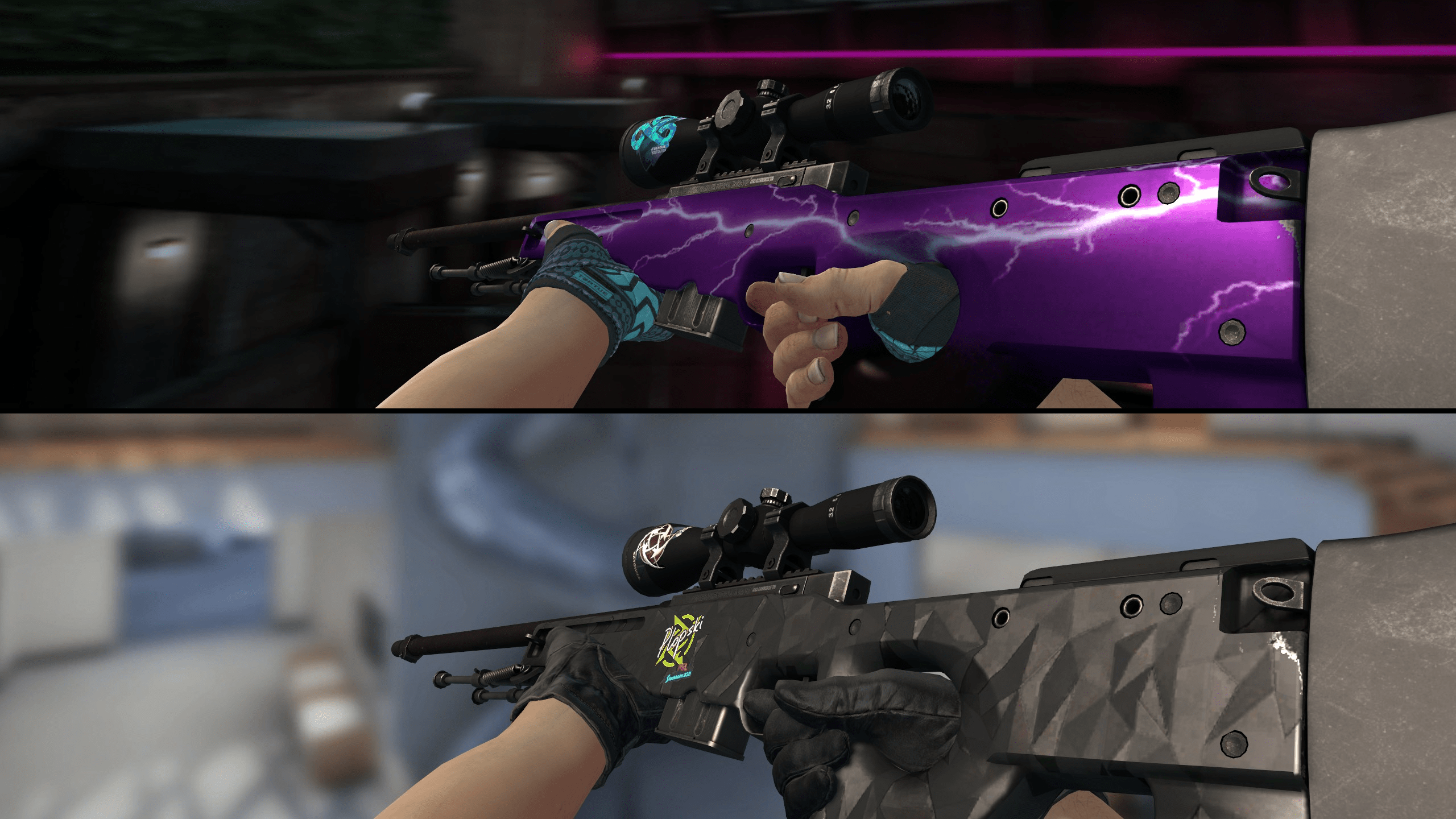 ---
Rating
I like that both players put a fair bit of thought into their loadout. Both got a theme behind their items even when it's not followed all the way through. I'd love to see more crafts on both sides in the future!

My final score for Plopski will be a 4.817 while es3tag is gonna get a 6.916 due to the more consistent theme with matching gloves. I thoroughly enjoyed reviewing both these inventories, this has probably been the most extensive review I've ever written and I found some real gems!
My humble submission
Ofc i can't just leave this review standing without a suggestion of my own. I got lots of skins in mind but ultimately I had to go for a theoretical 1/1 craft for es3tag's cyan theme!

Below you can see an AWP Silk Tiger with a Dreamhack 14 Cloud 9 holo on scope and three Kato 15 NiP holos throughout the body of the gun. I chose this seemingly odd combo because it works out alot better than initially expected while commemorating past times with Cloud 9 as well as the new NIP era! I could have gone for a Gungniir as well, but decided against it since the NiP holos would look much more out of place.


*all Screenshots are taken on the Broskins servers
---
Stream: 14.01.2021 - 4 p.m. CET
Another banger event put up by GamerPay which we love to support with our special edition Inventory Review today! We hope that you enjoyed reading the article & will do the same with the show which will go live in a few hours! Check out their Stream link below and follow their Twitter for further informations!

---
Join The Stream Today At 4 p.m. CET! Link: GamerPay Twitch.