PGL releases player POV cams
Player POV live-stream by PGL
Topic: PGL Major Player POV Update

Have you always wanted to watch each player's POV during a live game, or probably just one of your favorites? Both is now possible with the new POV tool from PGL.

Another game-changing feature when it comes to viewer experience while watching your favorite pro-team live. First of all props to PGL for another amazing feature and secondly all the pictures in this article are from their site, all credit to them!

by @jAlexCSGO
TN from PGL: Player POV page
---
Click the banner for FREE 10€ when buying or selling for 35€! (*advertisement)
---
Table of Content
General information regarding PGL
PGL hosted last year's Major in Stockholm and is also the organizer of the running Major in Antwerp. Apart from a great talent lineup and entertaining break sequences, they're on a mission to further improve the viewer experience by bringing out the POV feature. The Esport Production company with headquarters in Bucharest is by far not an unknown when it comes to hosting CS:GO events.

Their first tournaments took place in 2015 and the most popular one prior to the Antwerp and Stockholm Major has probably been the PGL Major in Krakow 2017!


csgo.pglesports.com
The new feature in more detail
From now on you can find your favourites players' POV on csgo.pglesports.com during every live match. There are options to watch the whole team, or only a single player, as well as different layouts. Next to the in-game view, there's also each players webcam at the bottom of the stream. Furthermore you can directly interact with the Twitch chat and also follow the latest Tweets of the official PGL account.


csgo.pglesports.com
Although the overlay is simple for now, it includes everything required to be a beloved feature for the future. Combined with the live commentary and other functions like stats or probably a bigger minimap the tool, which is currently in an open beta, has the potential to be a game-changer.

Over the last years the viewer experience improved more and more and organizers like BLAST, PGL and ESL try their best to deliver awesome features and content for all of us. There's not much more to write home about the new POV feature, for now, make sure to try it out yourself and also leave PGL constructive feedback on their social media.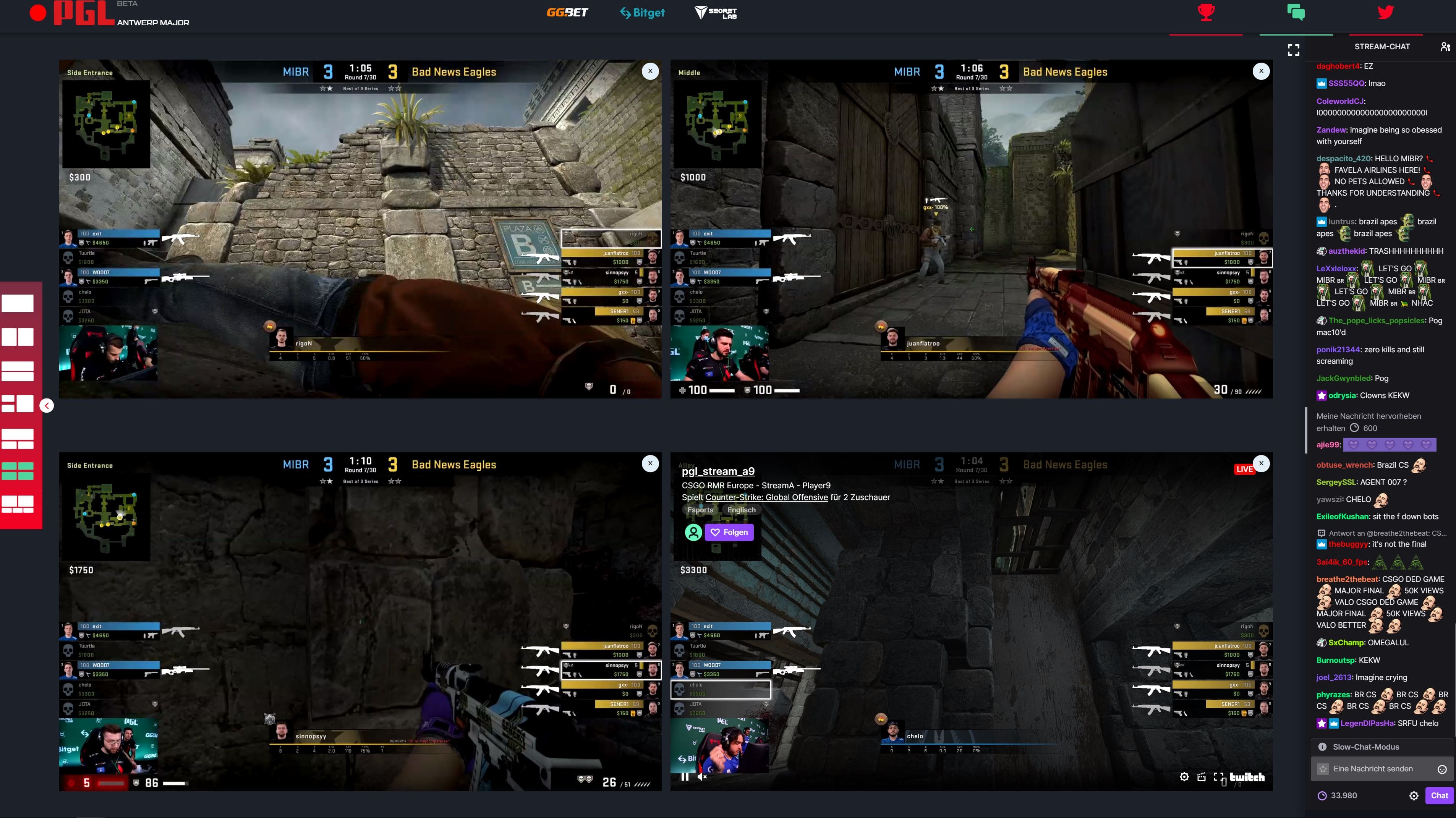 csgo.pglesports.com
Conclusion
We here at EsportFire highly appreciate seeing new features and the effort of all the bigger and also smaller tournament organizers, they're one of the main reasons we have such a great scene within CS:GO. Always remember to show them love and appreciation!
Our latest feature at EsportFire
We at EsportFire also try to regularly deliver new content for all of you. Check out our latest addition: The EsportFire Transfer Market, below! Our goal is to support players who are currently looking for a new team and provide them with a platform! Enjoy the rest of your day everybody.


---
We launched the new EsportFire Transfer Market?:
Check it out here: Transfer Market
---
Click the banner for FREE 10€ when buying or selling for 35€! (*advertisement)
---
Information powered by Liquipedia