Crafts, Prices & Supply Katowice 2015 LGB eSports (Holo) - Sticker Spotlight #57
Topic: Sticker Spotlight – Katowice 2015 LGB eSports (Holo), Price, Crafts & Trend

In today's Sticker Spotlight article, we will dive into the past and explore LGB eSports' performance at the Spodek Arena during the Katowice 2015 Counter-Strike Major . Sit back, relax, and let's explore a part of LGB eSports and CS history.

Katowice 2015 LGB eSports– General Team Information
The Norwegian esports organization known as LGB eSports was one of the sixteen teams that reached the big stage of the Katowice 2015 Major. The five players on the LGB eSports roster were Pål "Polly" Kammen, Morten "zEVES" Vollan, Joakim "jkaem" Myrbostad, Håvard "rain" Nygaard, and Ruben "RUBINO" Villarroel. They made it to the challenger's stage after qualifying through the LAN qualifier.

Starting out in Group B with Team EnVyUs, PENTA Sports, and Titan, LGB eSports aimed to prove that they didn't reach this stage by mistake. Their introduction to the crowd in the arena began in the first game against PENTA Sports. They had no trouble defeating the German team with a 16-3 victory on Dust 2. The next match was against Team EnVyUs, the winner of which would secure first place in the group stage and a spot in the Major playoffs. However, this time, the game didn't go their way on Cache, and Team EnVyUs secured a 16-8 victory. The final match in Group B for LGB eSports was once again against PENTA Sports. This match determined which team would be eliminated and which would progress to the playoff stage. Like in the first game, the final map chosen was Dust 2. After 30 minutes and 28 rounds, PENTA Sports got their revenge and eliminated LGB eSports from the tournament with a 16-12 score.

It was definitely not the result they expected. LGB eSports left the Katowice 2015 Major in 3rd place in Group B and finished 9th to 12th overall, earning USD 2,000 from the prize pool.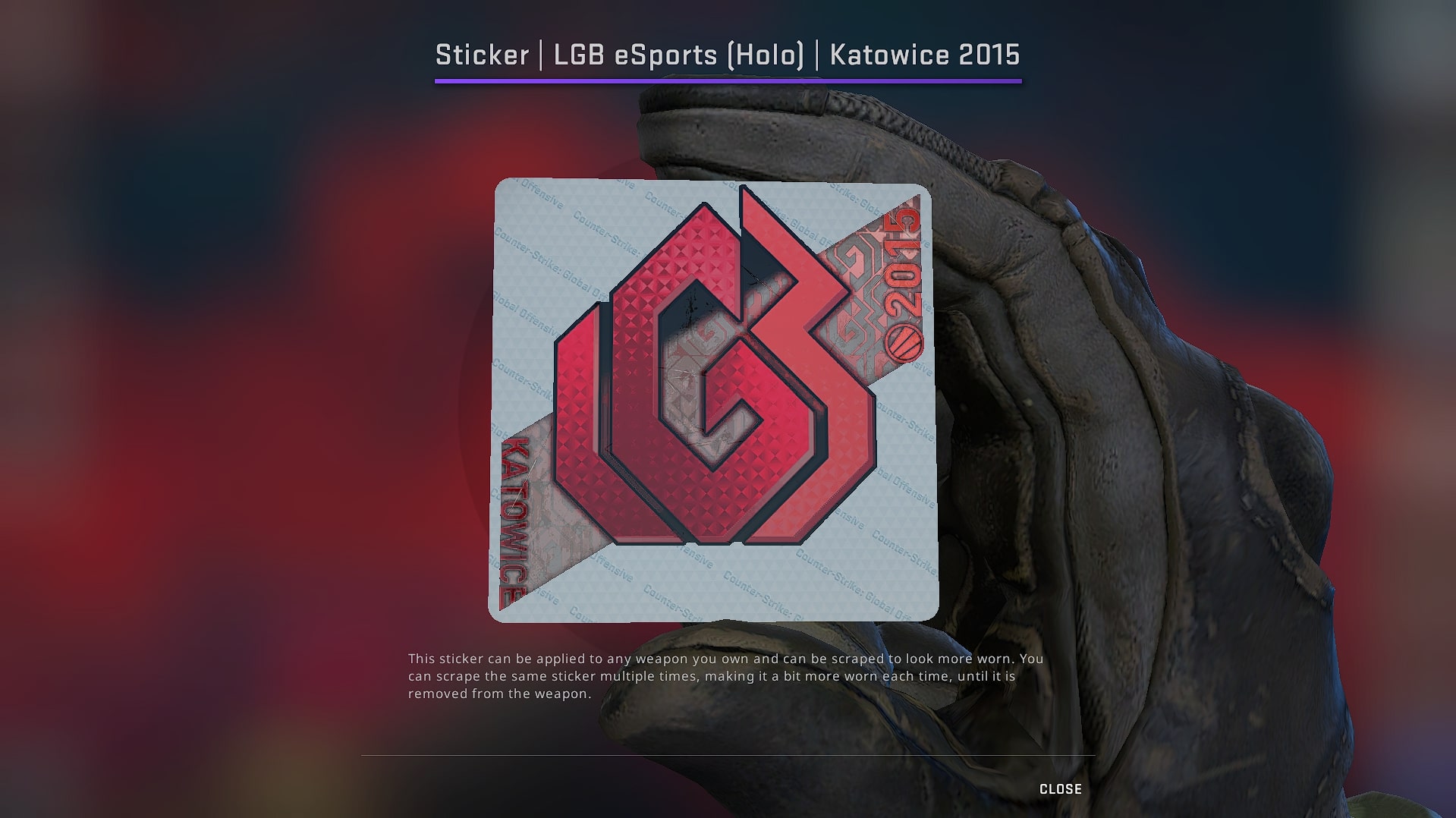 Katowice 2015 LGB eSports (Holo) - Sticker Supply
The Katowice 2015 LGB eSports (Holo) sticker is one of many older stickers whose supply decreases as more and more crafts are completed over the years. However, the public supply of this and many other existing stickers is not known to the public. What is known is the available amount of stickers that are not applied but are listed for sale. If you want to stay up to date with the listed supply of Katowice 2015 LGB eSports (Holo) stickers and their price trend, be sure to check out the EsportFire database. Keep in mind that there are many Steam accounts that could be holding them in various storage units or private inventories.
Katowice 2015 LGB eSports (Holo) - Price Trend/Development
It doesn't come as a surprise to see this type of graph on the Steam Community Market for a yet another Katowice 2015 sticker. In mid May of 2019, the Katowice 2015 LGB eSports (Holo) sticker price has seen first jump increase from USD 35 to USD 80. Since then we can notice couple price spikes during late July early August each year. Recently, the price has been slowly going down and currently cheapest Katowice 2015 LGB eSports (Holo) sticker can be found on Buff163 for USD 370. Several past records trades were in USD 330 and USD 355 range. There have been some crafts recently that will dive into in a bit, but before that we can estimate the possible future price cost for yet another four-time craft. With recent sales and trade records, an approximate value for new craft could be between USD 1,320 and USD 1,450.


Katowice 2015 LGB eSports (Holo) - Sticker Crafts
Plenty of crafts were done with Katowice 2015 LGB eSports (Holo) stickers in the past eight years. Some are more popular than others, but considering how many different crafts are there, we are sure there is something for everyone. In total, there are 4,897 skins which have one or more Katowice 2015 LGB eSports (Holo) stickers applied to them. 857 of them are skins with four or five stickers applied, making the total percentage approximately 17 percent of all crafts.

Beginning with M4A1-S Mecha Industries, which exists nine times, while the lowest float one is owned by @KirmirCS. One weapon that didn't receive as much attention during the Katowice 2015 Sticker Spotlight is the UMP. But, this time it will. @N1CO_Kato15 (previously known as n1cotrade), a well-known Katowice 2015 collector that we've mentioned a couple of times, currently owns the UMP Momentum. In fact, it's the only UMP craft with this sticker.

Next up is the Glock-18 Water Elemental in the possession of a familiar face in the Counter-Strike skin community, @zipelCS. The stickers blend really well with the skin itself, making it an amazing craft. Additionally, one more pistol skin that pairs nicely with the Katowice 2015 LGB eSports (Holo) sticker is the Desert Eagle Sunset Storm 壱, owned by @RadiantCS_.


Katowice 2015 LGB eSports (Holo) - Sticker Crafts
One-out-of-three M4A1-S Welcome to the Jungle is one of the few skins that got crafted with this sticker recently. @CorbZcs used to own one of the M4A1-S crafts. On the other hand, we also have old skins that got decorated really early when the sticker was released, such as the M4A1-S Basilisk. There's one-out-of-two craft, and one can be found in @quyy112's inventory.

In April this year, @jklsinclair decided to craft an AWP Oni Taiji with a 0.01 float value. The last skin we'd like to showcase for you is the AK-47 Redline. This craft is the most popular craft with four Katowice 2015 LGB eSports (Holo) stickers. This specific craft currently exists 439 times, which is 51 percent of all four-time crafts. @LiamFCSGO was one of those 439 people who managed to acquire one for their Counter-Strike inventories.


Writers favorite
Many skins look fantastic with the LGB eSports Katowice 2015 (Holo) sticker, but some truly shine brighter than others. In this case, for me, those would be the AWP Oni Taiji by @jklsinclair and the Glock-18 owned by @zipelCS. These two are exceptionally good-looking crafts that blend nicely with the colors of the skin and the stickers themselves.
Conclusion
We hope today's article found you well, and that you had a closer look at LGB eSports' history and their Katowice 2015 LGB eSports (Holo) sticker crafts. If you found a particular craft super interesting, be sure to share it with us on our Social Media. While you're at it, give us a follow so you never miss out on any upcoming EsportFire articles.

Information powered by Liquipedia