Find out everything about the cheapest AK-47 Skins available
Topic: The 15 Cheapest AK-47 Skins In CS:GO

In a game where costly weapon skins dominate, it's sometimes refreshing to look at some of the cheaper sides of the spectrum. Every once in a while we need to take a break from the Gold Arabesque and Wild Lotus and step into the world of the Safari Mesh and Safety Net.

After all, regardless of our inventory value today, we all started out with a fresh, battle-scarred skin that we paid $0.10 for on the Steam Community Market. Today, we will take a look at 15 of the cheapest AK-47 skins available in Counter-Strike: Global Offensive. All prices listed next to the skin name are based on the Field-Tested version of the skin.
1. AK-47 | Safari Mesh: $0.21
With its simple green mesh design, the Safari Mesh is by far the most classic AK-47 available in Global Offensive. The skin, which was added to the Dust II Collection of November 2013, takes our spot as the cheapest AK-47 skin in CS:GO. It ranges from a cost of $0.21 to $5.08, and is also available in Souvenir Condition.


---
2. AK-47 | Uncharted: $0.58
The intricate tribal design of the Uncharted is quite unique and makes it an excellent skin if you are looking for a budget AK-47 skin. Added in March of 2019, the skin ranges from $0.55-$1.73, and is available in a StatTrak version that ranges from a price of $2.70-$6.22.


---
3. AK-47 | Elite Build: $1.45
The Elite Build is a beautiful combination of dark shades of black and grey and clean, perfect orange stenciling. The skin drops in the Chroma 2 Case and has been said by many to remind them of the colors of Half-Life, a game that brought tens of thousands to CS:GO. The skin ranges from $1.05-$5.15 and is available in StatTrak for $3.40-$19.91.


---
4. AK-47 | Slate: $3.42
The AK-47 | Slate is by far the best AK-47 skin for sticker crafts, purely for the reason that it is the most flexible skin possible. With a sleek, black design, any sticker can be applied to the Slate, and thanks to a massive volume, the skin ranges from as low as $3.35-$11.40, and can be purchased in StatTrak for $9.90 to $40.71.


---
5. AK-47 | Baroque Purple: $4.87
This next skin is slightly similar to the Safari Mesh, but is more appealing in color. The purple meshed skin is a part of the Canals Collection of November 2019, with its only downfall being that it begins to turn a grimy, gray color once at a high float. The skin is only available in the normal version and ranges from $3.93 to $12.80.


---
6. AK-47 | Rat Road: $4.19
Next up, we have one of the "busiest" skins on the list. The Rat Rod, which is intended to appear as though it was taken fresh out of a trash pile, is a very intricate yet niche skin. It ranges from a price of $4.02-$9.61, and can be purchased in StatTrak for $9.55-$31.07.


---
7. AK-47 | Safety Net: $4.95
We promise this is the last mesh-themed skin to be featured in this list. The orange mesh pattern of the 2018 Inferno Collection's Safety Net can be found in both regular and souvenir versions, with price ranges of $4.95-$10.64 and $16.01-$49.63, respectively.


---
8. AK-47 | Emerald Pinstripe: $5.05
The Emerald Pinstripe of the May 2014 Bank Collection is one of the oldest AK-47 skins in CS:GO, and thanks to its simple design, still remains fairly priced. The dark oak wood of the stock and heatshields are painted with an elegant combination of white and green pinstripes. The skin ranges from a price of $5.22-$17.03.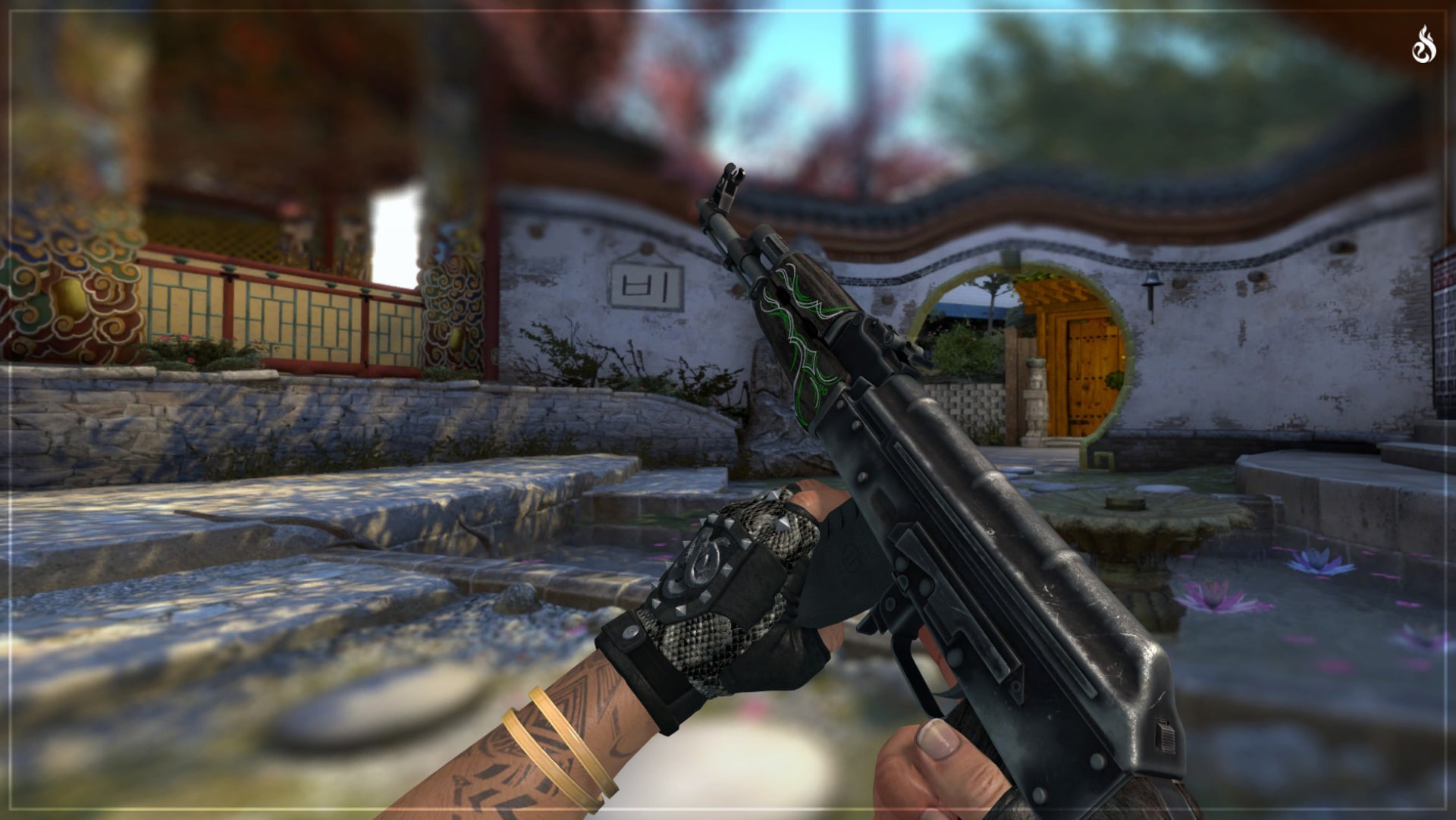 ---
9. AK-47 | Phantom Disruptor: $5.84
Although this skin appears as though it would be perfect for the Dreams and Nightmares collection, it was actually added 2 years prior to the release of the Dreams and Nightmares case. The swirly mist on the black base of the skin will cost buyers $5.84-$12.83, with the StatTrak version costing $14.90-$36.16.


---
10. AK-47 | Jungle Spray: $6.59
While relatively similar to the Safari Mesh, this Industrial-Grade, camouflage-themed AK-47 is around 30x the price. The skin was one of the first AK-47 skins released into CS:GO, and thanks to its unique float range of 0.8-0.06, the skin ranges from $6.40 to an astonishing $143.77 in Factory New.


---
11. AK-47 | Cartel: $6.76
While some may claim that the Cartel appears to be the stock AK-47 skin that all users start with, closer inspection reveals the extreme detail of engravings found on the skin. Thanks to its immense detail, the skin ranges from a price of $6.76-$15.91 or $20.54-$45.70 in StatTrak condition.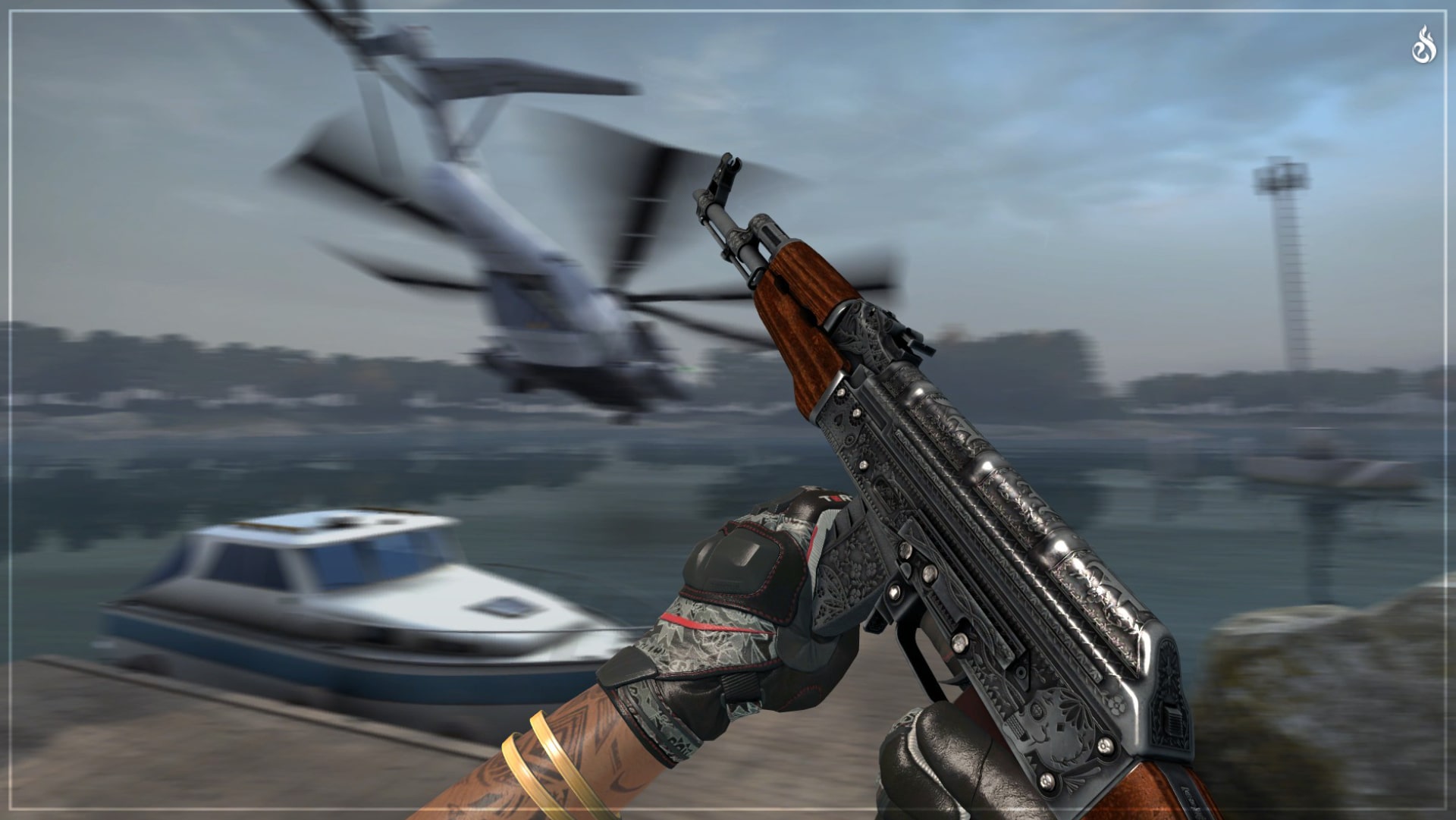 ---
12. AK-47 | Blue Laminate: $7.42
Thanks to its over 9 years of existence, the Blue Laminate has cemented a spot as one of the most well-known AK-47 skins in CS:GO. Thanks to its simplistic laminate stock design, the skin remains at a price range of $7.42-$11.18 and $19.35-$27.57 in StatTrak. It is worth noting that the skin has a very unique float range of 0.4 to 0.02.


---
13. AK-47 | Green Laminate: $8.54
Coming just above its blue counterpart is the Green Laminate, which shares the exact design of the Blue Laminate, but with green instead of blue(mindblowing!). While it shares the same unique float range, unlike the Blue Laminate, the Green Laminate is available in both regular and Souvenir, with price ranges of $8.54-$11.64 and $12.07-$40.97, respectively.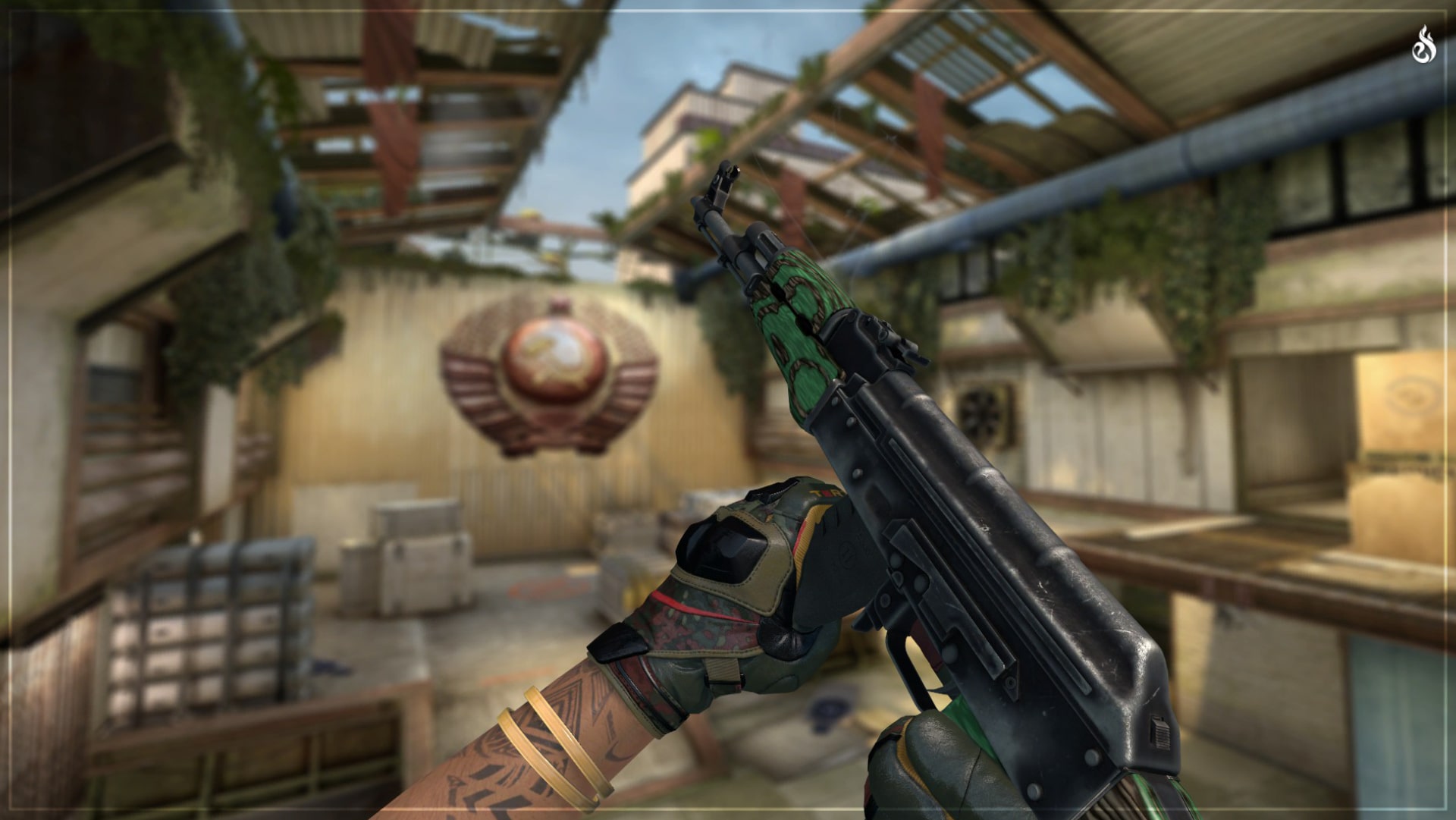 ---
14. AK-47 | Point Disarray: 12.07
Just short of the 15th spot on our list of the cheapest AK-47 skins is a vibrant combination of brightly colored geometric lines and shapes. It features a combination of red, white, and multiple shades of blue, and ranges from a price of $10.49-$27.92 or $21.20-$78.00 in StatTrak.


---
15. AK-47 | Legion of Anubis: $12.44
Taking our final spot is a skin that has been the center of much discussion now that Anubis has been added to the game's Competitive Map Pool with many suspecting that the skin will be added to the Anubis Collection. The skin features the Egyptian gods Anubis and Ra, and ranges from a price of $9.37-$28.15, or $21.09-$84.35 in its StatTrak version.


---
Conclusion
We hope you enjoyed reading and scrolling through the 15 cheapest AK-47 crafts in CS:GO and found yourself a skin that you love to play. We're a CS:GO page focussing on skin related topics - feel free to check them out: esportfire.com/skins