Everything worth to know about the CS:GO skin market in August 2022
Topic: Market Recap CS:GO Unboxes, Crafts, Cases: September 2022

Welcome to our Market Recap for the month of September. In our monthly series, we cover everything worth knowing about the skin scene. Starting with some case updates, we furthermore showcase crafts and unboxes, as well as general skin-related news as updates!

This article features a few new #1 lowest float skins, crazy Katowice 2014 crafts, and also a lot of Krakow 2017 Gold crafts! We have a lot of amazing skins for you! As a little spoiler: We have never showcased that many Krakow crafts in a single Market Recap article. Enjoy reading!
Breakout Case September Update
The Breakout case has seen a bit of a price decrease. The case decreased in price by around 14% since the start of September. The Breakout case is still very popular and surely will stay in the future due to a very limited supply.



Source: Steam Community Market
---
Riptide Case September Update
It has been almost seven months since Operation Riptide has concluded, and the case is on a continuous upwards trend since pretty much early 2022. Comparable cases like the Shattered Web case have not seen as much appreciation as the Riptide case has gotten lately. It adds up when you take into consideration that the knives from this container are only also available in the Dreams and Nightmare case, which was and still is not really as popular. People hunt the knives and especially the exclusive Butterfly Emerald.



Source: Steam Community Market
---
Agent chaos!
Lately the fact that some player models have a different-sized head hitbox went viral on different Social Media. This varies from T to CT, ranging from very small to drastic differences. We suggest you to read this Thread and check out the data provided. It is very informative and interesting to read!

The discovery resulted in an instant spike in prices for agents with the "better" hitboxes. For instance, Michael Syfers | FBI Sniper doubled in price! The change hasn't been as big for every skin but quite an interesting little fact and discovery that happened within the last month.


Source: Steam Community Market
---
#1 lowest float Kara Black pearl for StatTrak
Let's continue with the unbox and crafts section! The first one in today's article is insane!

What really blows our minds is how rare this knife is. It exists a total of 174 times, and only 17 out of those 174 times are in StatTrak! We happily announce that this is the new #1!


---
#1 lowest float Gungnir
The legend himself, the man, the myth @Sparkles has traded up to the lowest float Gungnir again! With a float of 0.00007 it beats the old 0.00016 by one extra zero! Crazy, insanely expensive and perfect for an amazing craft! Let's see ...


---
#1 lowest float Hand Wraps | CAUTION!
This month we have also seen some new #1 gloves being unboxed. With gloves being float capped it is very rare to get some crazy low float unboxes in the glove department. We are happy to introduce this new pair, coming in with a float of 0.06043.

It has been unboxed by a subscriber of @ohnePixel and announced on his discord server!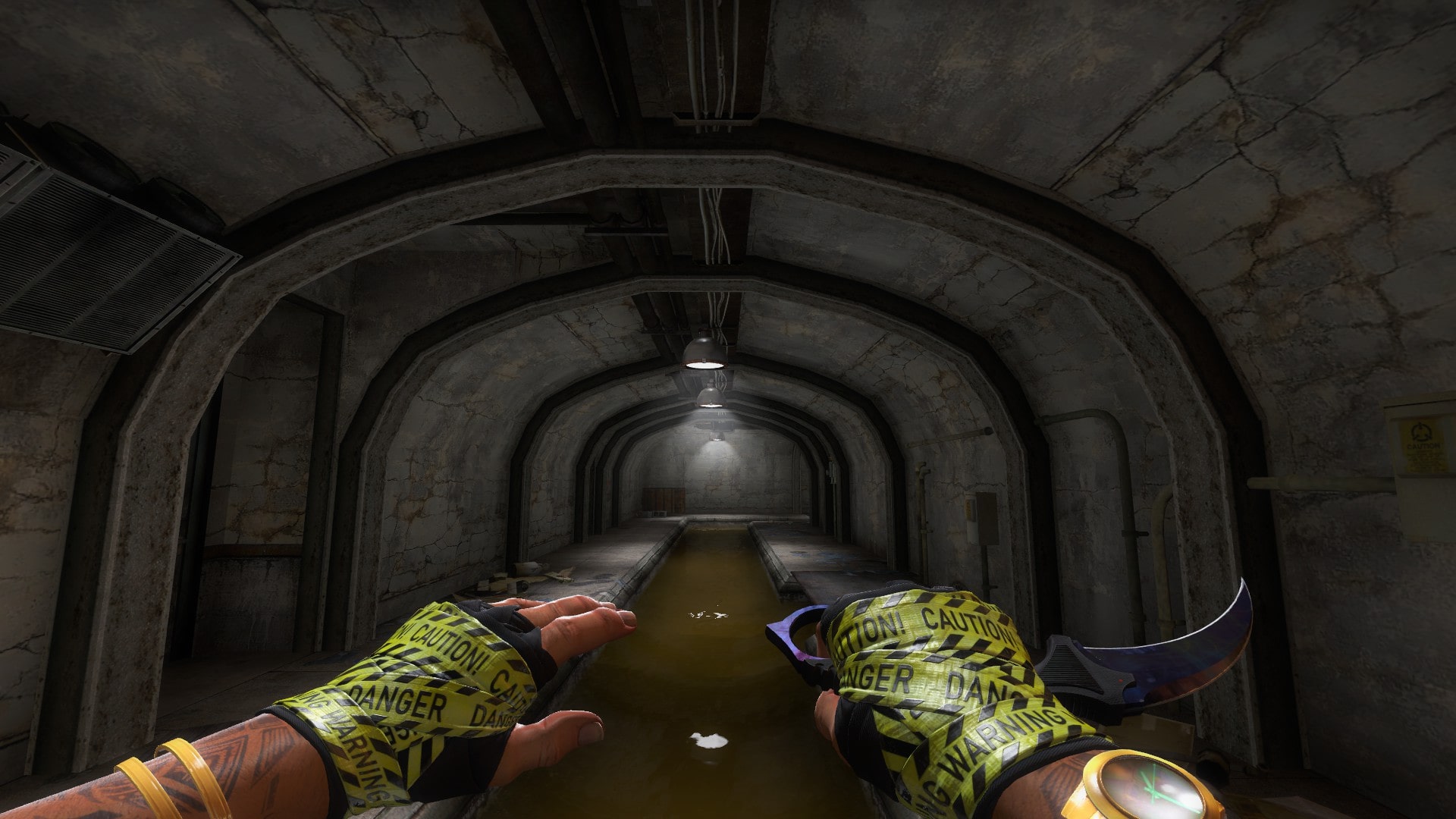 ---
#2 lowest float SSG 08 | Acid Fade
The SSG 08 | Acid Fade with a float of 0.00000005375161 has been unboxed this month. There have been a lot of zeroes just now. This skin is float capped in a very odd way! It is capped from 0.00-0.03. This allows this skin to be a very good trade up filler.


---
#1 lowest float AK-47 | Case Hardened (?)
Featuring the same person two times in one article is rather rare, but @Sparkles knows what we like to see!

This AK actually is #3 overall (including StatTrak and trade banned CHs), but #2 for non-StatTraks. Technically it is #1 for Non-StatTrak because the real #1 is VAC banned and thus can no longer be traded.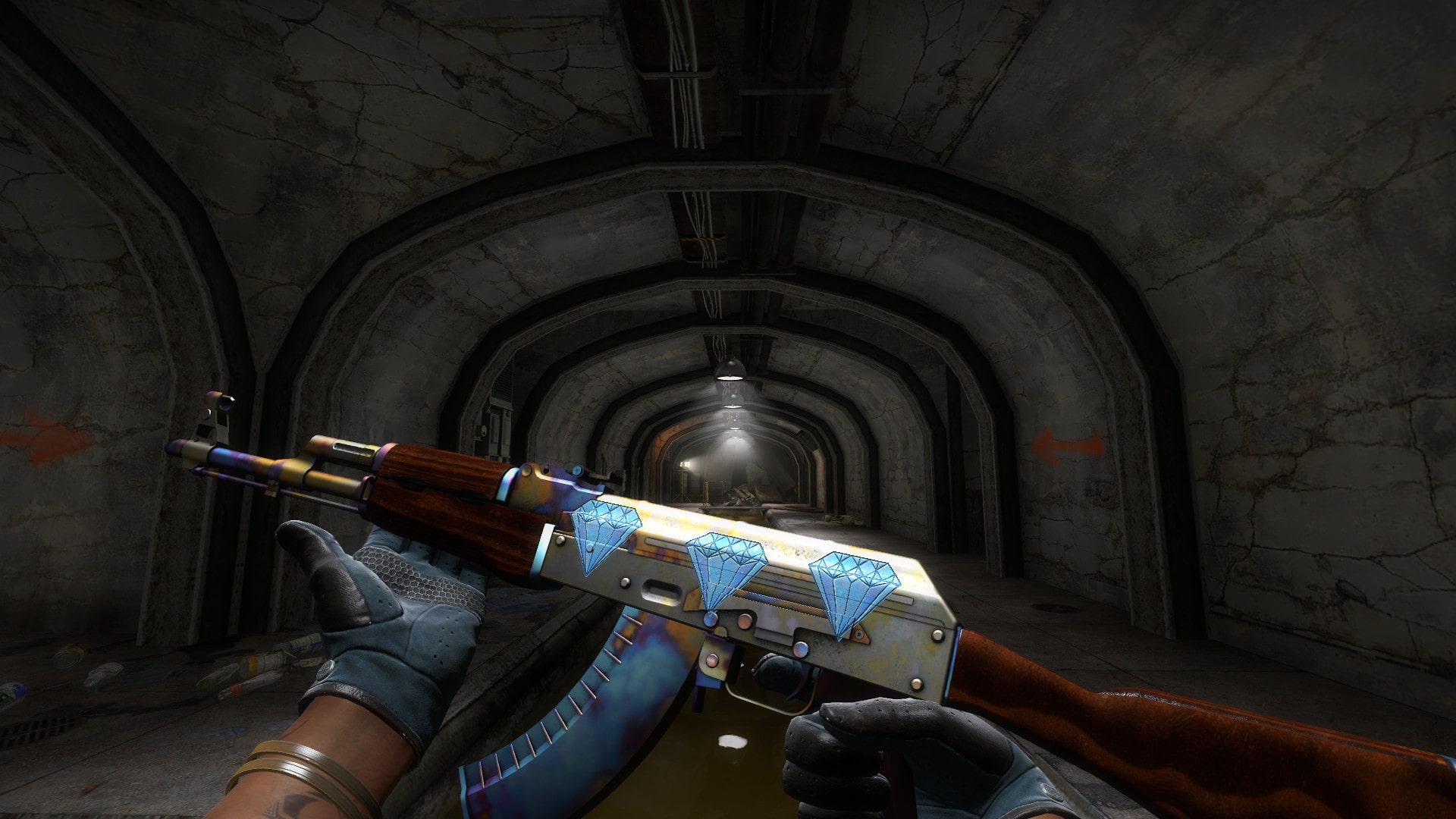 ---
Time for some crafts
Now that we got that out of the way, let's talk about skins and crafts! Within the next paragraphs, we will show you a few crazy and expensive crafts that happened this month!

As we always do, let us start with a few banger Katowice 2014 crafts! This month has been fruitful for good Katowice crafts, but we will also deliver some crazy high-tier Krakow 2017 crafts at the end - stay tuned!
Desert Eagle | Cobalt Disruption Kato 2014 collection:
The Twitter user @cobalt_blank, who had a very impressive collection of Cobalt Disruption Deagles with 1x Kato Holo in best positioning (only missing 4), sold his entire collection to @MintyCSGO.

You might wonder where we're going with this information. Minty decided to finish the collection and with that made three beautiful crafts happen. We are excited to say that there is now a full collection of Desert Eagle | Cobalt Disruptions with a Kato 2014 Holo in best pos in the hands of @MintyCSGO! We had to chance to talk to him about his dedication, the collection and more, check out the article: The Story of MintyCSGO.

We can't really say a lot about the crafts except: Bravo! It is very lovely to see the full collection and it's amazing that it found a new owner that actually decided to complete it. He applied a total amount of around USD 5.000!


---
Electric Hive mixed Kato 2014 Holo craft
Twitter's most beloved Cowboy just finished his 3x Kato Holo AWP Electric Hive with a banger! @DallasBobby1 applied a Katowice 2014 compLexity Gaming (Holo) worth around 1.300 USD to finish his AWP. We have to admit, it has quite a character! We love how the compLexity sticker fits into the pattern of the Electric Hive and the overall look and style of the weapon.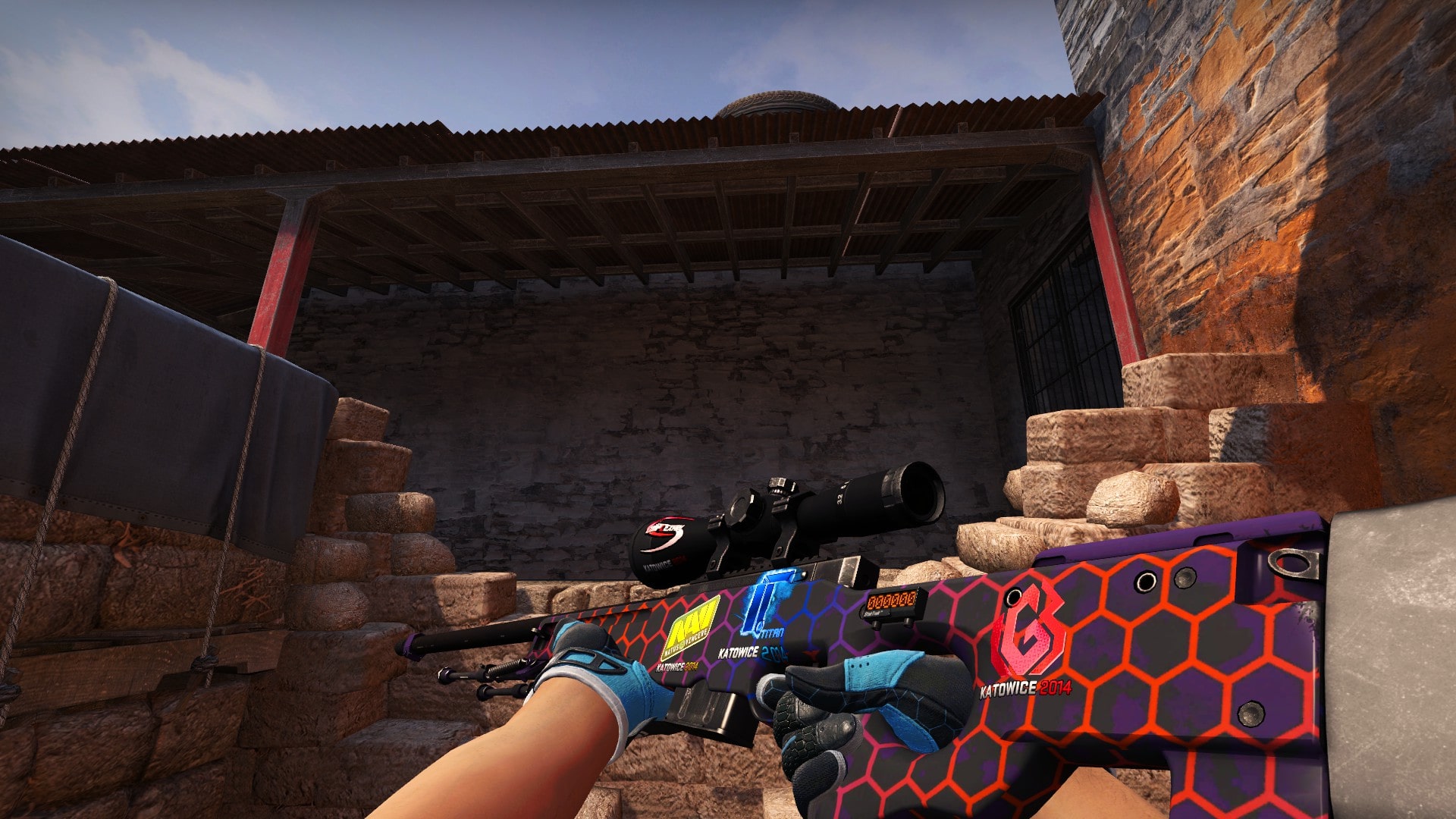 ---
M4A4 Urban DDPAT Tom and Jerry w/ 1x Mousesports Holo
Tom and Jerry crafts are amazing! A craft is called like that when a Mousesports and an iBUYPOWER Kato 14 bump heads. This is quite an iconic craft in the CS:GO scene, and we are glad that the well known Souvenir collector @MVPHAS_csgo crafted it. The applied value is around 3.500 USD.

It is and will be in a good place. In addition to that: iBUYPOWER foils are actually quite rare! Only 338 iBUYPOWER foils from the Katowice 2014 event exist and only two of them are on M4A4 skins!


---
Default AWP w/ 1x HellRaiser Paper
Yes, you read that right! A Twitter user named @AsukaKinnie decided to apply a Katowice 2014 sticker on the scope of the default AWP. The HellRaisers Katowice 2014 sticker costs around 330 USD, while the applied 3x DreamHack 14's sum up to roughly 100 USD, which makes this one a really expensive Vanilla AWP! But hey, you never have the risk of getting scammed. What a Chad move!


---
AK-47 | Gold Arabesque w/ 4x Dignitas Paper
This clean and prestigious looking AK was crafted by @mosquitoeater_. We are really fond of this AK and its contrast. It is a 1/1 and the stickers combined cost around USD 1.420. We love old stickers on some new guns. And if it is on an operation covert as well?! Sign us right up!


---
AWP | Oni Taiji w/ Clan Mystik Holo
We talked about him a few paragraphs ago. This time @cobalt_blank made an insane AWP. He decided to craft a 5.000 USD Katowice 2014 Clan Mystic sticker on an Oni Taiji with a float value of 0.069420. We have mixed feelings about it but you kinda need to love it! Memes, that look great, and are hella expensive! The color spectrum from the sticker just plays in perfectly with this cool AWP from the Hydra case but the float choice is very questionable.


---
ST FN AK | Bloodsport w/ 4x Hen1 Krakow Gold
We love the contrast of the red and gold, a banger combo that looks expensive and extremely classy! Those gold stickers are quite a good choice, as they have a really clean and good looking gold effect. The brightness of the gold really compliments the mostly red, black and white skin quite well. For a price tag of around USD 1.700 you could craft one of those for yourself!


---
ST FN M4A1-S | Printstream w/ 4x Hen1 Krakow Gold
You just can't go wrong with a Printstream and Gold stickers. This craft does look quite soothing, and is a great combo together with the AK Bloodsport that we just had above. The rough price of this craft is around USD 1.700.


---
AWP | Desert Hydra (fv. 0.0077777) w/ 4 Tabsen Krakow Gold
Call "7" our lucky number! This craft was made by a Chinese player and is worth around USD 2.000 of applied tabseN Gold stickers! There's not much to be said about Desert Hydra crafts with Krakow Gold stickers. They match extremely well - same goes for our next craft!


---
M4A1 | Printstream w/ 4 Neo Krakow Golds
This clean looking Printstream has Neo gold stickers applied to it. Another craft by a Chinese user. This month has been CRAZY for Krakow crafts! The applied value is around USD 1.700.


---
MW AK | Fuel Injector w/ 1x Krystal + Zehn Krakow Gold
This cool craft is quite unique. Two Virtus.Pro Katowice 2015 Holos got scraped to make it possible. Replacing them are the missing teammates of Penta. In our opinion this Fuel injector is now way cooler and uniquer, although the scratched value and lost stickers hurt a bit!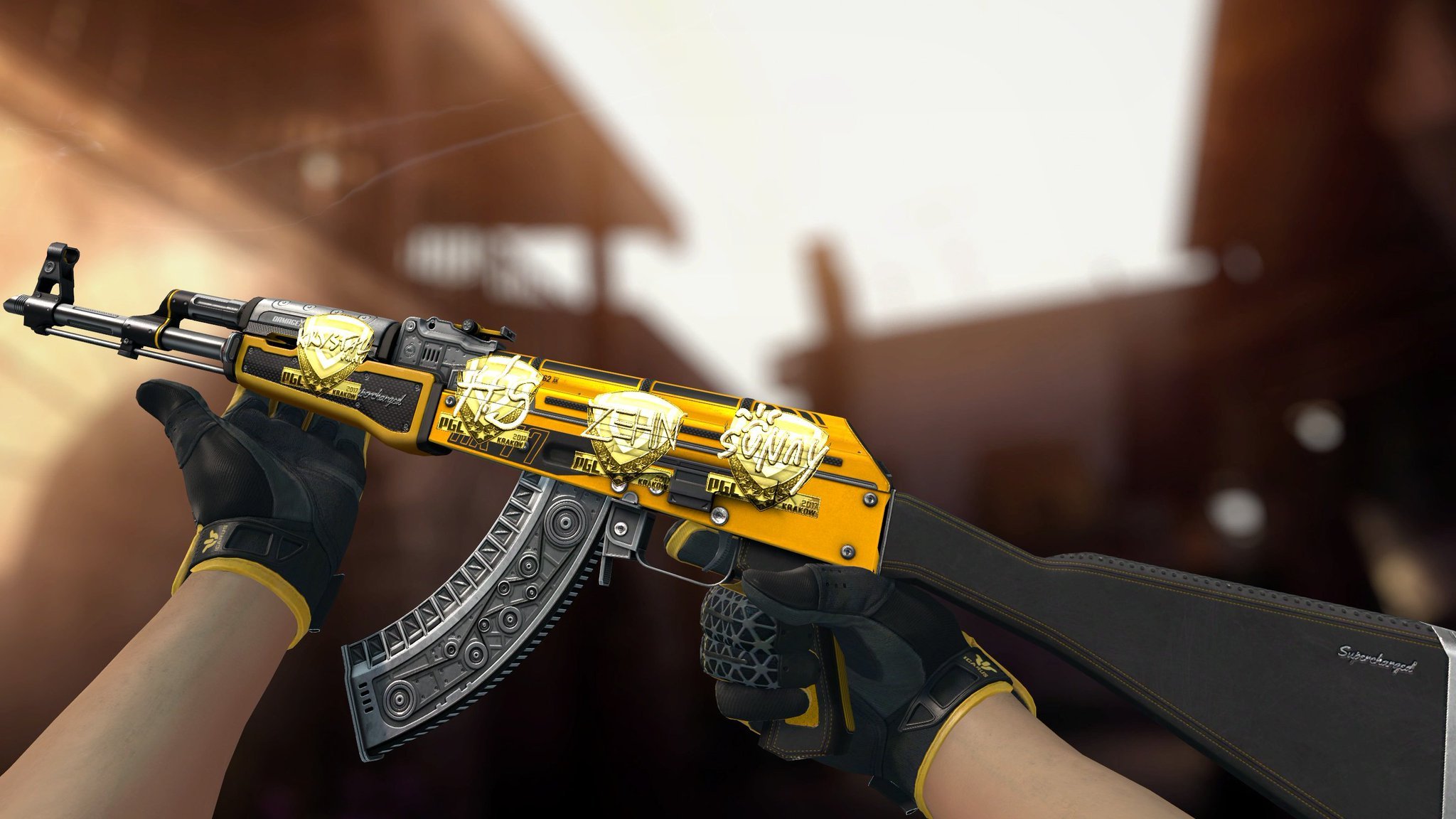 ---
MAA1 | Printstream (fv. 0.009) w/ 4x Bodyy Krakow Gold
The main body of this sick Printstream is covered in Bodyys! Truly an astonishing craft. It quickly became one of our favorites from the Printstream Krakow collection. The gold effect on this sticker is particularly clear and it really keeps your eyes on this awesome USD 2.400 sticker craft.


---
All Screenshots are taken on the Broskins & ohnePixel servers. Shoutout also to @ZeusperCSGO.
Conclusion
We hope you liked our EsportFire Market Recap for September. People seem to be really into Krakow Golds again. It is suspected that this is a bubble, let's see when or if it will burst.

We are bound to have forgotten some Krakow crafts and to not have every craft covered, but if you want to see even more of your favorite Krakow stickers make sure to check out our Craft-Talks: Krakow Edition!

This has been a CRAZY month when it comes to unboxes and crafts, if we missed anything make sure to let us know on our Social Media. We hope you enjoyed reading and watching through today's article & have a great rest of your day!