k0nfig to Astralis? Transfer Updates #1
Welcome to the first regular article in the "Transfers" category. Due to the ongoing Major qualifying tournament, the IEM Fall 2021, there have been almost no transfer announcements worth mentioning in the past two weeks. However, due to a special, though not really surprising, announcement yesterday (Thursday), we would like to kick off this series. More on that in a moment. The updates continue from the last published LFT list from 18.09.2021.

Below the blog post you will find the current LFT list as of 08.10.2021 - We will always add the list to the "Transfer Update" articles!

New signings!
The first notable signing was made by Entropiq in the form of Rejin. The currently 33-year-old Dane was represented at the top of the world mainly through his time with Mousesports, but was suspended for around 20 months in September 2020 in the wake of the coaching bug scandal. After a managerial position with MAD Lions, he has now joined Entropiq Prague, not to be confused with the organisation's Russian line-up.


Source
---
After K23 parted ways with mou, AdreN and hpp, the Kazakh organisation signed xsepower and X5G7V, who rounded out the lineup.

---
After his break due to personal issues, Peter "stanislaw" Jarguz had some good news to report. The Canadian returned to the team in time for the Major Qualifier and is currently competing with Evil Geniuses for a spot in Stockholm. Below you can once again find his original announcement!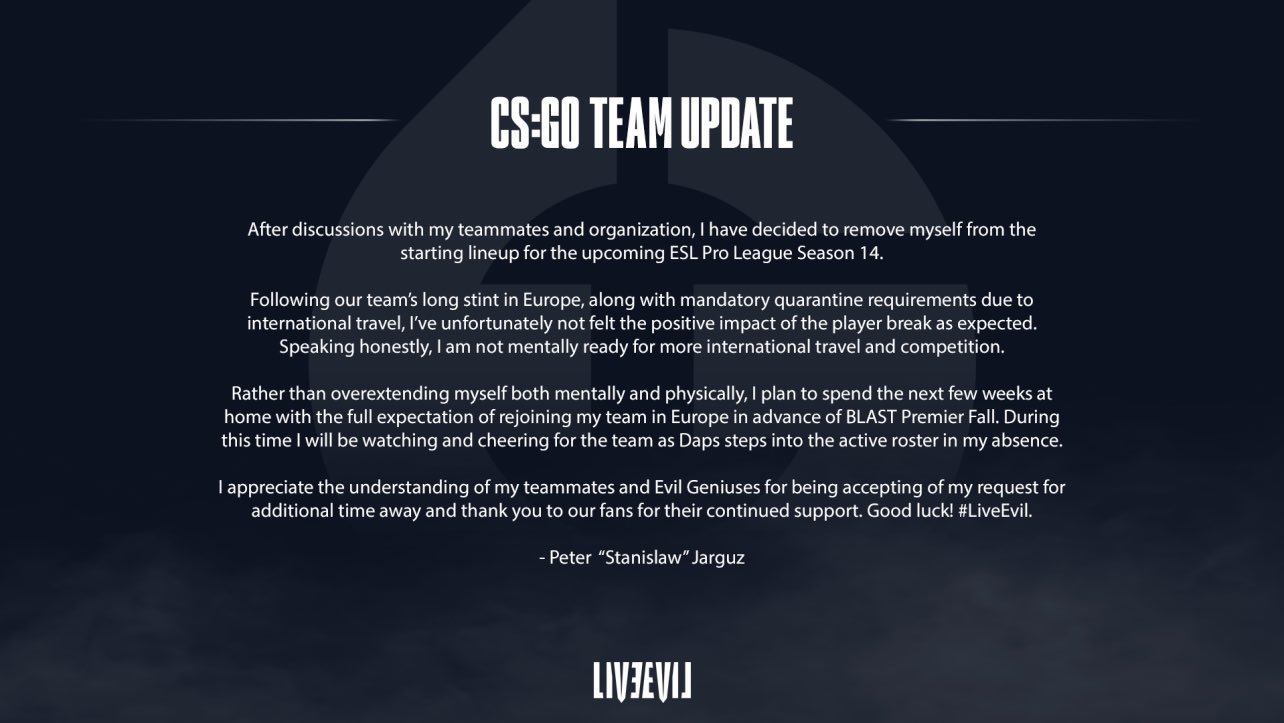 Source
---
Retirements, contract terminations
On 23.09.2021, one of the most legendary Swedish players of all time, Xizt, announced his retirement. We have already dedicated an entire article to him, which reviews his career and shows what influence he had on our game! You can find it here: Xizt Farewell.


Source
---
After a frustrating loss on the part of Bad News Bears against TeamOne, Jonji announced his resignation from the team and wrapped it up in an emotional tweet in which he explained that he may be slowing the team down and will be looking for new opportunities in both CS:GO and Valorant from now on.


Source
---
Nivera decided to retire from CS:GO and continue his career as a Valorant player alongside his brother ScreaM and Team Liquid. There he replaced Kryptix and will now hunt for titles in Valorant. All the best for that!


Source
---
Another announcement in the coaching role. The Australian Elmapuddy, who is best known as the coach of Gen.G and was also signed twice by Cloud9, announced his career end.


---
Furthermore, Akuma, arguably one of the most controversial teams in recent years, decided to disband their team and withdraw from CS:GO.


---
On the first of October, AGO announced that both snatchie and rallen will leave the team due to expiring contracts. The future of the two Polish players, as well as the organisation, is still unknown.


Source
---
k0nfig
Probably the biggest announcement of the last weeks: k0nfig will leave Complexity after almost two years. In his time with the international roster he won seven events, of which the victory at the BLAST Spring Finals 2020 is particularly noteworthy, which is also his only triumph at an S-Tier event together with Complexity.

Since August k0nfig has been suffering from a hand injury and has not been in action for Complexity since then. When Kristian will be able to return to the server at full strength and in which lineup is still uncertain, but the surgery and rehab are going well so far! What is certain, however, is that k0nig has made a final decision in the past few months not to renew his contract with Complexity and to look for other opportunities.


Source
Rumours have been circulating for about a month now that the 24-year-old Dane is close to a
move to Astralis
. They are currently in the process of planning their roster for the coming year and with gla1ve, Lucky and Bubzkji only have three permanent players under contract. As widely known, the contracts of coach zonic, as well as dupreeh, magix and Xyp9x expire at the end of the year. More to come soon...
LFT-List
- 08.10.2021 (alphabetical)

@aizy
@allu
@chrisj
@denis
@Espiranto
@Fer
@Fessor
@Flamie
@Flarich
@Golden
@Jonji
@JUGi
@JW
@k0nfig
@kennys
@MSL
@NaToSaphiX
@nawwk
@Nifty
@ottoNd
@rallen
@RUSH
@smooya
@snatchie
@SPELLAN
@steel
@tarik
@twist



---
This article is presented to you by: GamerPay
The new marketplace for CS:GO skins, built in Denmark.
---

Information powered by Liquipedia